Creekside Quilting Newsletter 06/09/2020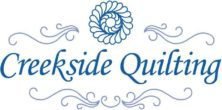 Some of us are really enjoying the dog day afternoons that June brings!
Napping and swimming are two great ways to enjoy the warmer weather, but one friend had a quilt show in her front yard! Thank you Nancy for sharing your beautiful quilts, and quilt stories with us!
***
Just a reminder.
..the store is open by appointment only (go to Creeksidequiltingiowa.com and click on the Book Now tab at the top of the page). Every person in your group needs to have an appointment slot. Highlights of our Covid-19 policies are, we are open 10-4 Mon through Saturday, closed on Sunday's in June, you must have a mask on, social distancing is practiced throughout the store, no fabric samples brought into the store, credit card is our paying method, and there is no public bathroom at this time. To read more on our policies and procedures click
HERE
We have a lot to cover this week, so let's get started!
Barb has done it again with Creekside's sample for the All Iowa Shop Hop quilt. This quilt is on display right as you walk in the store and we have only heard wonderful words of praise! Check out the All Iowa Shop Hop fabrics
HERE
Barb's pattern, Where to Next? can be ordered
HERE
You don't have to use it for just the shop hop fabrics, all the squares could be substituted with large print fabrics you want to show off!
Julia's Desert Song quilt is on display in the store! This quilt was our April Mystery Row by Row. If you participated in this Row by Row, please share with us your finished quilt...we'd love to see the fabrics you used and the different looks. Email me at sienagraceproductions@gmail.com to share your pictures!
Julia has published for Creekside Quilting her Mystery Row by Row she lead in April! You can order her pattern
HERE
and it can be either a paper copy or a digital download.
These Island Batik's are absolutely gorgeous! They are the batiks used in Carol Moeller's All Iowa Shop Hop quilt Harvest Rose and the full line of the batik's for the shop hop can only be found at Creekside Quilting. Order the fat quarter bundle
HERE
or see the full line
HERE
This Moda Geometry fabric line has been flying off the shelf! It's a great basic! To see the full line click
HERE
To watch Julia's video on Facebook, introducing the line of fabric, click
HERE
This month's Patchwork Sister's Book Club book is "A Single Thread" by Marie Bostwick! Register for our book club
HERE
and order the book
HERE
This quilt block was voted for the most in our 5th Saturday Challenge in May!
And this quilt block came in 2nd place!
Since voting for the 5th Saturday Challenge is not very easy right now, we voted and this is our first place winner for August
and this is our second place winner. Thanks to all who participated the past 6 months! We've enjoyed seeing your creations using our selected 5 fabrics!
Upcoming Classes and Events June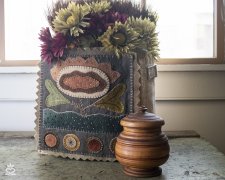 Tuesday, June 9thth is Wool Club starting at noon!. I will connect you to the group via a Zoom link....you can register HERE


Saturday, June 13th at 10 am: is our State Fair Sampler Block of the Month Group. I will connect you to the group via a Zoom link....you can register HERE Already signed up? register HERE
Monday, June 15th from 1-4 pm will be the Paper Piecing Monthly Group. I will connect you to the group via a Zoom link....you can register HERE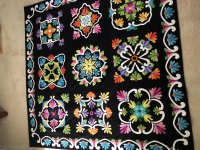 Wednesday, June 17th is the Applique Sew-in Group starting at 10:00 am and lasting all day! I will connect you to the group via a Zoom link....you can register HERE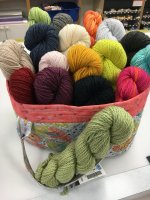 Sit and Knit with Elaine on Sunday, June 21st starting at 1:30 pm. This club is open to anyone who likes to knit, and would like to knit with other knitters! I will connect you to the group via a Zoom link....you can register HERE


Wednesday, June 24th at 1 pm is our next Patchwork Sister's Book Club meeting! Register for the Zoom book club HERE and purchase the book HERE


Wednesday, June 24th at 2:30 pm Lily Girl's Red and White Quilt Group. I will connect you to the group via a Zoom link....you can register HERE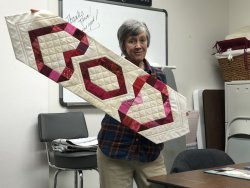 Friday, June 26th at 1 pm: UFO Club I will connect you to the group via a Zoom link....you can register HERE
It's been great seeing everyone in the store! Stay safe everyone and enjoy the warmer weather....before we know it, leaves will be falling again...karen steggerda