Creekside Quilting Newsletter 06/16/2020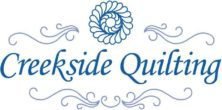 ARE YOU READY????

I have two very fun and exciting items to share with you....the first is...

Yep, we received in more 1/4" BRAIDED ELASTIC!!!
White order by the yard HERE


Black elastic by the yard order HERE

AND the second exciting item I have to reveal for you today is.....

The Face Mask Template! We are taking pre-orders on this item...so call the store if you want one! We sold our first eight within 4 hours....we have another 10 on order....let's try to sell all these within 6 hours! That would be really fun! They are to be sent on June 20th...so they should be here by the end of the month. Pre-order by purchasing the template HERE


This new book, A County's Call is a lovely Civil War Book of stories and patterns by Country Threads! I loved this book when it came in, and it's at least worth a look when you stop into the store! Order HERE


Chris made this gorgeous floral pillow for display from the book

A Cottage Garden! This book has a lot of wonderful floral wool patterns in it...plenty of patterns to enjoy creating! Order the book HERE


Inspired by the Laura Heine pattern, My Kind Town (order HERE), Jan has done it again with a beautiful quilt top! I loved it Jan! Come in and show us your quilts! I love seeing what you are up to!

Upcoming Classes and Events June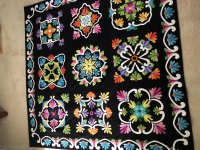 Wednesday, June 17th is the Applique Sew-in Group starting at 10:00 am and lasting all day! I will connect you to the group via a Zoom link....you can register HERE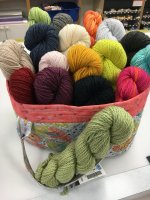 Sit and Knit with Elaine on Sunday, June 21st starting at 1:30 pm. This club is open to anyone who likes to knit, and would like to knit with other knitters! I will connect you to the group via a Zoom link....you can register HERE


Wednesday, June 24th at 1 pm is our next Patchwork Sister's Book Club meeting! Register for the Zoom book club HERE


Wednesday, June 24th at 2:30 pm Lily Girl's Red and White Quilt Group. I will connect you to the group via a Zoom link....you can register HERE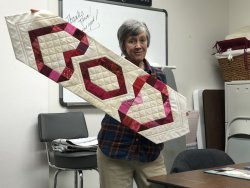 Friday, June 26th at 1 pm: UFO Club I will connect you to the group via a Zoom link....you can register HERE
I love this time of year! The roses are in full bloom, smelling awesome, and oh so pretty!!! Take time to stop and smell the roses this week.

karen steggerda