Creekside Newsletter 09/15/2020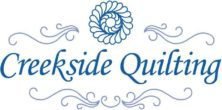 Last Saturday should have been the Cy-Hawk game! Julia and I celebrated in spirit and had a little "house divided" fun!
We received some cute novelty fabrics last week! Great for masks, pillowcases and just a fun, uplifting quilt! The fabric is Bicycle Bunch by Moda and you can view the fabrics
HERE
Kim Diehl has done it again with another amazing and beautiful quilt pattern book! Simple Sampler has piecing and applique blocks, using both wool and cotton mixtures in the blocks! As always there are plenty of directions to help guide you through the full quilt. Order your copy
HERE


As soon as I opened the box, people in the store started buying this product! This Mountain Mist DIY Face Mask Filter fabric is available a the store...limit one package per customer and you can order
HERE


These are rotary cutter cases. No more having a rotary cutter just randomly in your bag, on your table, or boxes. Be safe and put them in a case built just for them! We have pink and lime green. Order your pink case
HERE
Order your lime green case
HERE


To spice things up a bit, we have ordered gold and silver Gingher large 8" scissors! Add a little spice to your cutting and they are easier to find! Order
HERE
Sign-up today and join me for Moda's Stitch Pink Event in the month of October to recognize Breast Cancer Awareness!! Moda will be sending me the directions for each quilt block every morning through October, and I will then email you the directions for each block! To join me, register online
HERE
...this is free. And then order your Stitch Pink Grunge Kit
HERE
Supplies are limited on the kits, so get yours early. Registration and kit reservation are available until September 30, 2020
What's New with Pfaff

Long awaited for Pfaff Quilt Ambition 630 is arriving in the store later this week. If you are interested in getting a sewing machine, please call and put your name on one. Find out more information about the Quilt Ambition 630
HERE
see our price
HERE


What's New in Creekside's Wool Department?

As I wrote in an earlier newsletter, we are getting more wool in, and Ginny is busy getting everything processed and online! Her groupings are scrumptious! As she is getting everything set up, I will give you a sneak peak!
The next wool samples can
ONLY BE ORDERED ON LINE this week
! To order online, click on HERE, the page opens, and you will be prompted to pick your color and your size by clicking on the color and size, and then the price will pop down. Add to your cart and you know what happens next! You can pick the purchase up in the store, by curbside pick-up or we can ship it to you....
but there is no buying these groupings in the store this week, only on-line.

Classic Solids grouping click
HERE
Ivory groupings click
HERE
The Parchment groupings click
HERE
The Gold grouping click
HERE
The Pumpkin Orange grouping click
HERE
The Spice Brown grouping click
HERE
Wooly Wednesday's
in September will feature buy one wool pattern and get the second wool pattern at 20% off! Applies only to patterns in stock in the store or on-line. Limit one per week per customer.

Creekside Quilting's Monthly Calendar of Classes and Events

Register from our website or call Creekside Quilting to register for any event or class (515)276-1977


Upcoming Classes and Events September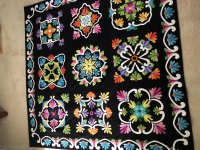 Wednesday, September 16th is the Applique Sew-in Group starting at 10:00 am and lasting all day! Register by calling the store at (515)276-1977 or emailing sienagraceproductions@gmail.com This group is open to everyone and can be joined via Zoom or by meeting in the classroom


Friday Night Sew-in! I miss seeing and sewing with all of you, so let's gather together, in the classroom, on Friday, September 18th for an evening of sewing, community, communication, and laughs! Keeping social distancing will allow us to have 7 in the classroom and we have just a couple spots left. Llet's just gather...6 feet apart, with masks, but share stories, laughter and opinions, and just have a fun evening together! We will start at 4:30 and sew and talk until we are tired. Bring your own beverages and snacks. It's free, just register through the store at (515)276-1977. Sorry this will not be offered through Zoom.


Saturday, September 19th at 10:30 and 1:30, we will be demonstrating how to make the yo-yo's used in B's Caprice pattern Yoyo Trees! If you are like me, you've probably already started thinking about Christmas, and this makes a great Christmas gift!
Order the B's Caprice pattern HERE, order the Olfa Circle Cutter HERE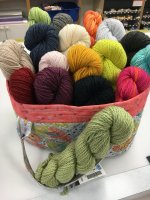 Sit and Knit with Elaine on Sunday, September 20th starting at 1:30 pm. This club is open to anyone who likes to knit, and would like to knit with other knitters! You can register by calling the store at (515)276-1977 or emailing sienagraceproductions@gmail.com This group is open to everyone and you can join via Zoom or meet in the classroom


Wednesday, September 23rd at 1 pm is our next Patchwork Sister's Book Club meeting! Register for the book by calling the store at (515)276-1977 or email me at sienagraceproductions@gmail.com This group is open to everyone and you can join us via Zoom or meeting in the classroom.


Ivy's Log Cabin Quilt Group on Wednesday, September 23rd at 2:30 pm.


Friday, September 25th at 1 pm: UFO Club We have changed up our UFO Club guidelines for 2020 , and this club will now be FREE to everyone!! At the end of the year, if you have a ticket, you will be eligible for prizes at our end-of-year party next June. There will be no money collected throughout the year for missed project goals, just tickets given out for accomplished goals....these tickets will enter you automatically in our prizes. And you don't have to come every month....the more tickets you earn, the more chances you have to win...it's that easy!

We gather on the last Friday of every month for show and tell of our latest projects! Every month we set a goal(s) on what we hope to achieve in the next 4 weeks. IF we meet our goal(s), we get a ticket to put in for the drawing of prizes at the end of the year. IF you don't meet your goal, no problem, you just don't get a ticket...but you can re-set your goal for the upcoming 4 weeks. You can join any time through out the year. Prize month will be June 2021. Register by calling the store at (515)276-1977 or emailing sienagraceproductions@gmail.com This group is open to everyone and will meet via Zoom or in the classroom....
Show and Tell

Ortha, we loved seeing your quilt in the store!! Absolutely amazing and so bright and cheerful!
Join us for Flash Sale Friday's. Every week is something different and the discounts vary! We are keeping you on your toes and in suspense each week! You can find out the Friday deal on our Facebook page and through our emails. Orders can be placed online or in the store, but catch the special every Friday morning, because some weeks, we sell out of the items before 11am!


Did you know you receive loyalty points for ALL purchase placed in the store and on line? Creekside Quilting is going to start
Double Loyalty points on Sunday's
when you place an order through our website!! Your points will be added to your account on Monday, when we return to the store!
Join us Monday's at 4:30 pm on Facebook Live to see what's new in the store!
We are excited to announce that we have teamed up with CommentSold to make it even easier for you to shop right from our Facebook posts and videos! It just takes a comment "Sold!" Julia started last night with her first line of Henry Glass' Moroccan Red fabric line! We are using CommentSold as another tool to bring shopping to you in your own comfy spot! No need to leave your home, just watch us on Monday's at 4:30 and order fabric right then and there! It's that easy. Ordering off of Comment Sold gives you a fat rate of $7 on all shipping orders...so order away and save!
We look forward to going live with you tomorrow, and every Monday, at 4:30! View yesterday's taping
HERE
:
dear friends, mask up and stitch on! karen steggerda