Skip Navigation
Website Accessibility
Moda's Stitch Pink Starts Today 10/01/2020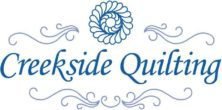 Good Morning!
October 1st and we are ready to go with the Moda Stitch Pink Sampler Quilt event! If you registered for the daily FREE patterns from Moda, but did not get an email from me this morning, please email me at sienagraceproduction@gmail.com. We will get you added!
Otherwise, you can join us daily by checking out each FREE pattern on our website! I will post each day, the Moda pattern at our website link:
https://www.creeksidequiltingiowa.com/modas-stitch-pink-sampler-bringing-awareness-to-breast-cancer.htm
Our first round of Moda Grunge kits were sold out, and we are now expecting more fabric to cut more kits by October 25th...want to reserve a kit? Order your kit online
HERE
If you have questions, you can always call the shop at (515)276-1977 from 10-4 daily.
Have fun and stitch on!
karen steggerda