Creekside Quilting Newsletter 10/20/2020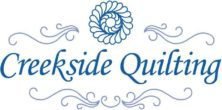 What the heck happened? I must have my calendar on the wrong date! It is the middle of October isn't it? I read last night that this is the first time we have had this much measurable snow, this early in October, since 1968! WOW!
What's New @ Creekside Quilting?


If you were shocked this week with the snow...well brace yourself, because what I am going to show you next is unbelievable!
Yep, Iowa and Iowa State fabric is back in stock! You can order on line or come into the store....but run, don't walk....it wont be on the shelf for long! Order ISU fabric
HERE
and the Iowa fabric
HERE
Do you like Laura Heine? Do you like wine? This would be a great quilt to put in your room, where you enjoy a glass of wine...or two! Order pattern
HERE
Laura Heine has developed smaller patterns for some of her "popular" larger patterns! Great patterns for beginners or people who have always wanted to try a Laura Heine pattern, but just not sure....these miniature patterns are GREAT! More are on the way, pre-order now.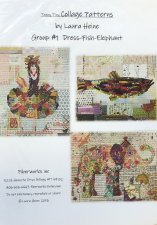 And another collection of mini patterns...the dress has been very popular at the store....here it is in half the size! Order
HERE
This batik color is called Shark....my pictures lighting does not do it justice as how beautiful the blue is! Order this batik
HERE
A solid white batik? I'd never heard of it, but I know it will make a great backing on masks OR for the lining of the
thread catcher
we are sewing on Monday, October 26th. Order this Island Batik
HERE
Same goes for this Island Batik solid black! Order
HERE
One item we have been proud to offer to our customers, is the very soft and high quality elastic we bought from a third party vendor. Last week, we received in Moda's elastic and found the softness and quality to match what we were already buying. Moda's elastic will allow us to lower our price. The Moda elastic is just as soft as the elastic we were getting and the quality is just the same...you will be just as happy with this elastic, especially when it comes to the price! Order white elastic
HERE
and black elastic
HERE
Know Your Battings is pocket size book, that will help guide you on what battings are best for what quilting projects. This book sits up by the checkout counter. Order
HERE
This ruler will help you with the Drunkard's Path block or other curve blocks. Our Clothesline Club did a Drunkards Path block, and I know it would have helped several women to complete the block. If you have ever wanted to make Drunkards Path quilt, try this $3.50 pattern table runner first...Order
HERE
. It's a great tool to have in your collection of rulers! Order the ruler
HERE
The Perfect 10 Ruler is another must have! More are on the way, pre-order now.
What's New in the Wool Department?
We are so lucky to have on display Chris' wool pieces! She does such a lovely job with her projects...we are lucky she shares them with us! So this one from Chris is the Buttermilk Basin pattern Pumpkin Patch Quilt Order pattern
HERE
And this one is another Buttermilk Basin pattern from the book, The Best of Buttermilk Basin Order
HERE
And another new display piece is FALL from Buttermilk Basin! Just wait until you see what Chris is working on next....Order FALL pattern
HERE
A fun Buttermilk Basin pattern of JOY star pillows....and if you start now, you could have this done by the holidays! Order pattern
HERE
We've had people asking for patterns that they can use to make gift card/money holders....this kit/pattern came in last week...order
HERE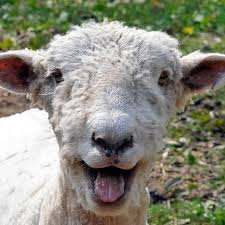 What's New with Pfaff
Did you know that Pfaff, Viking and Singer are sister sewing machines? Yep they are!
People have been asking for small, lightweight machines. This Singer M3500 will not disappoint! Very lightweight and compact. Stitches beautifully! Great for traveling, retreats, campers, and beginner sewers!
The SINGER® M3500 sewing machine is perfect for any type of sewing with a full range of stitches.
110 Stitch Applications
Easy one-step buttonhole for consistent results every time
Automatic needle threader quickly threads machine with ease
Free arm to sew hard-to-reach areas
Use SINGER Class 15 Transparent bobbins
The price is perfect too! Under $200!! Quantities limited.
October Classes and Events

***PLEASE NOTE
you must pre-register for all classes and events! Now with our classroom opening up, our social distancing space in the classroom, and people getting out more, you must pre-register for any class or event at Creekside Quilting. Anyone arriving without having registered may possibly need to leave, unless there is ample room in the classroom. This is for your safety as well as ours and we appreciate your understanding of this situation. Thank you!
***PLEASE NOTE
before you come to class, make sure your sewing machine is in good working condition and has all the necessary supplies you will need to run the sewing machine. A good understanding of how to use your sewing machine is a must. Sewing classes require a basic sewing kit and quilting tools.
Wednesday, October 21st We know many of you are new to quilting, or just need a refresher course in quilt making, so Pat is teaching three sessions of each of the following classes:

Beginning Quilting Session 1: Learn to Quilt Quick and Easy Class 1 is review what tools you use in quilting, learn the importance and application of accurate cutting, and start a quilt top, as pictured above. Take the quilt top home to finish up and come back for session 2

Beginning Quilting Session 2: Learn to Quilt Quick and Easy Class 2 is learning how to finish you quilt top by adding borders. Also learn how to prepare your quilt for quilting with your sewing machine.

Beginning Quilting Session 3: Learn to Quilt Quick and Easy Class 3: is all about the binding and finishing the quilt. Learn to prepare binding strips, attach them to your quilt edge, and turn mitered corners. We will also discuss a 2 color binding technique that can give your quilt binding a pop of color. Every quilter needs this class to give their quilts a nice finish.

You can sign up for all three sessions or one or mix and match! Pick and choose your class(es), your dates and your times! The classes will be a more individual learning environment, with a limit of 3 students per class.

Sign up for the session that works best in your schedule by clicking on "select date" (under the price) to see the times.

October 21st, November 4th or November 18th Beginning Quilting Session One view details HERE
October 21st, November 4th or November 18th Beginning Quilting Session Two view details HERE
October 21st, November 4th or November 18th Beginning Binding Basics view details HERE

Remember, if you need any notions or rulers, from the supply list, to take a class, you receive a 15% discount on the notions or rulers necessary to be successful in the class.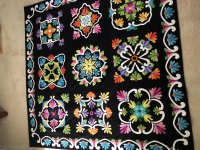 *******THURSDAY, OCTOBER 22nd is the Applique Sew-in Group starting at 10:00 am and lasting all day! Register by calling the store at (515)276-1977 or emailing sienagraceproductions@gmail.com This group is open to everyone.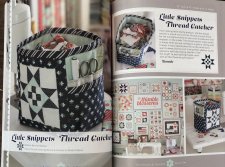 Monday, October 26th 10:30-2:30 is our FIRST Learn with Me event. Join me in making the thread catcher TOGETHER out of the Bonnie and Camille book! You will need the book, so register HERE and receive the book for FREE! If you need notion supplies for the event, you will receive 15% off your notion purchase. This event is limited to 5 participants and we will be meeting in the classroom....so register today! This is NOT a class...we will be sewing and learning the thread catcher together! No teaching going on....just learning and sewing the pattern together with a lot of sharing of ideas, laughter and community, and hopefully a completed thread catcher to go home with at the end of the day! Once you have one under your belt, you can make more for your sewing friends before the holidays!


Wednesday, October 28th at 1 pm is our next Patchwork Sister's Book Club meeting! Register for the book by calling the store at (515)276-1977 or email me at sienagraceproductions@gmail.com and purchase the book HERE This group is open to everyone


Ivy's Log Cabin Quilt Group on Wednesday, October 28th at 2:30 pm. Remember to bring your finished quilt blocks for show and tell, even if it is just two!


Friday, October 30th at 1 pm: UFO Club Register HERE

We have changed up our UFO Club guidelines for 2020 , and this club will now be FREE to everyone!! At the end of the year, if you have a ticket, you will be eligible for prizes at our end-of-year party next June. There will be no money collected throughout the year for missed project goals, just tickets given out for accomplished goals....these tickets will enter you automatically in our prizes. And you don't have to come every month....the more tickets you earn, the more chances you have to win...it's that easy!

We gather on the last Friday of every month for show and tell of our latest projects! Every month we set a goal(s) on what we hope to achieve in the next 4 weeks. IF we meet our goal(s), we get a ticket to put in for the drawing of prizes at the end of the year. IF you don't meet your goal, no problem, you just don't get a ticket...but you can re-set your goal for the upcoming 4 weeks. You can join any time through out the year. Prize month will be June 2021. Register by calling the store at (515)276-1977 or emailing sienagraceproductions@gmail.com This group is open to everyone....

NEW CLASS IN NOVEMBER


Wednesday, November 11th at 10:30 or 12:30 join Chris Hensley in making these darling, unique and festive napkins and tote bag. Looking for a fun and easy hostess gift or ways to brighten your holiday table? This project would make great little gifts! Class is for beginner sewers to the advanced. Seats are limited so register today and get a jump on the holidays! Register HERE by clicking on select date then the drop down box will give you times.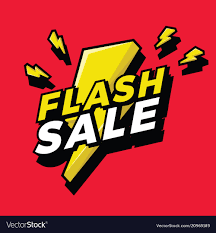 Join us for Flash Sale Friday's. Every week is something different and the discounts vary! We are keeping you on your toes and in suspense each week! You can find out the Friday deal on our Facebook page and through our emails. Orders can be placed online or in the store, but catch the special every Friday morning, because some weeks, we sell out of the items before 11 am!


Creekside Quilting is going to start
Double Loyalty points on Sunday's
when you place an order through our website!! Your points will be added to your account on Monday, when we return to the store!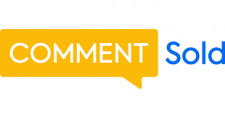 Yesterday's Facebook Live did not happen due to internet issues and the weather. Join us Monday's at 4:30 pm on Facebook Live to see what's new in the store! View past tapings HERE

This week we are giving away this Tula Pink fat quarter bundle, which is enough to make the background pieces of the Bella Strega pattern. In order to register for this fat quarter bundle and pattern, all you have to do is share our facebook post with your friends. Each friend you mention in the post, registers you for the give away. And if they register a friend, everyone gets registered again! We will be drawing the name of the winner next Monday on our Facebook Live at 4:30pm....
That's all for this week! Keep stitchin' and mask up! karen steggerda