Creekside Quilting Newsletter 12/15/2020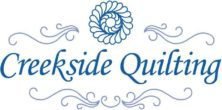 I love waking up to a fresh snowfall...do you? The beauty, peacefulness, and tranquilty of the moment! Now, would I rather have this moment in an 80 degree temperature? You bet!
What's New @ Creekside Quilting?
This collection from Riley Blake is American Legacy and can be viewed more closely and ordered
HERE
Blues and Whites are always a favorite! Here are a few bolts from the Riley Blake line Blue Stitch. View more closely and order
HERE
I love Legacy fabric, but it sure is hard to get a hold of! We received a couple of bolts of Legacy Summer House (a purple and lavendar fabric) this past week and you can view a better picture more closely and order
HERE
and
Are from the Moda line Pacific Wanderings and can be viewed and ordered
HERE
Moda's Bramble Cottage (actually a blue and cream fabric) can be viewed with a better picture and ordered
HERE
Moda's American Jane Good Times can be viewed and ordered
HERE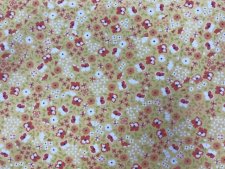 Moda's Corey Yoder Sugarcreek...don't you just love the name? It reminds me of Little House on the Prairie....comforts of childhood I guess! The fabric is more yellow and pink and you can view a better picture and order the fabric
HERE
Moda Winter Lodge can be viewed and ordered
HERE
Moda's Holly Taylor Winter Manor has a true black background and a better picture can be viewed and ordered
HERE
Jen Kingwell's new pattern BoHo Heart has arrived!!! To me, this looks complicated and intimidating, but when you start reading the pattern...maybe not so much! And no, it is not as huge as you might think! Order
HERE
When I taught 1st grade...my kids would leave for Christmas break with a package of Reindeer Feed! Do you have a little in your life that would love to sprinkle some reindeer feed on their lawn to guide Santa to their home? Order
HERE
So the vacine has started...but mask wearing will continue for awhile longer....we just got these elastic mask adjustable straps in the store, and I LOVE THEM! Order the black ones
HERE
and the white ones
HERE
I did not have time to make Christmas masks this year, so these have been festive and fun and safe to wear...we have a few left in stock at 25% off...order
HERE
Now moving into January....here are a few pre-made masks to get you started...anyone else having a hard time keeping up with the mask making? Lots of friends and family ask me for them....but I forget to make extras for me! UGH! Order
HERE
Order
HERE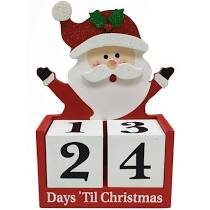 Countdown to Christmas is all about the FREE gifts
you will receive daily from Creekside Quilting when you spend a subtotal of $25 or more. Each day features a different gift I think you will love! Each day there will be something different for our customers, and each day will be a surprise! Here is the list of giveaways!
Farm Girl Vintage Measuring Tape
Gypsy Felted Wool Ironing Mat 4"

December 7th
Package of Betweens Quilting Size 12 Needles
Sue's Holiday Pattern

December 4th
General's Pastel Chalk Pencil
$5 off any Quilter's Select Ruler

December 14th
Red Fat 1/4

December 9th
Cut Loose Pattern Rick Rack Table Runner
Fiskars 5" Scissors

December 2nd
Olfa 6x8" Cutting Mat
B's Caprice Yo-Yo Pattern

December 10th
Dritz Deluxe Seam Ripper

December 3rd
Green Fat 1/4
DMC 3 in 1 Needle Threader
25% off Wooden Seam Tool

December 11th
Aurifil White Thread

December 12th
Cut Loose Press Holiday Tree Wreath Ornament Pattern

December 5th
25% off Quilter's Dream Instock Batting

December 8th
25% off Creekside Quilting Wool Fat 1/8th
And to get you started....today is a free mystery gift card! Gift cards have amounts on them from $5 to $25!!

December 1st
Hurry in each day to receive your free gift when you spend $25 or more, as daily quantities are limited to 24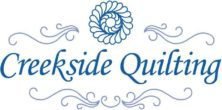 It's back again this year! If you purchase a $100 gift card, receive a free $25 gift card that expires 02/28/2021 for yourself to use at a later date! Our gift to you for thinking of Creekside Quilting during the holiday season!
Our first four month sewing event for 2021!
Register to meet with Group 1 on Tuesday, January 5th, Tuesday, February 2nd, Tuesday, March 2nd, and Tuesday, April 6th starting at 10:30 am - 3:30 pm.
OR
register to meet with Group 2 on Thursday, January, 7th, Thursday, February 4th, Thursday, March 4th, Thursday, April 1st from 10:30 am - 3:30 pm.
Register Group 1
HERE
Register Group 2
HERE
Each month, we will focus on a season and you can choose the bench pillow pattern from the book you want to make, representing that season.
January sew-in will be winter
February sew-in will be spring
March sew-in will be summer
April sew-in will be fall
Cost to join this sew-in is $40, and each month that you show up, you get a
store gift card for $10
. If you show up all 4 months, you get your money back. The gift card can be used for supplies you will need for the next month's pillow or anything else you want or need in the store.
You must have your own book. Pre-order your book
HERE
Bundle the cost of the sew-in and the book, and receive 15% off the book
HERE
Not comfortable coming into the store yet, I get it! We will have a Zoom group also, on the same dates, so you can be in on all the conversations in the classroom. If you join through Zoom, you will still receive a $10 store gift card for each session you join, and this card number can be used on our website....and to help you even more, I can email you the gift card number, so you don't even have to come in the store if you don't want...it's all virtual!
Register for our virtual Group 1
HERE
Register for our virtual Group 2
HERE
And don't forget....we have to have show and tell each month!
I know this is a lot of information and a lot of "click HERE's", so email me or call the store, if you have any questions. I think this will be fun and I'm looking forward to getting started! I've always wanted to have a bench pillow....and now by the time spring get's here, I'll have 4!
What's New with Pfaff
Lowest prices of the year, I kid you not!!

On Wednesday, December 16h ONLY, purchase a Performance Icon for $4,999!! That's 50% off MSRP! Now's the time to buy if you have been waiting for the best Pfaff has to offer! Merry Christmas from Pfaff and Creekside Quilting! Call the store at (515)276-1977 to order.

The other machines listed below will be on sale until Wednesday, December 23rd, so come on in the store and pick up a new machine for you or a loved one. I think we will still have plenty of stay-at-home time in 2021 to continue to sew!
Singer M3500 and is on sale for $185.00 and we have 4 in stock. You save $15.00
Pfaff Passport 2.0 and is on sale for $524.25 and we have 2 in stock. You save $174.75
Pfaff Passport 3.0 and is on sale for $599.25 and we have 4 in stock. You save $199.75
Pfaff Ambition 610 on sale for $674.25 and we have 2 in stock. You save $224.75
Pfaff Quilt Ambition 630 and is on sale for $1274.25 and we have 5 in stock. You save $424.75
Pfaff Expression 710 and my favorite! It is on sale for $2099.25 and you save $699.75
Pfaff Quilt Expression 720 and is on sale for $2999.25. You save $999.75
Pfaff Creative 3.0 without the embroider unit is on sale for $1575 and with the embroidery unit is on sale for $2999.25
What's New in Our Wool Department?


This is a True Christmas Felted Wool Red. Order HERE

That's all for this week! Enjoy the peacefulness of this holiday season....Mask up and keep stitchin'! karen steggerda