Crazy Stitching Retreat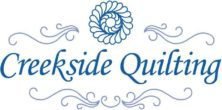 Granny's Legacy in Albert Lea, MN is hosting a virtual retreat Thursday, January 14th through Saturday, January 16th, and Creekside Quilting is participating! Register for this retreat through Creekside Quilting and receive:

*10% off the retreat price
*15% off any in stock wool and embroidery supplies you are needing for the retreat
*a virtual seat for the retreat either in the comfort of you home OR in our classroom
*an opportunity to stitch with your friends here in DSM by meeting in our classroom
*Creekside Quilting will be responsible for ordering all your supplies for the retreat from Granny's Legacy
*virtual seats are limited so register early
*last day to register with Creekside Qulting is Thursday, December 31st

Here is the information about the retreat from the Granny's Legacy website:
JAN 2021 RETREAT - Crazy Stitching
January 14-16, 2021 9 (Thurs, Fri, Sat)
$229.00 ALL INCLUSIVE CLASS FEE
NOTE: Class project to be revealed end of November with possible teasers along the way. Artisan dyed woolens and silk velvets and thread collection pictured.
Explore crazy stitching and embroidery stitching with Kim & Katie virtually in this immersive 3-day retreat.
CLASS PROJECT: 10" x 20" Crazy Runner
$79.90 OPTIONAL DISPLAY BOARD: 11" x 23" oil rubbed cherry wood. This one of a kind item is handmade by Kim's niece and family and makes a stunning accent for this class project. We do have more designs releasing soon to fit this. Bonus: handles may be swapped for any 3" standard handle.
CLASS INCLUDES:
CLASS BOX: includes one complete project kit (lots of dyed woolens and silk velvet, Ultra-Weft stabilizer, spiral bound pattern, backing), thread kit (8 Valdani perle cottons), plus gifts and treats from Kim & Katie.

Q&A SESSIONS: Daily live question & answer sessions with Kim & Katie. Think of this as a chance to have all of your crazy stitching and wool related questions answered, and learn from questions fellows students ask.

VIDEOS: To offer the most robust class experience, you will have unlimited access to educational videos (YouTube). Kim & Katie will walk step-by-step through the crazy stitching, wool applique, and stitching, focusing on tips and tricks for stitchers of every level.

An exclusive Granny's Legacy trunk show and Boutique Showroom tour.
HOW IT WORKS:
You will be sent an invitation to join our "Crazy Stitching Retreat" exclusive Facebook page (for paid class registrants only). Approximately two weeks prior to class, we will ship class boxes and post all pre recorded class videos on this Facebook page - enjoy these videos and begin your project when convenient for you. During the retreat, join us live (Facebook) for special question and answer sessions - approx 1 hour each. During these sessions, we will answer live any questions you may have about the wool applique and crazy stitching process - you may submit questions ahead of time, or ask them directly in the live event. Also, as a retreat perk, join Kim & Katie for an evening kickbacks featuring a tour of our boutique showroom where you will have the opportunity to see all of our projects displayed, as well as our Woolly Mammoth artisan dyed woolens and favorite notions, as well as a VIP studio tour!
SUPPLY LIST: Class discount applied. For best possible results, these items are a must! You may wish to take advantage of this special pricing if these items are not currently in your stitching basket. Supplies will ship with class box.
$2.18 Heat 'n Bond - Lite: 1 yards - for fusing applique and applying backing.

$15.30 (Reg. $19.00) Havel's 6" serrated scissors - cuts wool like buttah!

$8.46 (Reg. $9.95) Pressing Affair Pressing Sheet - 18" x 18" prevents wool from iron damage.

$34.00 (Reg. $40.00) Granny's Press Perfect - 11.5" x 18" Wool pressing mat. 1/2" thick, 100% wool.
To see more photos or learn more about Granny's Legacy, click
HERE
To register for the retreat with Creekside Quilting call us at (515)276-1977
I'm so excited for this opportunity! I hope to see many of you join me and learn embroidery stitches, perfecting embroidery stitches, learning how to embellish with beading, and have fun with others while creating a project! Call the store to register!
karen steggerda