The Habitat for Humanity Strong Women Build house for 2020 dedication for Shirley was last Wednesday, and it was a really nice dedication and what a wonderful gift Creekside Quilting was a part of. Creekside Quilting not only participated in the donation for all fabric to make this wonderful quilt for Shirley, the new owner, but we also were able to participate in the ground breaking ceremony and the building of this house. Chris Hensley came to me early last year and asked if we would like to be a part of this house and I immediately said yes. It has been a wonderful experience for me, and I am grateful for the opportunity to be a part of this amazing project! Good luck to Shirley in her new home!
Join us for My Favorite Color is Moda BOM starting Saturday, February 6th at 10:30 am and meeting every month through November! This group will meet and discuss the blocks of the month, go through tips and tricks to the patterns and of course show and tell! Karen T. and Julia will be leading this group and sewing right along with everyone!
There are 31 blocks and they are all traditionally pieced. The block sizes vary from 9" to 36" which results in a nice sized quilt at 81"x99" We piece blocks from February to November, which is nice because you can recover from Christmas before starting and it ends before next Christmas.
If you want to participate using your own stash, you're welcome to do that as well.
The cost for the pattern is $12. The cost for the color wave kit of your choice is $15 a month and it includes meeting together in person for tips and tricks and the fabric kit of your choice for that month. We will meet either in person or on Zoom on the first Saturday of the month. This is the best part! You get to show off what you've put together and ooh and ahh over everyone else's work as well. Our first meeting will be February 6, 2021 at 10:30 am.
Click
HERE
for the pre-order of the pattern $12
Click
HERE
to join our group and get your monthly kit for $150 (this payment can be made monthly if you prefer, just call the store to register)
Click
HERE
to join our group and use your own stash fabrics $45
Creekside Quilting is participating in the Granny's Legacy, (out of Albert Lea, MN.) Crazy Stitching Retreat this January 14th through the 17th. This is a virtual event....so gather up a friend and reserve your spot at Creekside Quilting for the retreat. You can register to come each day to the store, or just a half day. Space is only available to those who register through Creekside Qulting.
Here is what is included if you register for this event through Creekside Quilting:
*10% off the retreat price
*15% off any in stock wool and embroidery supplies you are needing for the retreat
*a virtual seat for the retreat either in the comfort of you home OR in our classroom
*an opportunity to stitch with your friends here in DSM by meeting in our classroom
*Creekside Quilting will be responsible for ordering all your supplies for the retreat from Granny's Legacy
*virtual seats are limited so register early
*last day to register with Creekside Qulting is Thursday, December 31st
REGISTER HERE

Here is the information about the retreat from the Granny's Legacy website: https://www.grannyslegacypatterns.com/retreat/janretreat?rq=crazy%20stitching%20retreat
JAN 2021 RETREAT - Crazy Stitching
January 14-16, 2021 9 (Thurs, Fri, Sat)
$229.00 ALL INCLUSIVE CLASS FEE
NOTE: Class project to be revealed end of November with possible teasers along the way. Artisan dyed woolens and silk velvets and thread collection pictured.
Explore crazy stitching and embroidery stitching with Kim & Katie virtually in this immersive 3-day retreat.
CLASS PROJECT: 10" x 20" Crazy Runner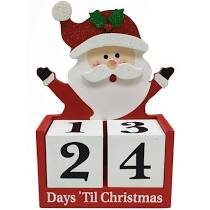 Countdown to Christmas is all about the FREE gifts you will receive daily from Creekside Quilting when you spend a subtotal of $25 or more. Each day features a different gift I think you will love! Each day there will be something different for our customers, and each day will be a surprise! Here is the list of giveaways!

Farm Girl Vintage Measuring Tape December 21st
Gypsy Felted Wool Ironing Mat 4" December 7th
Package of Betweens Quilting Size 12 Needles December 17th
Sue's Holiday Pattern December 4th
General's Pastel Chalk Pencil
$5 off any Quilter's Select Ruler December 14th
Red Fat 1/4 December 9th
Cut Loose Pattern Rick Rack Table Runner December 15th
Fiskars 5" Scissors December 2nd
Olfa 6x8" Cutting Mat December 16th
B's Caprice Yo-Yo Pattern December 10th
Dritz Deluxe Seam Ripper December 3rd
Green Fat 1/4
DMC 3 in 1 Needle Threader December 19th
25% off Wooden Seam Tool December 11th
Aurifil White Thread December 12th
Cut Loose Press Holiday Tree Wreath Ornament Pattern December 5th
25% off Quilter's Dream Instock Batting December 8th
25% off Creekside Quilting Wool Fat 1/8th December 18th

And to get you started....today is a free mystery gift card! Gift cards have amounts on them from $5 to $25!! December 1st

Hurry in each day to receive your free gift when you spend $25 or more, as daily quantities are limited to 24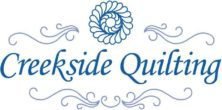 It's back again this year! If you purchase a $100 gift card, receive a free $25 gift card that expires 02/28/2021 for yourself to use at a later date! Our gift to you for thinking of Creekside Quilting during the holiday season!


Our first four month sewing event for 2021!

Register to meet with Group 1 on Tuesday, January 5th, Tuesday, February 2nd, Tuesday, March 2nd, and Tuesday, April 6th starting at 10:30 am - 3:30 pm. OR register to meet with Group 2 on Thursday, January, 7th, Thursday, February 4th, Thursday, March 4th, Thursday, April 1st from 10:30 am - 3:30 pm.
Register Group 1 HERE
Register Group 2 HERE

Each month, we will focus on a season and you can choose the bench pillow pattern from the book you want to make, representing that season.
January sew-in will be winter
February sew-in will be spring
March sew-in will be summer
April sew-in will be fall

Cost to join this sew-in is $40, and each month that you show up, you get a store gift card for $10. If you show up all 4 months, you get your money back. The gift card can be used for supplies you will need for the next month's pillow or anything else you want or need in the store.

What's New with Pfaff?
Only a few days left to take advantage of these amazing seasonal sale prices!!

Lowest prices of the year, I kid you not. This sale will go until Wednesday, December 23rd, so come on in the store and pick up a new machine for you or a loved one. I think we will still have plenty of stay-at-home time in 2021 to continue to sew!

Pfaff's sewing machines come with a built in walking foot...and anyone who has a Pfaff loves it!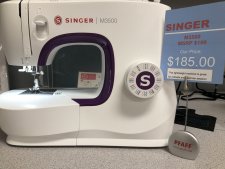 This is a Singer M3500 and is on sale for $185.00 and we have 4 in stock. You save $15.00


This is a Pfaff Passport 2.0 and is on sale for $524.25 and we have 2 in stock. You save $174.75


This is a Pfaff Passport 3.0 and is on sale for $599.25 and we have 4 in stock. You save $199.75

This is a Pfaff Ambition 610 on sale for $674.25 and we have 2 in stock. You save $224.75


This is the Pfaff Quilt Ambition 630 and is on sale for $1274.25 and we have 5 in stock. You save $424.75


This is the Pfaff Expression 710 and my favorite! It is on sale for $2099.25 and you save $699.75


This is the Pfaff Quilt Expression 720 and is on sale for $2999.25. You save $999.75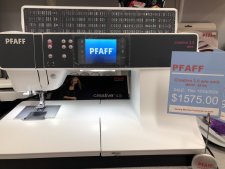 Pfaff Creative 3.0 without the embroider unit is on sale for $1575 and with the embroidery unit is on sale for $2999.25

Also, we are looking for a sewing machine repair man!! If you know anyone who may be interested, have them come into the store to apply!

With that being said, if your machine is in need of a cleaning, bring it on into the store before Tuesday, December 28th.


From all of us at Creekside Quilting, we would like to wish you and yours a very blessed, bright, and cheerful holiday season! karen steggerda
***We will be closed Christmas Eve, Christmas Day and New Year's Day***