Creekside Quilting Newsletter 02/23/2021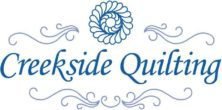 What's New @ Creekside Quilting?
This new line from Corey Yoder is so pretty and dainty! The blue in it is just striking!! Reminds me of a clear summer day! You can view the full line of Spring Brook
HERE
This quilt by Debby comes from the pattern French Roses. It's created using a soft applique technique and quilting.
The pattern is $8 and you can order the pattern
HERE
What's New in Our Wool Deparment?
Ginny has put together some spring 5" square charm packs! Each charm pack is $11.49. As Julia stated on her Facebook Live Event last night...they would make great Easter Eggs
or hearts and flowers for spring!
It's NOT too late to join us this year for the Moda My Favorite Color is BOM
. Receive all fabric, binding, pattern, and group participation for $125! Call us today to register or sign up
HERE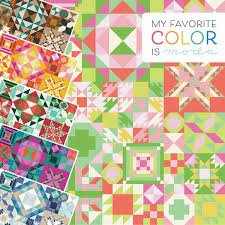 Join us for My Favorite Color is Moda BOM Saturday, March 6th at 10:30 am and meeting every month through November! This group will meet and discuss the blocks of the month, go through tips and tricks to the patterns and of course show and tell! Karen T. and Julia will be leading this group and sewing right along with everyone!

There are 31 blocks and they are all traditionally pieced. The block sizes vary from 9" to 36" which results in a nice sized quilt at 81"x99"
We have FOUR different color options! There is:
Coastal Cool reminds me of seaglass and tranquil white sand beaches. The colours are beiges and blues with a gorgeous periwinkle.
Primrose Garden is pinks and greens and yellow! Definitely a garden.
Tropical Getaway is a riot of colour. Purple, pink, green, blue. Even a coral-orange.
Cookie Tin is Christmas, but not just green and red. There is a hint of green blue that really makes this colorway pop. I think Cookie Tin may be my favourite.
If you want to participate using your own stash, you're welcome to do that as well.
Click
HERE
for the pattern $12
Click
HERE
to join our group for FREE and just pay for your fabric kit, pattern, binding fabric, and group participation of $125.00 Want all the fabric upfront? Not a problem, we can cut your full kit in now!
Click
HERE
to join our group and use your own stash fabrics $50 (which is only $5 a month for all kinds of tips, tricks, motivation, and opinions!)
***And remember, each time you come to the group, Creekside Quilting will give you a $5 coupon, which basically gives you the opportunity to get spend your money AGAIN on something else you want in the store!!!
I thought this was a ceative marketing idea, so just had to bring it into the store! This box of cards, holds patterns for 40 blocks! You can order yours
HERE
or join us for a
Let's Welcome Spring Mystery Quilt Block Group
!
Starting
Monday, March 22nd,
Creekside Quilting will be hosting a Mystery Quilt Block Group using this deck of cards. We will pull a card each Monday morning for 12 weeks and create the mystery card quilt block pulled. The reveal will be at 10:30 am each Monday morning, and if you come into the store for the reveal, and bring your previous weeks quilt block for show and tell, you will be eligible for a weekly prize from those present at the store! When we are done in 12 weeks, we will each have 12 blocks to make or start to make a new quilt top! Use your spring floral fabrics, if you want! Want to sign up for this fun Let's Wecome Spring Mystery Quilt Group? Register
HERE
Mark your calendars for the
Creekside Quilting Summer Solstice Quilt Retreat on Friday, June 18th
from sun up to sun down! More information to come as the date gets closer.
What's New w/ Pfaff?
We will have a Pfaff Sewing Machine Cleaning Day on Thursday, March 18th! The cleaning will be done by a professional sewing machine repair technician, in town, for just the day. This is NOT a day for repairs, just a cleaning. The spaces are limited, and you MUST REGISTER ONLINE
HERE
if you want to have your machine cleaned. This is only for sewing machines, no embroidery machines or large quilting mahines will be accepted.
While we are in transition, if you have a Pfaff sewing machine in need of repair, please reach out to Randy, the owner at Wise Monkey Quilting in Denison, Iowa. I have talked with him and he is willing to help us out for the interim. He is Pfaff certified, and will be happy to help you with your machine repairs and questions. The number to reach Randy at is (712)393-7979.

Upcoming Classes and Events in February

***PLEASE NOTE if you are new to a class or event, you MUST pre-register for all classes and events! Now with our classroom opening up, our social distancing space in the classroom, and people getting out more, you must pre-register for any class or event at Creekside Quilting. Anyone arriving without having registered may possibly need to leave, unless there is ample room in the classroom. This is for your safety as well as ours and we appreciate your understanding of this situation. Thank you!

***PLEASE NOTE before you come to class, make sure your sewing machine is in good working condition and has all the necessary supplies you will need to run the sewing machine. A good understanding of how to use your sewing machine is a must. Sewing classes require a basic sewing kit and quilting tools.

View February calendar HERE
Wednesday, February 24th at 1 pm is our next Patchwork Sister's Book Club meeting! If you are new to the book club you MUST register by calling the store at (515)276-1977 This group is open to everyone. This month we are discussing Hope on the Inside! Come join in the lively book discussions by registering HERE or purchase the book HERE


Our next book club quilt challenge is STARS Over Texas! That's right! We've done red and white to go along with our Ann Hazelwoods Wine Country Series, Log Cabin to go alonog with our 1st Marie Bostwick Series, and now we are doing star quilts to finish off our Marie Bostwick A Too Much Texas series. Wednesday, February 24th at 2:30 pm. Remember to bring your show and tell.


Friday, February 26th at 1 pm: UFO Club This group is open to everyone and if new to the group, you MUST register by calling the store at (515)276-1977.
That's all for this week...thanks for checking in with us! Please join us on Monday's at 4:30 for our Facebook Live Event, where you can see up close what's new in the store!

Mask up, stay warm, and stitch on! karen steggerda