Creekside Quilting Newsletter 03/23/2021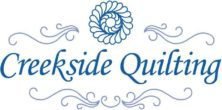 It was fun to have most of our knitters back last Sunday! I love seeing so many people that I haven't seen for a year....thanks everyone for starting to come back into the store and seeing us!
5 o'clock...yep! That's the time we are closing Monday through Saturday! New hours are 10am-5pm Monday through Saturday.
What's New @ Creekside Quilting?
Gingiber's Dwell in Possiblity
fabric line has arrived and ready for you! It's a gorgeous with a ffew metalic fabrics in pretty spring colors! We have a fat quarter bundle of all 33 fabrics which can be ordered
HERE
or view the full fabric line
HERE
This pattern,
3 Birds on a Summer Day, from Jan Patek
would work well with her new line of fabric Mill Creek from Moda! Order the pattern
HERE
and check out here fabric line
HERE
This is an interesting new notion! Do you hate having thread tails hanging from your spools of thread? Well, here is the answer...
Spool Huggers
!! Check them out
HERE
Can I toot the horn for some very talented quilters? Look at this....
One quilt is done by hand applique and wool and the other is done by machine applique and Kaffe fabrics! Thanks Chris and Debby for sharing these stunning quilts with us!! The pattern for this quilt is out of the book Wild Blooms and Colorful Creatures which can be ordered
HERE
Fran we love this pillow using the
Holiday Pillow pattern by Sue and the Linzee Kull McCray Flowers for Frey
a new fabric Line! I love these colors together! Thanks Fran! You can order the Holiday Pillow pattern
HERE
and view the fabric line
HERE
Let's Celebrate Spring Mystery Quilt Block Group
met yesterday morning both in the store and through Zoom, and we had a lovely discussion. Our quilt block this week is the Mosaic #5 and for those of you who bought the Quilt Builder Card Deck, you can post a picture of your block on our Facebook page. Let's all share our blocks as we get them done! You can still join our group via Zoom
HERE
Link to our Facebook page is
HERE

All Iowa Shop Hop
is right around the corner and we are taking per-orders for the fabrics! All pre-orders must be done through our website with a credit card paymet. We will have it ready for pick up at 10am on June 1st! Here are the fabrics and the links for pre-ordering!
Iowa Winter Land Panel can be pre-ordered
HERE
Main Street can be pre-ordered
HERE
Town Square Panel can be pre-ordered
HERE
Spinning Stars Aqua can be pre-ordered
HERE
Spinning Stars Charcoal can be pre-ordered
HERE
Spinning Stars Red can be pre-ordered
HERE
Spinning Stars Silver can be pre-ordered
HERE
Village Charcoal can be pre-ordered
HERE
Watch for our
Easter Basket Emails
starting next Monday! Every day next week, I will email out items for stuffing your Easter basket, so watch your emails and be ready for filling your Easter Basket with fun quilting supplies!
What's New in Creekside Quilting's Wool Department?
The
Spring/Summer issue of Simply Vintage
arrived on Friday! The cover picture reminds me of a B's Caprice pattern we have in the store called Sliced Cake. Order Simply Vintage
HERE
or Sliced Cake pattern
HERE
Sew Many Notions
and sew little time! I love this book and wish I had the time to really do a few of these projects! If you buy the book and make something, share it with me please....I'd love to see! Order the book
HERE
You could work on the projects during Wool Club the 2nd Tuesday of the month starting at noon.....just a thought!
MAJ Designs Liberty Flower
is always a favorite starting around this time of year. If you start now, you can have it finished by Memorial Day, which will be here before we know it! We have the patterm
HERE
and the kit
HERE
Another great pattern for this spring and summer!
A Single Stem
is a new pattern in our wool department! Order
HERE
Upcoming Classes and Events in March

***PLEASE NOTE if you are new to a class or event, you MUST pre-register for all classes and events! Now with our classroom opening up, our social distancing space in the classroom, and people getting out more, you must pre-register for any class or event at Creekside Quilting. Anyone arriving without having registered may possibly need to leave, unless there is ample room in the classroom. This is for your safety as well as ours and we appreciate your understanding of this situation. Thank you!

***PLEASE NOTE before you come to class, make sure your sewing machine is in good working condition and has all the necessary supplies you will need to run the sewing machine. A good understanding of how to use your sewing machine is a must. Sewing classes require a basic sewing kit and quilting tools.

View March calendar HERE
Monday, March 29th, Let's Welcome Spring Mystery Block Group Register HERE You must have your own Quilt Builder Card Deck set to participate


Wednesday, March 24th at 1 pm is our next Patchwork Sister's Book Club meeting! If you are new to the book club you MUST register by calling the store at (515)276-1977 This group is open to everyone. This month we are discussing Clare O'Donahue's book The Lover's Knot, A Someday Quilts Mstery!


Our current book club quilt challenge is STARS Over Texas! That's right! We've done red and white to go along with our Ann Hazelwoods Wine Country Series, Log Cabin to go alonog with our 1st Marie Bostwick Cobbled Court Quilt Series, and now we are doing star quilts to finish off our Marie Bostwick Texas series. Wednesday, March 24th at 2:30 pm. Remember to bring your show and tell.


Friday, March 26th at 1 pm: UFO Club This group is open to everyone and if new to the group, you MUST register by calling the store at (515)276-1977.

Upcoming Class in April

View April Calendar HERE


The Sew Together Bag on Saturday, April 10th from 10:30-2:30. Register HERE


We are thrilled that Marie Bostwick will be joining us Wednesday, April 28th at 1pm for our Book Club! If you want to join us for this, you can register to be on Zoom at this link HERE...sorry but the classroom is already full....


Our book club discussion with Marie Bostwick will be The Restoration of Celia Fairchild and can be ordered HERE

Show and Tell
Nancy, I'm glad you didn't put this in your UFO and instead finished it up with the lip fabric this month! Love throughout the year for sure! Great job Nancy, it's beautiful!

Keep in touch with us with what's going on at the store through:
Join Julia Live on Monday's at 4:30 to see all the new fabrics up close a personal. Just go to our Facebook page creeksidequiltingiowa and register!

Facebook:
Creekside Quilting Iowa
https://www.facebook.com/creeksidequiltingiowa
Instagram:
CreeksideQuiltingIowa
https://www.instagram.com/creeksidequiltingiowa/

Product Video page:
https://www.creeksidequiltingiowa.com/videos-showcasing-fabric-and-notions.htm
My odometer hit this mileage mark yesterday driving to Creekside Quilting! LOL!! I'm knocking on wood, I will hit the 200,000 mile mark...wouldn't that be something? I've never owned a car for this many miles nor for this long...yet I love this dependable car and just hate the thought of trading it in! LOL! Mask up and keep sewing! Have a great week! karen steggerda