Creekside Quilting Happy Easter Happy Spring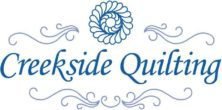 It's HERE!!! Time to Start Stuffing Our Baskets with Goodies to
Welcome Easter and Welcome Spring!
I am "sew" excited for this week! It is one of my favorite weeks each year and I'd like to share my enthussiastic joy with each of you! So starting today through Friday, enjoy these emails I'll be sending out and let's have a joyfilled week together!
Hopping Over to Our Patterns Today
The Annie's Catch All Caddy 2.0 is one of sevral patterns we offer at Creekside Quilting. Let's take 20% off any pattern order today only either in the store or online with the

COUPON CODE PATTERNS
Catch All Caddy 2.0 by Annie.com is a pattern for the intermediate sewer who enjoys making bags!
Highlights of the Catch All Caddy 2.0
pattern are:
*Sturdy over-sized caddy with lots of easy-to-access slip pockets and dividers to hold and organize all your supplies.


*Six slip pockets on the exterior provide easy access to tools and supplies and a zippered pocket on one end keeps personal items safe and secure.
*Expanding dividers on the inside open to organize a multitude of supplies or collapse to fall flat against the interior of the caddy affording a wide-open interior for plenty of storage possibilities.
*Comfy padded fabric handles make carrying easy. They attach with rectangle rings which allow them to fall flat against the front or back of the caddy.
*Order your Catch All Caddy 2.0 pattern
HERE
and receive 20% off the pattern.
Want another pattern...ALL patterns are 20% off today!
Highlights of the Sewline Tools

are:

*Mechanical fabric pencil with CERAMIC leads gives clear, clean lines that are easily removed from most fabrics with the attached eraser, the Sewline Aqua Eraser or a damp cloth.
*No more messy chalk or lines you can't remove! The ceramic leads guide smoothly over fabric with good control.
*There are 5 lead colours to choose from white, green, pink, blue and black. Lead refills packs available.
*Suitable for use most fabrics – patch test recommended.
*Tip – only press lightly when marking with the pencil to ensure easy removal.
Order your Sewline tools

HERE and use COUPON CODE SEWLINE
TUESDAY MARCH 30TH ONLY:
All patterns and Sewline tools in stock are 20% off! Ordering online, use the Coupon Code SEWLINE or PATTERNS
Hopping Right Along:
Everyday is a great day to share a gift card with someone! Our cute little gift bags make an easy way of wrapping up a fat quarter or two, scissors, thread, or any notion and add a gift card! You can order your gift card online at the bottom of our Home page on our website
creeksidequiltingiowa.com
Happy Easter! Happy Spring!
karen steggerda
Creekside Quilting
9926 Swanson Blvd.
Clive, Iowa 50325
(515)276-1977
www.creeksidequiltingiowa.com