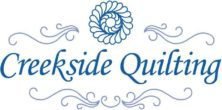 Last Day to Stuff Your Basket with Goodies to
Welcome Easter and Welcome Spring!
I am "sew" excited for this week! It is one of my favorite weeks each year and I'd like to share my enthussiastic joy with each of you! So starting today through Friday, enjoy these emails I'll be sending out and let's have a joyfilled week together!
Hopping Over to Our Fusibles Today

I'd like to highlight a necessary item when appliiquing any project! Whether it be hand applique or machine applique, fusibles are a must! Are you doing a machine applique project? I like to use Soft Fuse. Doing a wool applique project? I like to use Heat and Bond Lite. Doing a Laura Heine project? I like to use Steam a Seam 2 Lite. Now, these are only my suggestions...everyone has an opinion of what works best for them. So let's put them all on sale today at 20% off instock products with a limit of 2 per customer!
All instock fusibles Heat n' Bond, Steam a Seam 2 Lite and Soft Fuse are 20% off today, Friday, April 2nd with a limit of 2 per customer! Order the Heat n Bond HERE, the Steam a Seam 2 Lite HERE, and the Soft Fuse HERE. Ordering on line? Use the Coupon Code HOPPY EASTER
Our store bunny has filled eggs with discounts! When you are checking out, ask to pick an egg from our basket and receive a discount on your purchase. Discounts range from 10-20% off your entire purchase to 10%-40% off one item!
Hopping Right Along:
Everyday is a great day to share a gift card with someone! Our cute little gift bags make an easy way of wrapping up a fat quarter or two, scissors, thread, or any notion and add a gift card! You can order your gift card online at the bottom of our Home page on our website creeksidequiltingiowa.com
Hope you week has been filled with joy and your basket is overflowing with fun new quilting supplies!
Happy Easter and Happy Spring!
karen steggerda
Creekside Quilting
9926 Swanson Blvd.
Clive, Iowa 50325
(515)276-1977
www.creeksidequiltingiowa.com