Creekside Quilting Newsletter 04/13/2021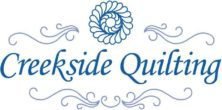 What's New @ Creekside Quilting?

The All Iowa Shop Hop Magazine 2021 is in and ready for purchase. Even if you are not a shop hopper, for $10, there are a lot of good patterns that can be used with any fabrics. This year, there is a Youth Passport!! So come on in or order your magazine online
HERE
I am so in love with this new line of fabric from Brenda Riddle Acorn Quilts. This Moda line is called Sophie and it is in soft greens, pinks, tans, greys and cream. View the full fabric line
HERE
I've heard a lot of these three yard quilt patterns, and so I'm excited to have Donna Robertson's newest book Quilts in a Jiffy in the shop! You can order the book onliner
HERE
or come on in and take a look. There are 8 different patterns in the book.
Janet Glass makes these Vintage Pincushions and we are thrilled to have them in the store for purchase. They come in a variety of sizes and colors. The middle of the pincushion comes from a vintage hand embroidered item, such as a pillow case, table runner, napkin, and then Janet has sewn the 1930's style fabric around. Each pincushion is filled with crushed walnuts to keep your pins and needles nice and sharp. These are in the store by the front counter and very reasonably priced! Thanks Janet for reaching out to us, we are thrilled to be offering them to our customers!
What's New in Our Wool Department?
Wooly Mammoth Green Wools are new in the wool department! They are heavenly to sew with! We have fat eigths available
Elegance is a new kit from Granny's Legacy we are offering in the store! The pattern and all products are included in the kit in order to make this gorgeous pillow! Thanks Chris for the sample! You can order yours
HERE
Also new from Granny's Legacy is the Addison pattern and kit! This kit uses the Woolly Mammoth wools! You can order
HERE
All Iowa Shop Hop
is right around the corner and we are taking per-orders for the fabrics! All pre-orders must be done through our website with a credit card paymet. We will have it ready for pick up at 10am on June 1st! Here are the fabrics and the links for pre-ordering!
Iowa Winter Land Panel can be pre-ordered
HERE
Main Street can be pre-ordered
HERE
Town Square Panel can be pre-ordered
HERE
Spinning Stars Aqua can be pre-ordered
HERE
Spinning Stars Charcoal can be pre-ordered
HERE
Spinning Stars Red can be pre-ordered
HERE
Spinning Stars Silver can be pre-ordered
HERE
Village Charcoal can be pre-ordered
HERE
Upcoming Classes and Events in April

View April Calendar HERE
You won't want to miss this week's give aways to celebrate Julia's birthday next Monday! Each day on Creeksidequiltingiowa's Facebook and Instagram account, you can register to win a new and different prize!! Six days and twelve giveaways!! All you have to do is comment on the daily post and you are entered in the drawings! Then join her next Monday the 19th on her Facebook Live video at 4:30 to see if you won!! Register here:

Facebook:
Creekside Quilting Iowa
https://www.facebook.com/creeksidequiltingiowa
Instagram:
CreeksideQuiltingIowa
https://www.instagram.com/creeksidequiltingiowa/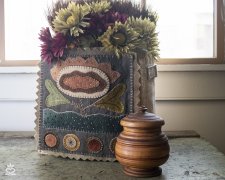 Tuesday, April 13th is Wool Club starting at noon!. If you are new to the group you MUST register by calling the store at (515)276-1977


Thursday, April 15th is Mid Month Madness! Bring your bag in or order online and we will give you 15% off anything that fits in your project bag! The bag is $25, which is easy to recoup with the 15% savings! The bag is large and fits a lot of fabric, notions, and patterns....all your quilting needs! Order your bag HERE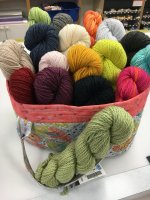 Sit and Knit with Elaine on Sunday, April 18th starting at 1:30 pm. This club is open to anyone who likes to knit, and would like to knit with other knitters! If you are new to the group you MUST register by calling the store at (515)276-1977 This group is open to everyone


Monday, April 12th, Let's Welcome Spring Mystery Block Group. You can order your own Quilt Builder Card Deck HERE


Bench Pillows for All Season's is Tuesday, April 20th at 1 pm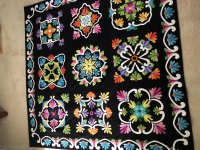 Wednesday, April 21st is the Applique Sew-in Group starting at 10:00 am and lasting all day! If you are new to the group you MUST register by calling the store at (515)276-1977 This group is open to everyone


Pat is teaching a Beginning to Quilt Class on Saturday, April 24th 10:30-3:30. The class will have two people in it, and we are in need of one more person. You can register for the class HERE if you are intersted in learning to quilt.


We are thrilled that Marie Bostwick will be joining us Wednesday, April 28th at 1pm for our Book Club! If you want to join us for this, you can register to be on Zoom at this link HERE...sorry but the classroom is already full....but everyone is welcome to join us through Zoom!

Wednesday, April 28th at 1 pm is our next Patchwork Sister's Book Club meeting! If you are new to the book club you MUST register by calling the store at (515)276-1977 This group is open to everyone. This month we are discussing Marie Bostwick book The Restoration of Celia Fairchild! Order your book HERE


We have started a NEW Quilt Challenge, and anyone can join us! We are doing a Clue Mystery Project! Come on into the store, register with us, and draw a person, weapon, and room Clue card and develop a project! This can be a quilt, a knitting project, embroidery, painting...anything that you want that gives the clues to the cards you drew.

So for example, if you drew Professor Plum with the knife in the kitchen, you might make a purple apron with a embroidered knife cutting a tomatoe on one of the pockets. BUT mums the word....don't tell anyone what you are making or give away your clues until July.

In July when we meet, everyone in the group will guess the Whodonits! Everything will be displayed in the class fo the month of August, for our state fair customers to make guesses on the person, weapon and room! This should be fun, so please register and join us on Wednesday, April 28th at 2:30 pm. Remember to bring your show and tell. Register HERE


Friday, April 30th at 1 pm: UFO Club This group is open to everyone and if new to the group, you MUST register by calling the store at (515)276-1977.

Show and Tell


Lori, you are so much fun! We all enjoyed your visit and helping you pick out your binding for this whimsical baby quilt!


Mary Jo, your bench pillow is so cute!! Perfect for summer!!!

Keep in touch with us with what's going on at the store through:

Join Julia Live on Monday's at 4:30 to see all the new fabrics up close a personal. Just go to our Facebook page creeksidequiltingiowa and register!

Facebook:
Creekside Quilting Iowa
https://www.facebook.com/creeksidequiltingiowa
Instagram:
CreeksideQuiltingIowa
https://www.instagram.com/creeksidequiltingiowa/

Product Video page:
https://www.creeksidequiltingiowa.com/videos-showcasing-fabric-and-notions.htm
Mask up and quilt on...karen steggerda