Creekside Newsletter 06/08/2021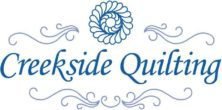 ****
Quilter's, our new
sewing machine technician
starts this
Thursday, June 10th
!! Bring in your sewing machine's for cleaning and repair starting today to get in her que!
What's New @ Creekside Quilting?
Blues and yellows are so in this spring! Love! Love! Love this line from Moda by Robin Pickens called Cottage Bleu! View all 34 bolts of this fabric line
HERE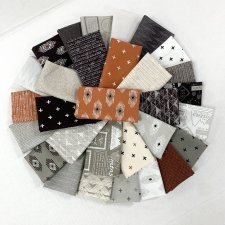 This line is called Smoke Rust and that is exactly what it is...greys, browns, blacks and ivorys! This is a more contemporary line, with a lot of wonderful blenders! View all 32 bolts of this fabric line
HERE
Debby has done it again with this gorgeous quilt! The girl dolls are all made with Tilda fabrics! The pattern is The Girl Next Door by Jen Kingwell. You can order the pattern
HERE
and view all our Tilda fabrics
HERE
All Iowa Shop Hop started last Tuesday, June first and these three lovely ladies were the first through our doors, starting right at 9am!
I am having a blast meeting and visiting with people who are on the All Iowa Shop Hop! These four lovely ladies were from Marashalltown, Linville, and Sully! I loved their matching bags, which were made by two of the ladies for their group....just for the shop hop! Julia, let's do something fun like this for our shop hopping at the end of the month!
Show and Tells!
We've had a great week of Show and Tells, so grab your coffee, and take a peek with me at all these beautiful quilts!
UFO Finished their year with a nice celebration, and plenty of show and tells!
Nancy with her heart quilt!
Carrie with her triangles quilt...thanks Carrie for showing us an easy way to cut triangles!
Nancy with her panel of the world and how she put a cute boarder on it to pop the panel!
Dueana's charming Clothesline Club quilt!
Sandy and her wool applique!
But the one that touched my heart the most, was Nancy's panel she is making that is listing the names of all the victims to mass shootings since January 1st 2021. Do you know, there are over 600 victims who have lost their lives to a mass shooting in 5 short months? Nancy, thank you for sharing....we were all moved by this beautiful tribute you are creating!
Then comes Pam in our Mystery Block Let's Celebrate Summer group, with another amazing way to put together Sampler Quilts! We are all learning from your examples, Pam, so keep on sharing...we love your suggestions and quilts! (My picture does not do thie quilt justice...sorry everyone!)
To kick off our Summer Quilt Camp, the 1930's group, we sure learned a lot because everyone jumped into the communications and shared their knowledge! It was a great kickoff to our Summer Quilt Camp week! Thanks Suzanne for bringing 3 pristine 1930's quilts to share with us! I never tire of learning about this generation of quilting!
What's Happening in June?

Check out our June calendar HERE


Summer Quilting Camp June 7th through June 11th! ALL WORKSHOPS ARE FULL!!!!!

Monday, June 7th at 1:30-3:30 Early Quilt Blocks to FeedSacks by Karen Steggerda!

Tuesday, June 8th starting at 9:30-11:30 Free Motion Quilting with Betty Ann Schmitz!

Tuesday, June 8th starting at 1:30-3:30 Sew Kind of Wonderful Curvevd Rulers and patterns by Dianne Davis!

Wednesday, June 9th starting at 9:30-11:30 Wool Applique with Val Beecher!

Wednesday, June 9th starting from 1:30-3:30 Sharon Meisenheimer's Needleturn Applique.

Thursday, June 10th 9:30-11:30 Perfect Binding with Pat Hjelmeland

Thursday, June 10th 1:30-3:30 Stripology Ruler with Pat Hjelmeland

Friday, June 11th 9:30-11:30 Machine Applique with Turned Edges with Karen Burrier

Friday, June 11th, 1:30-3:30 Quilt Camp with Q&A's and your fun Show and Tells from the week!



Join Julia this summer on Fridays for Facebook Live at 9:30am for our Flashsale Friday's Sales of the day!! Facebook: Creekside Quilting Iowa https://www.facebook.com/creeksidequiltingiowa


Monday, June14th, Let's Welcome Spring Mystery Block Group at 10:30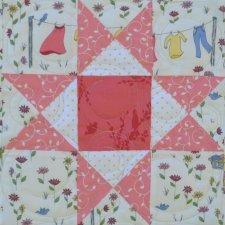 Clothesline Club 2020 on Monday, June 14th starting at noon.



Join Julia this summer on Mondays for Facebook Live at 4:30pm to see what's new in the store and get a first chance to order before the newsletter comes out on Tuesday morning. Facebook: Creekside Quilting Iowa https://www.facebook.com/creeksidequiltingiowa

Tuesday, June 15th is Mid Month Madness! Bring your bag in or order online and we will give you 15% off anything that fits in your project bag! The bag is $25, and some people in January, saved that much on their purchase...so now the bag is FREE for them! The bag is large and fits a lot of fabric, notions, and patterns....all your quilting needs! Order your bag HERE
Sewcial Friends Tuesday, June 15th at 1 pm this group is closed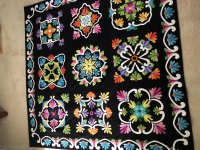 Wednesday, June 16th is the Applique Sew-in Group starting at 10:00 am and lasting all day! This group is open to everyone, just come on in and join the fun!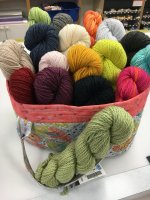 NEW DAY AND ALL ARE WELCOME TO JOIN Sit and Knit with Elaine on Thursday, June 17th starting at 10:30 am. This club is open to anyone who likes to knit, and would like to knit with other knitters! This group is open to everyone just come on in and join the fun!

Friday, June 18th, We have a waiting list for our Sunirse to Sunset Summer Solstice Quilt Retreat! Call the store to register and if we get more people we will move to a larger space! This will be a fun day of sewing, knitting, or embroidery from sunrise to sunset!


NEW Monday, June 21st is Sampler Spree Sew Along at 10:30 am. Call or email Karen if interested in more information.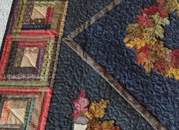 NEW Free Motion Machine Quilting Made EASY! with Betty Ann Schmitz Tuesday, June 22nd starting at 10:30! Register HERE early, as Betty Ann's classes always fill up fast!


NEW CLASS Intro to Foundation Paper Piecing on Wednesday, June 23rd, with Sharon Meisenheimer starting at 10:30 am! Register HERE


Patchwork Sister's Book Club is reading for the month of June, The Double Cross by Clare O'Donahue! Grab a copy of the book and come join us for a lively discussion! Sign up HERE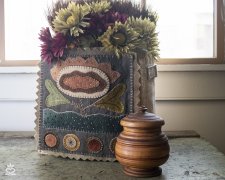 Tuesday, June 29th is Wool Club starting at noon! This group is open to everyone just come on in and join the fun!


Facebook:
Creekside Quilting Iowa
https://www.facebook.com/creeksidequiltingiowa
Instagram:
CreeksideQuiltingIowa
https://www.instagram.com/creeksidequiltingiowa/

Product Video page:
https://www.creeksidequiltingiowa.com/videos-showcasing-fabric-and-notions.htm
Thank you Suzanne for bringing me these beautiful peonies from your garden! They brought smiles to my face for many days!! Thank you for your kindness!!

It's June! Let the fun of summer begin! karen steggerda