Creekside Quilting Newsletter 06/15/2021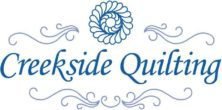 Today's the Day!!!! Tuesday, June 15th is Mid Month Madness
! Bring your bag in or order online with the code, and we will give you 15% off anything that fits in your project bag! The bag is $25, and almost everyone has saved that much on their purchases...so now their bag is FREE and they are just racking up the savings each month! The bag is large and fits a lot of fabric, notions, and patterns....all your quilting needs! We only 4 bags left to sell for the 2021 year. Order your bag
HERE
What's New @ Creekside Quilting?
The Summer Quilt Camp was a great success! I only heard songs of praise for our instructors and the amount of information that was taught in the two hour time slot! Thanks to all who participated and thanks to all the wonderful insturctors! Watch for another quilt camp to possilby come the end of July! Just a couple of pictures from the camp attached!
Free Motion Quilting with Betty Ann....she is also offering a full day class on the 22nd of June...you can register
HERE
Stripology and Binding Baics with Pat!
Wool Applique with Val...now come join the wool applique group on Tuesday, June 29th to practice what you learned during the camp!
This year's Clothesline Club concluded with a pizza lunch, a presentation by Barb on Color Basics, and show and tells or our quilts from the blocks we made this past year. Thanks Barb for your presentation, it was awesome! Clothesline Club will resume in September so watch for registration in August. Next year we will be studying color and sampler quilts using the book Sampler Spree, which you can order
HERE
Gloria's quilt was a crowd pleaser!! Everyone loved your quilt!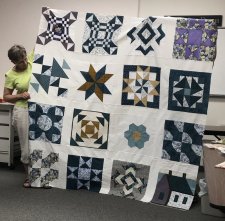 Mary Jo we were all so impressed with your quilt blocks....enlarging all the patterns was no easy task! Excellent job!
Betty Ann took the blocks and created an interesting layout....which we all ohhed and awed over!
Slow week for products coming, but Barb and I did get this Halloween sample made. This sample is made up of two panels, which we put together to create a lap size quilt! We have kits available which can be ordered
HERE
!
The Sampler Spree Summer Sew Along, by Susan Ache, and presented by Moda, begins this week, and we have a group at Creekside that is going to be participating! If you would like to participate with our group, shoot me an email...if you just want to participate with the Moda Sew Along on line, the book can be purchased
HERE
Another book by Susan Ache that works with scrappy quilts and color! You can order
HERE
NEW!
Singer Featherweight Club will start July 17th
.
Do you have a vintage Singer Featherweight sewing machine? Join us the 3rd Saturday of the month starting July 17, 2021, from 10:30 a.m. to 3:00 pm. We will discover together the adventure of caring for and sewing with this sweet little machine.
We will discuss the history of the Featherweight, books available for learning more, products needed for cleaning and oiling, and we will sew together on our machines. Down the road we will spend a session cleaning and oiling our machines.. For the first class, bring your machine, scrap fabric for sewing on the machine, scissors, thread, and something for taking notes. Each class will begin with information, tips and sharing. We will decide together how to structure the sewing part of our session.

Register HERE. Regsitrations taken only on the website.

Summer Quilt Retreat Time? How about a smaller machine to take to Quilting Retreats! We have the following machines in stock for quilt retreats!

This Singer M3500 is a great lightweight little machine! Read about it's features HERE. MSRP price is $199 and I have it on sale while in-stock quantities last for $149!


Brand new to our store is the Pfaff Smarter 260C with IDT! Read about it's features HERE. MSRP $599 and we have a couple in-stock! This machine will use most Pfaff feet.


Pfaff Passport 2.0 has an MSRP of $750! This machine has the IDT system! It's a great little machine! Read about it's features HERE
****
Quilter's, our new
sewing machine technician
will be back
Tuesday, June 29th
!! Bring in your sewing machine's for cleaning and repair starting today to get in her que.



What's Happening in June?





Check out our June calendar

HERE
Sewcial Friends Tuesday, June 15th at 1 pm this group is closed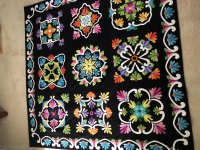 Wednesday, June 16th is the Applique Sew-in Group starting at 10:00 am and lasting all day! This group is open to everyone, just come on in and join the fun!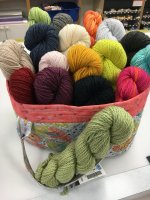 NEW DAY AND ALL ARE WELCOME TO JOIN Sit and Knit with Elaine on Thursday, June 17th starting at 10:30 am. This club is open to anyone who likes to knit, and would like to knit with other knitters! This group is open to everyone just come on in and join the fun!



Join Julia this summer on Fridays for Facebook Live at 9:30am for our Flashsale Friday's Sales of the day!! Facebook: Creekside Quilting Iowa https://www.facebook.com/creeksidequiltingiowa

Friday, June 18th, We have a waiting list for our Sunirse to Sunset Summer Solstice Quilt Retreat! Call the store to register and if we get more people we will move to a larger space! This will be a fun day of sewing, knitting, or embroidery from sunrise to sunset!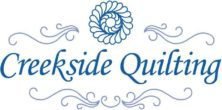 Sunday, June 20th from 1-4, we are open for business!



NEW Monday, June 21st is Sampler Spree Sew Along at 10:30 am. Call or email Karen if interested in more information.



Join Julia this summer on Mondays for Facebook Live at 4:30pm to see what's new in the store and get a first chance to order before the newsletter comes out on Tuesday morning. Facebook: Creekside Quilting Iowa https://www.facebook.com/creeksidequiltingiowa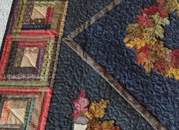 NEW Free Motion Machine Quilting Made EASY! with Betty Ann Schmitz Tuesday, June 22nd starting at 10:30! Register HERE early, as Betty Ann's classes always fill up fast!


NEW CLASS Intro to Foundation Paper Piecing on Wednesday, June 23rd, with Sharon Meisenheimer starting at 10:30 am! Register HERE


Patchwork Sister's Book Club is reading for the month of June, The Double Cross by Clare O'Donahue! Grab a copy of the book and come join us for a lively discussion! Sign up HERE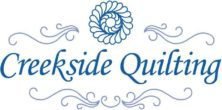 Sunday, June 27th, we are open for business from 1-4 pm!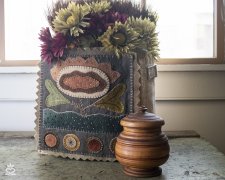 Tuesday, June 29th is Wool Club starting at noon! This group is open to everyone just come on in and join the fun!

Show and Tell


Margaret, we all LOVED your Shanendoah quilt! It was so inspiring!!


Another creative quilt design from Pam on how to put together sampler blocks!


Facebook:
Creekside Quilting Iowa
https://www.facebook.com/creeksidequiltingiowa
Instagram:
CreeksideQuiltingIowa
https://www.instagram.com/creeksidequiltingiowa/

Product Video page:
https://www.creeksidequiltingiowa.com/videos-showcasing-fabric-and-notions.htm
Stop and smell the roses, it's June! Let the fun of summer begin! karen steggerda