Skip Navigation
Website Accessibility
Creekside Quilting Newsletter 07/06/2021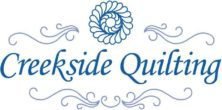 Exciting news! We now have an app! The Creekside Quilting Iowa App is HERE for Apple users, and should be ready from our developers for Android users in next couple of weeks! This is so exciting! You can order fabrics, notions, patterns and books right from our app! You can also watch our LIVE shows right from the app! Julia did an excellent job getting this set up for us, and I actually have made a couple of purchases from the app....it's easy as pie! You are going to LOVE IT!!
Our new app, Creekside Quilting Iowa, can be downloaded on the Apple App Store for iOS devices here:

Simply download, create an account, and start shopping! Local pickup and shipping are available.
We are so excited to reach and serve you in this new way! Stay tuned for fun offers exclusive to the app! Like last Sunday we ran a 30% off anything in the store....it was awesome for those who took advantage of the app sale!
What's New @ Creekside Quilting?
Christmasn in July is well underway at Creekside Quilting! Come in and check out this gorgeous traditional red and green line from Me and My Sister called Merry and Bright! It's a delight to have in the store and is making people get in the Christmas mood of starting those Christmas projects! Check out the full line
HERE
and the fat quarter bundle of the full line can be ordered
HERE
Starburst table runner kit is assembled with the Merry and Bright Christmas fabric! The pattern comes with the template! Order the kit
HERE
Patrick Lose is back with a new line called Dapple! Check out all these gorgeous blenders from Patrick Lose
you can order
HERE
Banyan Batik blenders are starting to trickle in....if you like batics, you are going to like the richness of these batik colors as a blender in your quilt! View the Banyan Batiks
HERE
These two patterns are designed by Me and My Sister! They are easy patterns to make, and fun to use! Maybe use the Merry and Bright fabric to start making Christmas gifts!
You can view the 2 Fat Quarter Bucket pattern
HERE
and Ditty Bag pattern
HERE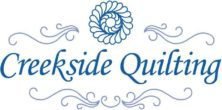 We are collecting applications for possible positions in the fall. If you are interested in joining our team, please come in and fill out an application. Interviews will begin later this summer.
Stitch Pink, Moda's Breast Cancer Awareness Sew Along
, is going to be here before we know it and this year for Stitch Pink, Moda is putting their hearts on their sleeve. Or rather, hearts in a quilt. Featuring Sincerely Yours by Sherri and Chelsi, the sewalong pattern for Octore 2021 is TOGETHER by Sherri McConnell. But that's not the most exciting part...Sherri will be hosting a series of How To videos each week during the month of October to guide us through her heartfelt quilt design.
Let's do this TOGETHER quilt together by reserving a space here at Creekside Quilting and we will meet each week in October for the video and a day of sewing! Week 1 Starts October 1st and so will we! Regsiter for your seat
HERE
and we will gather together Friday, October 1st at 10:30 am...watch the video together, do some show and tells, sharing of our tips and tricks and then begin the task of sewing our blocks!
Pre-order your Stitch Pink 2021 kit
HERE
today! Pre-order this kit before August 31st at the price of $135.00...once September 1st arrives, the kit will be $150.00. Kit quantities are limitied.
And mark your calendar to come sew with us on National Jelly Roll Day, Saturday, September 18th. More information to come in July!
What's New at Pfaff?
The Quilt Expression 720 is on sale this month at Creekside Quilting! We have the machine in stock and ready for you to take home! MSRP is $3999 and we have it on sale, as long as instock quantities last, for 15% off (of $3399) It's a great machine at a terrific price!
What's Happening in July?

Check out our July calendar HERE


The All Iowa Shop Hop continues in July through the 31st! Don't miss out on this fun event!
Julia and I went shop hopping last Friday and played on our Facebook page along our travels. We have the following winners!

1. Winterset post. 1 turquoise, 1 black fat quarter: Ann Wall
2. Humeston post - 1 AISH panel: Ann Reed
3. Chariton post- 1 AISH panel: Arnette Pint
4. Pella post - 2 fat quarter: Karen Rech

Join Julia this summer on Fridays for Facebook Live at 9:30 am to see the Flash Sale Friday fabrics and notions that will be on sale for the day! Facebook: Creekside Quilting Iowa https://www.facebook.com/creeksidequiltingiowa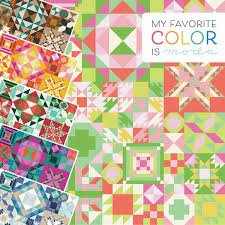 My Favorite Color is Moda BOM Saturday, July10th at 10:30 am. This group is full.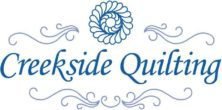 Sunday, July 11th, 18th and 25th from 1-4, we are open for business!


NEW Monday, July 12th, 19th and 26th is Sampler Spree Sew Along at 10:30 am. This group is full.



Join Julia this summer on Mondays for Facebook Live at 4:30pm to see what's new in the store and get a first chance to order before the newsletter comes out on Tuesday morning. Facebook: Creekside Quilting Iowa https://www.facebook.com/creeksidequiltingiowa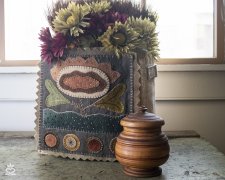 Tuesday, July 13th is Wool Club starting at noon! This group is open to everyone just come on in and join the fun!


NEW CLASS Intro to English Paper Piecing with Sharon Meisenheimer Wedensday, July 14th starting at 10:30 am! Register HERE

Thursday, July 15th is Mid Month Madness! Bring your bag in or order online and we will give you 15% off anything that fits in your project bag! This year's order of bags is sold out!! If you didn't get one this year to participate, then watch for our 2022 bag starting in December to participate in 2022


Singer Featherweight Club will start July 17th. This group is full.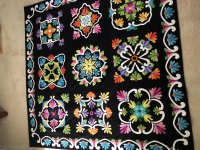 Wednesday, July 21st is the Applique Sew-in Group starting at 10:00 am and lasting all day! This group is open to everyone, just come on in and join the fun!
Wednesday, July 28th at 1pm is Patchwork Sister's Book Club is reading for the month of July, The Devil's Puzzle by Clare O'Donahue! Grab a copy of the book and come join us for a lively discussion! Sign up HERE


Wednesday, July 28th at 2:30 pm Clue Mystery Project! This group is now full. Bring your project for all of us to guess who did what where!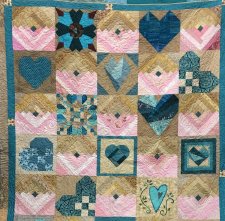 Friday, July 30th at 1pm is UFO Club and this year we are doing it a little differently! Come any last Friday of the month and pay $2 to particpate for that day. The first $1 will go towards meeting your goals and the second $1 will go into the kitty for our year end party of prizes for our achievements! You can come any month you want, set any goals you want, and collect your $1 back the next month with your met goals. First month is always $2 and you wont receive your $1 back until you met a goal. Come any month...no need to register!
Show and Tell
Sandy, we all loved your quilt top, which used all fabrics from Kim Diehl AND the pattern came straight from the cover of her book! You said collecting all the fabrics was just as much fun as putting the quilt top together! Looks great!
Had a great weekend visiting my son! Hope you holiday weekends were filled with laughter, family, and fun! karen steggerda