Skip Navigation
Website Accessibility
Creekside Quilting Newsletter 07/13/22021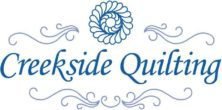 Exciting news! We now have an app! The Creekside Quilting Iowa App is HERE for BOTH Apple and Android uesers!!

You can order fabrics, notions, patterns and books right from our app! You can also watch our LIVE shows right from the app! Julia did an excellent job getting this set up for us, and I actually have made a couple of purchases from the app....it's easy as pie! You are going to LOVE IT!!
Our new app, Creekside Quilting Iowa, can be downloaded on the Apple App Store for iOS devices here:

Simply download, create an account, and start shopping! Local pickup and shipping are available.
We are so excited to reach and serve you in this new way! Stay tuned for fun offers exclusive to the app! Christmas in July is coming up and you won't want to miss it!
What's New @ Creekside Quilting?

Riley Blake Crayola Colorful Friends fabric line can be viewed
HERE
and the accompaning panel
HERE
This FIGO Serenity Basics fabric line is charming with pastel and nuetral colors. This line would make a great accent to a TILDA project! View the full line of 22 bolts
HERE
and the fat quarter bundles
HERE
Janet Glass takes vintage embroidered items and beads them to transform them into cute pin cushions filled with walnet pieces to keep those needles sharp! They come in three sizes, small...medium...and large and in a variety of fabrics and embroidery. Stop on in the shop to purchase one...they make great gifts!
A little late for this year's 4th of July, but plenty of time to start for next year! Amelie Scott Designs Stars and Stripes Table Runner Pattern can be ordered
HERE
These Cindy's Seam Rippers are great! They fit nicely on all finger sizes! Order yours
HERE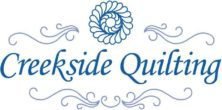 We are collecting applications for possible positions in the fall. If you are interested in joining our team, please come in and fill out an application. Interviews will begin later this summer.
Stitch Pink, Moda's Breast Cancer Awareness Sew Along
, is going to be here before we know it and this year for Stitch Pink, Moda is putting their hearts on their sleeve. Or rather, hearts in a quilt. Featuring Sincerely Yours by Sherri and Chelsi, the sewalong pattern for Octore 2021 is TOGETHER by Sherri McConnell. But that's not the most exciting part...Sherri will be hosting a series of How To videos each week during the month of October to guide us through her heartfelt quilt design.
Let's do this TOGETHER quilt together by reserving a space here at Creekside Quilting and we will meet each week in October for the video and a day of sewing! Week 1 Starts October 1st and so will we! Regsiter for your seat
HERE
and we will gather together Friday, October 1st at 10:30 am...watch the video together, do some show and tells, sharing of our tips and tricks and then begin the task of sewing our blocks!
Pre-order your Stitch Pink 2021 kit
HERE
today! Pre-order this kit before August 31st at the price of $135.00...once September 1st arrives, the kit will be $150.00. Kit quantities are limitied.
What's New at Pfaff?
***

SEWING MACHINE CLEANING AND REPAIR FRIDAY, JULY 30TH
...bring your machines in before the 30th!***
The Quilt Expression 720 is on sale this month at Creekside Quilting! We have the machine in stock and ready for you to take home! MSRP is $3999 and we have it on sale, as long as instock quantities last, for 15% off (of $3399) It's a great machine at a terrific price!
What's Happening in July?

Check out our July calendar HERE


The All Iowa Shop Hop continues in July through the 31st! Don't miss out on this fun event!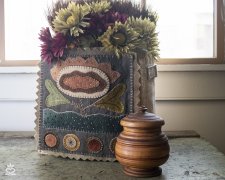 Tuesday, July 13th is Wool Club starting at noon! This group is open to everyone just come on in and join the fun!


TOMORROW!! NEW CLASS Intro to English Paper Piecing and learning the basics with Sharon Meisenheimer Wedensday, July 14th starting at 10:30 am! Register HERE

Thursday, July 15th is Mid Month Madness! Bring your bag in or order online and we will give you 15% off anything that fits in your project bag! This year's order of bags is sold out!! If you didn't get one this year to participate, then watch for our 2022 bag starting in December to participate in 2022



Join Julia this summer on Fridays for Facebook Live at 9:30 am to see the Flash Sale Friday fabrics and notions that will be on sale for the day! Facebook: Creekside Quilting Iowa https://www.facebook.com/creeksidequiltingiowa


WE HAVE A COUPLE MORE OPENINGS!!! Register online HERE today as the class starts this Saturday! Singer Featherweight Club will start July 17th at 10:30am.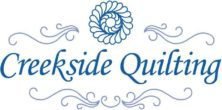 Sunday, July 18th and 25th from 1-4, we are open for business!


Monday, July 19th and 26th is Sampler Spree Sew Along at 10:30 am. This group is closed.



Join Julia this summer on Mondays for Facebook Live at 4:30pm to see what's new in the store and get a first chance to order before the newsletter comes out on Tuesday morning. Facebook: Creekside Quilting Iowa https://www.facebook.com/creeksidequiltingiowa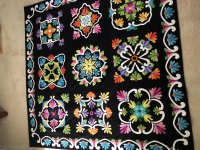 Wednesday, July 21st is the Applique Sew-in Group starting at 10:00 am and lasting all day! This group is open to everyone, just come on in and join the fun!
Wednesday, July 28th at 1pm is Patchwork Sister's Book Club is reading for the month of July, The Devil's Puzzle by Clare O'Donahue! Grab a copy of the book and come join us for a lively discussion! Sign up HERE


Wednesday, July 28th at 2:30 pm Clue Mystery Project! This group is now full. Bring your project for all of us to guess who did what where!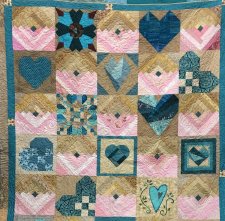 Friday, July 30th at 1pm is UFO Club and this year we are doing it a little differently! Come any last Friday of the month and pay $2 to particpate for that day. The first $1 will go towards meeting your goals and the second $1 will go into the kitty for our year end party of prizes for our achievements! You can come any month you want, set any goals you want, and collect your $1 back the next month with your met goals. First month is always $2 and you wont receive your $1 back until you met a goal. Come any month...no need to register!
Show and Tell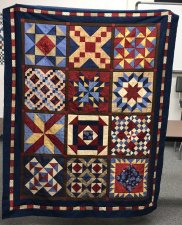 Lisa, our Mystery Block quilt group Let's Welcome Spring was so impressed with your quilt top! So, so pretty....you have inspired us all to get our quilt tops done also!
Phyllis, Chance is going to LOVE his new quilt!!
Val is getting ready for the upcoming season with a couple cute and festive quilted door hangings to welcome all her guests!
Happy stitchin'! karen steggerda