Skip Navigation
Website Accessibility
Creekside Quilting Newsletter 07/27/2021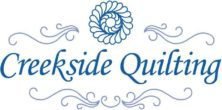 Julia's Christmas in July sale, through our app, on Sunday was a HUGE success! When the day was over, Julia was exhausted! LOL!! If you haven't already, downloaded our app to see what's new in the store, what's going on in the store, place orders, our Live videos on Monday's at 4:30 pm and Flash Sale Friday's at 9:30 am, then please do so! Julia does a great job telling you what's going on and keeping you entertained!
What's New @ Creekside Quilting?
Tim Holtz Abandoned II is quite the unique blender and will add pizzaz to any quilt! To get a better view of the full line check it out
HERE
Dreamy Dan by Sew Kind of Wonderful is a new pattern in the store! Come in and check out our Dreamy Dan and then make one for yourself. If you were to hang this on your front door, it should would be a fun welcome to all who enter! Order pattern
HERE
and the Sew Kind of Wonderful ruler
HERE
Taking the Quilts in a Jiffy Book by Donna Robertson, we created a couple of kits for the projects listed in the book. Come see the kits in the store and the book
HERE
This bag is EXCELLENT for retreats! It holds a 18x24 cutting mat....it is a monster bag! Come in the store to check it out....thanks Cindy for sharing your bag with us! Order the My Monster Bag pattern
HERE
An oldie but a goodie for this time of year! Witches Night Out is a great pattern book for Halloween sewing. The book is by It's Sew Emma and can be ordered
HERE
Treemendous Joy by Cutie Collections patterns is going to be our next Monday, at 10:30 group project. If you would like to join us, we are starting on Monday, August 30th at 10:30 am. If you would like to join us, you can register
HERE
or just buy the pattern
HERE
Stitch Pink, Moda's Breast Cancer Awareness Sew Along
, is going to be here before we know it and this year for Stitch Pink, Moda is putting their hearts on their sleeve. Or rather, hearts in a quilt. Featuring Sincerely Yours by Sherri and Chelsi, the sewalong pattern for Octore 2021 is TOGETHER by Sherri McConnell. But that's not the most exciting part...Sherri will be hosting a series of How To videos each week during the month of October to guide us through her heartfelt quilt design.
Let's do this TOGETHER quilt together by reserving a space here at Creekside Quilting and we will meet each week in October for the video and a day of sewing! Week 1 Starts October 1st and so will we! Regsiter for your seat
HERE
and we will gather together Friday, October 1st at 10:30 am...watch the video together, do some show and tells, sharing of our tips and tricks and then begin the task of sewing our blocks!
Pre-order your Stitch Pink 2021 kit
HERE
today! Pre-order this kit before August 31st at the price of $135.00...once September 1st arrives, the kit will be $150.00. Kit quantities are limited.
What's Happening in July?

Check out our July calendar HERE


ONE MORE WEEK TO SHOP HOP ACROSS IOWA!!!
Wednesday, July 28th at 1pm is Patchwork Sister's Book Club is reading for the month of July, The Devil's Puzzle by Clare O'Donahue! Grab a copy of the book and come join us for a lively discussion! Sign up HERE


Wednesday, July 28th at 2:30 pm Clue Mystery Project! This group is now full. Bring your project for all of us to guess who did what where!



Join Julia this summer on Fridays for Facebook Live at 9:30 am to see the Flash Sale Friday fabrics and notions that will be on sale for the day! Facebook: Creekside Quilting Iowa https://www.facebook.com/creeksidequiltingiowa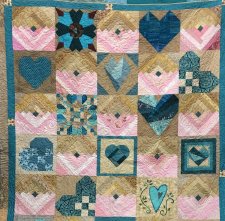 Friday, July 30th at 1pm is UFO Club and this year we are doing it a little differently! Come any last Friday of the month and pay $2 to particpate for that day. The first $1 will go towards meeting your goals and the second $1 will go into the kitty for our year end party of prizes for our achievements! You can come any month you want, set any goals you want, and collect your $1 back the next month with your met goals. First month is always $2 and you wont receive your $1 back until you meet a goal. Come any month...no need to register!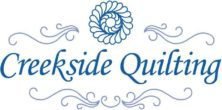 Sunday, August 1st from 1-4, we will be open for business



Join Julia this summer on Mondays for Facebook Live at 4:30pm to see what's new in the store and get a first chance to order before the newsletter comes out on Tuesday morning. Facebook: Creekside Quilting Iowa https://www.facebook.com/creeksidequiltingiowa


Exciting news! We now have an app! The Creekside Quilting Iowa App is HERE for BOTH Apple and Android uesers!!


Facebook: Creekside Quilting Iowa https://www.facebook.com/creeksidequiltingiowa

Instagram:
CreeksideQuiltingIowa
https://www.instagram.com/creeksidequiltingiowa/

Product Video page:
https://www.creeksidequiltingiowa.com/videos-showcasing-fabric-and-notions.htm
Congratulations to ALL who have copleted the whole state of Iowa in the All Iowa Shop Hop. One gentleman told us, they drove over 3000 miles to complete the entire state! That is a fun trip and plenty of wonderful Iowa to see and visit! Happy stitchin'! karen steggerda