Skip Navigation
Website Accessibility
Creekside Quilting Newsletter 08/17/2021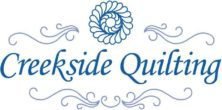 We are HIRING THE LAST COUPLE OF SPOTS:
*Retail Sales Associate Monday, Tuesday, Thursday, and Friday weekly and the 5th Saturday of the month, open to close.
*Retail Sales Associate Friday weekly and the 1st Saturday and 2nd Saturday of the month, open to close.

What's New @ Creekside Quilting?

The Clue Game Mystery Challenge Exhibit
Mr. Boddy of Tudor Manor has been murdered by his closest friends!
And the Creekside Quilting's Summer Challenge was to create a project surrounding the Clue Mystery Game that solves the murder of Mr. Boddy.
The challenge was to create a project, that gave clues to who did the murder, with what weapon, and in what room. I must say, the projects were very creative and the clues are well hidden in each project!
Can you guess who did each murder, with what weapon, and in what room?
In the month of August, play along with us and our Clue Game Mystery Challenge Exhibit! Submit your guesses and register to win prizes!
All submitted guesses will be tallied for correct guesses and there will be a drawing for winners. Gift cards of $25, $15 and $10 will be handed out. So, play along and have some fun!

Quilts are hung in our classroom to view!


This Timeless Treasures Black Wicked Halloween Line is totally eerie and I LOVE it! It has old haunted looking houses, tombstones, skulls, a spirit or smokey looking fabric, and a panel of the Haunted Mansion


Get a better view of the full fabric line HERE. Halloween lover? You are going to really like this fabric line!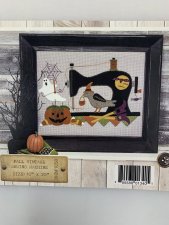 Speaking of Halloween, this Buttermilk Basin Fall Vintage Halloween pattern is great if you are a wool applique lover! You can order our kit with pattern HERE OR just the pattern HERE


We are trying a new line of felted wool in the store, and brought in fat eigths of red and half yard cuts of ivory. I'd like to get your feedback on these wools, so let me know your thoughts after trying them out. You can order the red wool HERE and the ivory wool HERE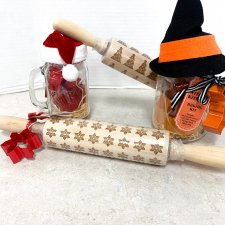 This truly is one of my favorite times of the year! Preparing for the upcoming holidays is so much fun! Although my list to do is longer than the time allotted to ever get things done. We received in these cute gift ideas from Moda! Check out the rolling embossing pins HERE the Christmas cookie cutter HERE and the Halloween cookie cutter HERE


9 More bolts of Banyan Batiks arrived for our collection! The colors are so vibrant and striking! You'll love adding these to your quilts! View the full line HERE
Exciting news! We now have an app! The Creekside Quilting Iowa App is HERE for Apple and Android users! You can order fabrics, notions, patterns and books right from our app! You can also watch our LIVE shows right from the app! You are going to LOVE IT!! Our new app, Creekside Quilting Iowa, can be downloaded on the Apple App Store for iOS devices here:

Simply download, create an account, and start shopping! Local pickup and shipping are available.
We are so excited to reach and serve you in this new way! Stay tuned for fun offers exclusive to the app!

PFAFF UPDATES:

***Pat will be at Creekside Quilting on Thursday, August 19th to clean Pfaff sewing machines. Please bring your machine in by the close of day on Wednesday.
Iowa State Fair Sewing Machine Specials!


Pfaff Ambition 610 has a MSRP of $999 and we have it on sale during the month of August for $799


Pfaff Ambition 620 has a MSRP of $1199 and we have it on sale during the month of August for $999


Pfaff Quilt Ambition 630 has a MSRP of $1699 and we have it on sale during the month of August for $1399


Pfaff Smarter 260c has a MSRP of $599 and we have it on sale during the month of August for $499


Singer M3500 has a MSRP of 4199 and we have it on sale during the month of August for $139

Thinking now for Christmas gifts, because you might not see these prices later this year! Come on in while these prices last!

What's Happening @ Creekside Quilting in August?

View the August calendar HERE
***PLEASE NOTE before you come to class, make sure your sewing machine is in good working condition and has all the necessary supplies you will need to run the sewing machine. A good understanding of how to use your sewing machine is a must. Sewing classes require a basic sewing kit and quilting tools.
***PLEASE NOTE that cancelation of classes will be refunded up to 1week prior to the class date and time. After that, the instructor is expecting you and there will be no refunds for cancelations.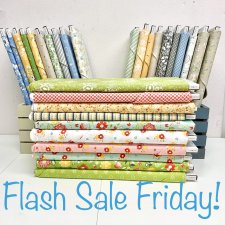 You won't want to miss our Flash Sale Fridays! We have changed things up a bit! So join us on Friday's at 9:30 am to see the line of fabric we have on sale. Using the app or Commentsold, on Friday's you will receive 35% off full yard cuts of fabric! Then on Saturdays, you can purchase the fabric in the store at 25% off!

Join Julia this summer on Mondays for Facebook Live at 4:30pm to see what's new in the store and get a first chance to order before the newsletter comes out on Tuesday morning. Facebook: Creekside Quilting Iowa https://www.facebook.com/creeksidequiltingiowa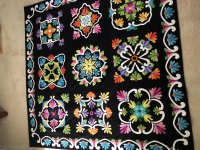 Wednesday, August 18th is the Applique Sew-in Group starting at 10:00 am and lasting all day! This group is open to everyone, just come on in and join the fun!


Singer Featherweight Club will be August 21st at 10:30. This month bring you sewing machine, pattern ideas, and stay all day to sew! This group is full.


Monday, August 23rd is Sampler Spree Sew Along at 10:30 am. This group is full.

Wednesday, August 25th at 1pm is Patchwork Sister's Book Club is reading for the month of August is reading Forget Me Knot by Mary Marks! Grab a copy of the book and come join us for a lively discussion! Sign up HERE

CRAZY Wednesday, August 25th at 2:30 pm is our Challenge Group! This NEW challenge will go through the end of January 2022, so plenty of time to complete a quilt, or applique, or knitting, or embroidery project that goes along with our theme "Crazy"! We will meet in August to discuss what we are doing or coming up with and sharing of opinions and ideas! Join us anytime, now through November!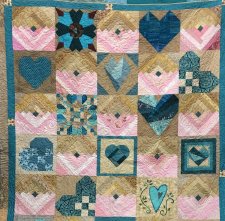 Friday, August 27th at 1pm is UFO Club and this year we are doing it a little differently! Come any last Friday of the month and pay $2 to particpate for that day. The first $1 will go towards meeting your goals and the second $1 will go into the kitty for our year end party of prizes for our achievements! You can come any month you want, set any goals you want, and collect your $1 back the next month with your met goals. First month is always $2 and you wont receive your $1 back until you met a goal. Come any month...no need to register!

Upcoming Classes and Events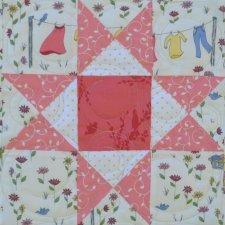 Clothesline Club
is back starting in September!
We will meet monthly on the 2nd Monday of the month from 1-3 pm. This year we are focusing on Moda's Sampler Spree quilt blocks. By the end of the year, you will have made a minimum of 10 blocks. Each month there will be show and tell and of course, opinions to be shared! Registration and the purchase of the Moda Sampler Spree book from Creekside Quilting is required. Register HERE as Covid rages this fall, we will have the opportunity to meet on Zoom if you so choose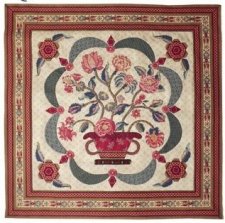 Applique University
with Sharon Meisenheimer will begin on Tuesday, September 21st at 10:30 am. This is great beginner class for Needleturn Applique and Sharon is an excellent teacher! Register for this 6 month class
HERE
11th Annual Garden Quilt Show at Reiman Gardens
, sponsored by the Iowa Quilters Guild, is September 17th through the 19th. If you would like to submit a quilt block for the show, please click
HERE
for more information
Thursday, September 23rd and Thursday September 30th from 10:30-1pm will be Beginning Quilting Class "Sew You Want to Quilt Class" with Betty Ann
Let Betty Ann guide you through the Log Cabin and four patche blocks, to take your love for textiles one step further and learn to quilt! We will go from fabric choice all the way to a finished project! On the way you will learn the basics, cutting and piecing pointers and how to quilt and bind your beautiful table topper! You must know how to operate your machine. Bring your sack lunch. Supply list is posted online and you will receive a 15% discounton supplies needed for class, other than fabric. This is a two part class, first class is the 23rd and the second class is the 30th. Register
HERE
Stitch Pink, Moda's Breast Cancer Awareness Sew Along
, is going to be here before we know it and this year for Stitch Pink, Moda is putting their hearts on their sleeve. Or rather, hearts in a quilt. Featuring Sincerely Yours by Sherri and Chelsi, the sewalong pattern for Octore 2021 is TOGETHER by Sherri McConnell. But that's not the most exciting part...Sherri will be hosting a series of How To videos each week during the month of October to guide us through her heartfelt quilt design.
Let's do this TOGETHER quilt together by reserving a space here at Creekside Quilting and we will meet each week in October for the video and a day of sewing! Week 1 Starts October 1st and so will we! Regsiter for your seat
HERE
and we will gather together Friday, October 1st at 10:30 am...watch the video together, do some show and tells, sharing of our tips and tricks and then begin the task of sewing our blocks!
Pre-order your Stitch Pink 2021 kit
HERE
today! Pre-order this kit before August 31st at the price of $135.00...once September 1st arrives, the kit will be $150.00. Kit quantities are limitied.

Facebook:
Creekside Quilting Iowa
https://www.facebook.com/creeksidequiltingiowa
Instagram:
CreeksideQuiltingIowa
https://www.instagram.com/creeksidequiltingiowa/

Product Video page:
https://www.creeksidequiltingiowa.com/videos-showcasing-fabric-and-notions.htm
With Covid ramping up again, please take advantage of our curbside pickup service. You can order most items through our store website www.creeksidequiltingiowa.com, through our Creekside Quilting app, or give us a call. We will love to help you anyway we can in getting your order processed to meet your comfort level.


Julia and I are very humbled and honored to be among the ribbon winners at the Iowa State Fair this year! Weknow that there are so many talented people and the competition is undeniably "very competitive"! We feel thankful and blessed to have had the opportunity to participate. As the slogan goes, "nothing compares to the Iowa State Fair!"

Party on everyone and just keep stitchin'! karen steggerda