Creekside Quilting Newsletter 09/28/2021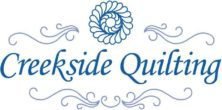 We are HIRING!!
We are now accepting applications for a
Retail Sales Associate Monday's and a floater to fill in shifts approximately 4 different times a month
, open to close. The floater shift may include a Saturday or two a month.
*Competitive retail starting salary with a generous store discount
What's New @ Creekside Quilting?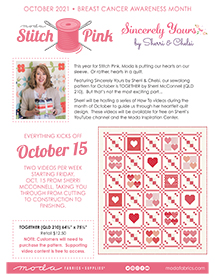 Stitch Pink will be starting October 15th
! Moda has had a delay in shipping of kits for this event, so the official start date will be October 15th! It's not to late to join us! Pre-order your fabric kit
HERE
Last year's Stitch Pink quilt is now up for raffle
and you can buy your tickets to win this quilt either in the store or online
HERE.
The tickets are $1 each or 6 tickets for $5. Winner of thie quilt will be drawn by the end of the year! ALL proceeds from this raffle will go to the National Breast Cancer Foundation
It's HERE! Our
2022 8 month BOM
is up and kits are being cut! Join Julia and Karen T for 8 months of fun sewing! Together, they will have videos on line, a Facebook group, and a session or two in person and on Zoom! It should be an exciting 8 months putting together this striking quilt by designer Charisma Horton! We have the exact same fabric line that is used for this quilt! You can pre-order your pattern and kit
HERE
for $235.99 before Thanksgiving at our pre-sale price! You can order just the pattern
HERE
Riley Blake's Hope in Bloom
fabric line can be viewed and ordered
HERE
. This line containes 19 bolts of fabric and 3 panels! The fat quarter bundle can be ordered
HERE
American Jane 1930's Storytime
fabric line released by Moda can be viewed and ordered
HERE
! and the darling panel that goes with it, can be viewed and ordered
HERE
! Everyone loves the charm of American Jane fabrics!
People love the Patrick Lose fabric line called Glam (view and order
HERE
), so we have kitted the
Sunset at Sea p
attern using all Patrick's Glam fabrics! Anyone who follows Patric on his social media channels, knows how much he likes to go on cruises, this pattern was just perfect for him...it truly resembles a sunset at sea! Order your kit
HERE
or the pattern
HERE
We are excited to be participating in the #scottsentme2021 Challenge. This challenge is all about YOU! If you want to participate, or just want more information on this challenge,
HERE
is the link:
https://scottfortunoff.com/scottsentme21-a-consumer-challenge-for-those-that-love-fabric-travel/
If you do participate, please stop in our store and get a picture in front of our sign! All participants who come in the store and get their picture in front of our #scottsentme2021 sign will receive 20% off all instock Jaftex fabrics! Jaftex fabrics are Free Spirit, Henry Glass, Studio E, and AE Nathan. Kit's using these fabric lines are excluded from the 20% off sale.
What's New with Pfaff?
Our sewing technician will be at the store for cleaning of machines and light repairs on T
hursday, October 7th
. Space is limited, so bring in your machines early to reserve your space!
What's New in Wool?
Hot off the press! Simply Vintage arrived and is ready for you to pick up and take home! I love the cover and just wish I had the time and talent to do something so exquisit! Order your copy
HERE
What's Happening @ Creekside Quilting in September?

***PLEASE NOTE before you come to class, make sure your sewing machine is in good working condition and has all the necessary supplies you will need to run the sewing machine. A good understanding of how to use your sewing machine is a must. Sewing classes require a basic sewing kit and quilting tools.
***PLEASE NOTE that cancelation of classes will be refunded up to 1week prior to the class date and time. After that, the instructor is expecting you and there will be no refunds for cancelations.

View the September calendar HERE
Thursday September 30th from 10:30-1pm will be Beginning Quilting Class "Sew You Want to Quilt? Class" with Betty Ann

What's NEW in October?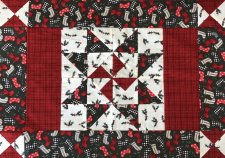 Quilting for Beginners-A Hobby for Life starts evenings on Monday, October 11th, 18th, and 25th starting at 6pm with Jan!
THIS beginning quilt class at night!! For more information and to register for the class click
HERE
Stitch Pink, Moda's Breast Cancer Awareness Sew Along
, is going to be here before we know it and this year for Stitch Pink, Moda is putting their hearts on their sleeve. Or rather, hearts in a quilt. Featuring Sincerely Yours by Sherri and Chelsi, the sewalong pattern for Octore 2021 is TOGETHER by Sherri McConnell. But that's not the most exciting part...Sherri will be hosting a series of How To videos each week during the month of October to guide us through her heartfelt quilt design.
Let's do this TOGETHER quilt together by reserving a space here at Creekside Quilting and we will meet each week in October for the video and a day of sewing! Regsiter for your seat
HERE
and we will gather together
Friday, October 15th at 10:30
am...watch the video together, do some show and tells, sharing of our tips and tricks and then begin the task of sewing our blocks!
Raw Edge Machine Applique Class using fusible interfacing will begin Thursday, October 21st at 10:30am.
This class will focus on using a small zig zag stitch to machine applique the raw edges of a design. We will start the class on the 21st learning about the products needed and practice the technique. You will need to know your sewing machine and it must be in good working order. Supply list is posted on the website. Then we will pick out our block from the Jan Patek Christmas 101 pattern that we will work on for the upcoming week and meet back on Thursday, October 28th for show and tell and Q&A...also any trouble shooting with problems to be discussed. Finally, for anyone who wants to do the full pattern for the holiday, or just more of the blocks, we will meet back on Thursday, November 18th for show and tell and more discussions to complete the class! The pattern is included in the cost of the class....you can sign up
HERE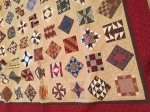 Foundation Paper Piecing
with Sharon Meisenheimer on
October 26th starting at 1 pm
! Enjoy the fun and accuracy of paper piecing. Sharp points and perfect pieces will be yours with this easy technique that can be used for blocks of all size. Control for sewing small pieces and odd angles with perfect points will be yours when you sew on a paper foundation. We will experiment with this technique which will enable you to be more accurate than you ever dreamed possible. Patterns will be furnished for 4 different blocks to use for practice and to better execute the technique. You can sign up
HERE
Exciting news! We now have an app!
The Creekside Quilting Iowa App is HERE for BOTH Apple and Android uesers!!
Show and Tell


Gracia, your red and white quilt was absolutely stunning!!! All those perfect pinwheels!! WOW!


Another UFO success!! Way to go Norma! We were all cheering for you!


Betty Ann's Clothesline Club 2020-2021 finished quilt! I'm always amazed at how you can take something and make it original and unique! It is gorgous!


Facebook:
Creekside Quilting Iowa
https://www.facebook.com/creeksidequiltingiowa
Instagram:
CreeksideQuiltingIowa
https://www.instagram.com/creeksidequiltingiowa/

Product Video page:
https://www.creeksidequiltingiowa.com/videos-showcasing-fabric-and-notions.htm
With Covid ramping up again, please take advantage of our curbside pickup service. You can order most items through our store website www.creeksidequiltingiowa.com, through our Creekside Quilting app, or give us a call. We will love to help you anyway we can in getting your order processed to meet your comfort level.

Keep on stitchin' and have a fantastic week! karen steggerda