qu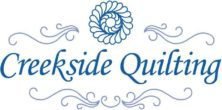 We are HIRING!!
We are now accepting applications for a
Retail Sales Associate for Monday open to close shift and then to fill in shifts approximately 4 different times a month as floater staff member
. The floater shift may include a Saturday or two a month.
*Competitive retail starting salary with a generous store discount
What's New @ Creekside Quilting?
Corey Yoder fans, Cozy Up has arrived!!! You can view and order this fun line
HERE
Poppie Cotton Farm Girls Unite Amazing Grace pattern can be ordered HERE and view and order the Poppie Cotton Chick-a-Doodle Doo charming 1930's fabric line HERE. Need a fat quarter bundle of all the fabrics? Order HERE


Blazing Stars pattern by Betsy Chutchian Designs goes GREAT with her Maria's Sky fabric line. Order the pattern HERE and the fat quarter bundles HERE


Books! Books! Books! Join our Patchwork Sister's book club in reading and discussing this month, The Second Sister by Marie Bostwick! Order your book HERE


Anne brought this book to my attention! Threads of Life is a history of sewing and how it has effected our world! Order your book HERE


Jen Kingwell fans have raved over her NEW book, Quilt Recipes! Order your copy HERE


Are you a planner and an organizer? This new book, A Quilting Life Monthly Planner is just for you! It contains several organinzing and record keeping mnagement for quilters and their quilts! Order HERE


Instructional books are the highlight this week, as we received in a slug of new books to add to our library! Let's start with instructional Needleturn applique books! Applique The Basics and Beyond can be ordered HERE


Kim Diehl's Simple Applique can be ordered HERE


Pat Sloan's Teach Me to Applique can be ordered HERE


Looking for just fun, easy weekend applique projects? Then Weekend Makes Simple Applique is for you and it can be ordered HERE


365 Fee Motion Quilting Designs can be ordered HERE


I'm always impressed with improv quilts and quilters! It's just not the way I think....so here is a wonderful book, if you have ever wanted to try improv quilting to see if it is something you like. The book Adventures in Improv Quilts can be ordered HERE


We are excited to be participating in the #scottsentme2021 Challenge. This challenge is all about YOU! If you want to participate, or just want more information on this challenge, HERE is the link: https://scottfortunoff.com/scottsentme21-a-consumer-challenge-for-those-that-love-fabric-travel/

If you do participate, please stop in our store and get a picture in front of our sign! All participants who come in the store and get their picture in front of our #scottsentme2021 sign will receive 20% off all instock Jaftex fabrics! Jaftex fabrics are Free Spirit, Henry Glass, Studio E, and AE Nathan. Kit's using these fabric lines are excluded from the 20% off sale.


Last year's Stitch Pink quilt is now up for raffle and you can buy your tickets to win this quilt either in the store or online HERE. The tickets are $1 each or 6 tickets for $5. Winner of thie quilt will be drawn by the end of the year! ALL proceeds from this raffle will go to the National Breast Cancer Foundation


It's HERE! Our 2022 8 month BOM is up and kits are being cut! Join Julia and Karen T for 8 months of fun sewing! Together, they will have videos on line, a Facebook group, and a session or two in person and on Zoom! It should be an exciting 8 months putting together this striking quilt by designer Charisma Horton! We have the exact same fabric line that is used for this quilt! You can pre-order your pattern and kit HERE for $235.99 before Thanksgiving at our pre-sale price! You can order just the pattern HERE

What's New in Wool Department?


Sue Spargo Toned Down Circle Sampler pattern and kit is available HERE, contains all wool, thread, circle templates, pattern, and embellishments in the kit.


This Sue Spargo pattern is a cute to make for the upcoming holiday....make your sweetie a Heart to Heart Bag! Order HERE

October Classes and Events

View the October calendar HERE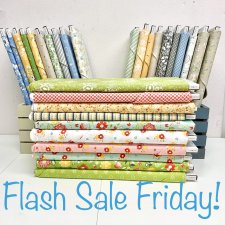 You won't want to miss our Flash Sale Fridays on October 8th, 15th, 22nd, and 29th at 9:30am! Using the app on Friday's, you will receive 35% off full yard cuts of fabric! Then on Saturdays, you can purchase the fabric in the store at 25% off!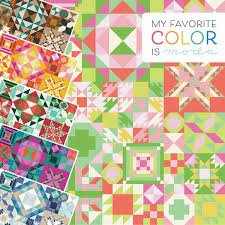 My Favorite Color is Moda BOM Saturday,October 9th at 10:30 am. This group is full.


Monday, October 11th, 18th and 25th is TreeMendous Joy Sew Along at 10:30 am. This group is full.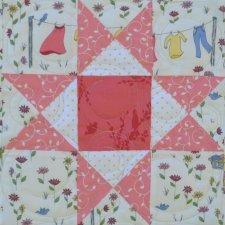 Clothesline Club Monday, October 11th at 1 pm. This group is full.


Join Julia on Mondays October 11th, 18th, and 25th for her Live Event at 4:30pm to see what's new in the store and get a first chance to order before the newsletter comes out on Tuesday morning. Facebook: Creekside Quilting Iowa https://www.facebook.com/creeksidequiltingiowa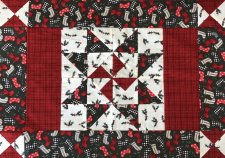 Quilting for Beginners-A Hobby for Life starts evenings on Monday, October 11th, 18th, and 25th starting at 6pm with Jan! THIS beginning quilt class at night!! For more information and to register for the class click HERE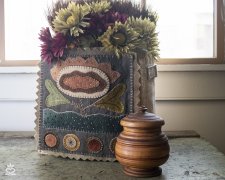 Tuesday, October 12th is Wool Club starting at noon! This group is open to everyone just come on in and join the fun!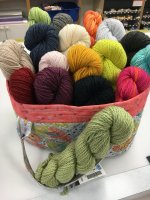 NEW DAY AND ALL ARE WELCOME TO JOIN Sit and Knit with Elaine on Thursday, October 14th starting at 10:30 am. This club is open to anyone who likes to knit, and would like to knit with other knitters! This group is open to everyone so just come on in and join the fun!

Friday, October 15th is Mid Month Madness! Bring your bag in or order online and we will give you 15% off anything that fits in your project bag! This year's order of bags is sold out!! If you didn't get one this year to participate, then watch for our 2022 bag starting in December to participate in 2022
Stitch Pink, Moda's Breast Cancer Awareness Sew Along Friday, October 15th
, is going to be here before wthe know it and this year for Stitch Pink, Moda is putting their hearts on their sleeve. Or rather, hearts in a quilt. Featuring Sincerely Yours by Sherri and Chelsi, the sewalong pattern for Octore 2021 is TOGETHER by Sherri McConnell. But that's not the most exciting part...Sherri will be hosting a series of How To videos each week during the month of October to guide us through her heartfelt quilt design.
Let's do this TOGETHER quilt together by reserving a space here at Creekside Quilting and we will meet each week in October for the video and a day of sewing! Week 1 Starts October 1st and so will we! Regsiter for your seat
HERE
and we will gather together Friday, October 15th at 10:30 am...watch the video together, do some show and tells, sharing of our tips and tricks and then begin the task of sewing our blocks!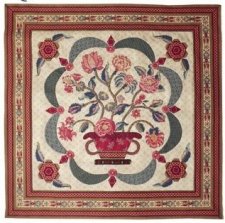 Applique University with Sharon Meisenheimer will begin on Tuesday, October19th at 10:30 am.
This class is full.
Raw Edge Machine Applique Class using fusible interfacing will begin Thursday, October 21st at 10:30am.
This class will focus on using a small zig zag stitch to machine applique the raw edges of a design. We will start the class on the 21st learning about the products needed and practice the technique. You will need to know your sewing machine and it must be in good working order. Supply list is posted on the website. Then we will pick out our block from the Jan Patek Christmas 101 pattern that we will work on for the upcoming week and meet back on Thursday, October 28th for show and tell and Q&A...also any trouble shooting with problems to be discussed. Finally, for anyone who wants to do the full pattern for the holiday, or just more of the blocks, we will meet back on Thursday, November 18th for show and tell and more discussions to complete the class! The pattern is included in the cost of the class....you can sign up
HERE
Wednesday, October 20th at 1pm is Patchwork Sister's Book Club
is reading for the month of The Second Sister by Marie Bostwick! Pre-order your book
HERE
and come join us for a lively discussion!
CRAZY Challenge Group

is Wednesday, October 20th at 2:30 pm
! We have some great quilt ideas started! This NEW challenge will go through the end of January 2022, so plenty of time to complete a quilt, or applique, or knitting, or embroidery project that goes along with our theme "Crazy"! We will meet in September for show and tell, to sew on our projects, to discuss what we are doing or coming up with and sharing of opinions and ideas! Join us anytime, now through November!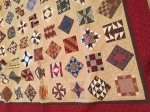 Foundation Paper Piecing
with Sharon Meisenheimer on
October 26th starting at 1 pm
! Enjoy the fun and accuracy of paper piecing. Sharp points and perfect pieces will be yours with this easy technique that can be used for blocks of all size. Control for sewing small pieces and odd angles with perfect points will be yours when you sew on a paper foundation. We will experiment with this technique which will enable you to be more accurate than you ever dreamed possible. Patterns will be furnished for 4 different blocks to use for practice and to better execute the technique. You can sign up
HERE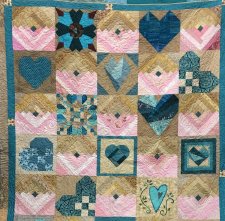 Friday, October 29th at 1pm is UFO Club
and this year we are doing it a little differently! Come any last Friday of the month and pay $2 to particpate for that day. The first $1 will go towards meeting your goals and the second $1 will go into the kitty for our year end party of prizes for our achievements! You can come any month you want, set any goals you want, and collect your $1 back the next month with your met goals. First month is always $2 and you wont receive your $1 back until you met a goal. Come any month...no need to register!
Exciting news! We now have an app!
The Creekside Quilting Iowa App is HERE for BOTH Apple and Android uesers!!

Facebook:
Creekside Quilting Iowa
https://www.facebook.com/creeksidequiltingiowa
Instagram:
CreeksideQuiltingIowa
https://www.instagram.com/creeksidequiltingiowa/

Product Video page:
https://www.creeksidequiltingiowa.com/videos-showcasing-fabric-and-notions.htm
With Covid ramping up again, please take advantage of our curbside pickup service. You can order most items through our store website www.creeksidequiltingiowa.com, through our Creekside Quilting app, or give us a call. We will love to help you anyway we can in getting your order processed to meet your comfort level.

Keep on stitchin' and have a fantastic week! karen steggerda