Stitch Pink Update 10/15/2021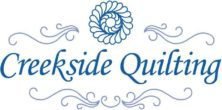 Good Morning!
This just posted on the Moda website:
We will begin our Stitch Pink on Friday, October 29th at 10:30 am at the Creekside Quilting Classroom.
I do know Moda is doing everything they can to get us all the fabric we need to get started with this project...they even chartered a cargo plane to fly in the fabric from overseas....it's just helter skelter right now and I'm sorry for any inconvience.
It's still not too late to join us or to purchase a kit. You can purchase a fabric kit with pattern online
HERE


Thanks for your patience and understanding! karen steggerda