Creekside Quilting Newsletter 10/26/2021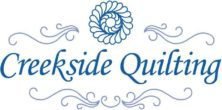 Why are dogs excellent dramatist? Because they know when to paws for effect! Tee Hee He!! What's a dog's most preferred type of pizza? Pupperoni! There you go all you dog lovers!
Happy Halloween!!! May all your tricks be as fun as all your treats!! Woof! Woof!
What's New @ Creekside Quilting?
Moda Me & My Sister Designs new line of Petal Power has arrived and is ready for your quilt!! You can view and order from the line
HERE
or order a fat quarter bundle of all the fabrics
HERE
Riley Blake Tie Dye is a great blender!! Check it out
HERE
or the fat quarter bundles
HERE
This book Intentional Piecing by Amy Friend (which can be ordered
HERE
)was highly recommended to us by Stephanie Bracelin....who is a pattern designer from DSM..and we have three of her patterns in our store. Queen Anne can be ordered
HERE
, Beaverdale Woven Quilt can be ordered
HERE
and Fremont Quilt can be ordered
HERE
. I agree with Stephanie, it's a very informative and instructional book for all quilter's to have! Thanks Stephanie for the suggestion!
We are seeing younger and younger people coming in the store, wanting to learn to quilt and this just makes my heart sing!! So another great book is Pat Sloan's Teach Me to Make My First Quilt! This would make a nice gift for those beginner quilters in your life....You can order your copy
HERE
Look at all these wonderful projects we have in the store to celebrate Halloween! You can order the Halloween mason jar cookie cutter kit
HERE
, the Witches Silhouette Pillow pattern
HERE
and the fabric kit
HERE
, the book Witches Night Out
HERE
and the rest can be found if you keep reading in our wool department.
What's New in Our Wool Department?
Look at all of these scrumptious, wonderful wool projects for fall!! Chris has done an amazing job and we are so blessed that she lets us put her creative works on display for samples!! You can order the Buttermilk Basin book Pick of the Crop
HERE
and the Marcia's Mini Mat Harvest pattern
HERE
. The Granny's Legacy pattern Dancing Leaves can be Pre-Ordered
HERE
Blythe Girl Designs Season's Pattern can be ordered
HERE
Once again, Chris...thank you for the samples! You do beautiful work!!
This Buttermilk Basin pattern Fall Vintage Sewing Machine pattern can be ordered
HERE
but we also have a wool fabric kit and pattern which can be ordered
HERE
. You might not get it done this week, but it will be ready for next year! Never to early to start planning for fall and Halloween!
Bareroots Little Stitchies pattern for Halloween can be ordered
HERE
. This is a great pattern for using up all those small scraps of wool we continually save!
This Sue Spargo complete kit of Toned Down is a wall sampler and a great way to learn all those wonderful hand embroidery stitches. I am supposed to be working on this with Anne and Susan....but they have already started and I am still admiring the kit! You can order your complete kit
HERE
What's New with Pfaff?
Pat will be at the store to clean sewing machines on Monday, November 8th from 12-4 pm AND Monday, November 22nd from 12-4 pm.
After completing all those holiday projects, drop off your machine any time before these dates and get in the cue for cleaning! Your sewing machine will love you!
What Else is Going on at Creekside Quilting?
We are raffeling off our 2020 Stitch Pink store quilt and ALL proceeds from this raffel will go to the National Breast Cancer Foudation. You can purchase tickets for this raffel online
HERE
$1 per each ticket OR $5 for 6 tickets! Help us support a good cause and have a chance to win our store 2020 Stitch Pink Quilt!
It's HERE! Our
2022 8-month BOM
is up and kits are being cut! Join Julia and Karen T for 8 months of fun sewing! Together, they will have videos online, a private Facebook group, and a session or two in person and on Zoom! It should be an exciting 8 months putting together this striking quilt by designer Charisma Horton! Kits include the pictured fabric from Maywood Studio's Shadow Play. Join us in one of three ways:
1. Join us on a fun 8-month journey for $29.99 per month + shipping. Each month, you will get your fabric, pattern, and a small free gift! Subscribe
HERE.
2. You can pre-order your pattern and kit
HERE
for $235.99 before Thanksgiving at our pre-sale price! Kits w/ patterns will ship at the first of the year.
3. You can order just the pattern
HERE
In the month of October,
anyone who makes a single purchase of $50 or more on our app will be entered into our
FREE GIVEAWAY
on Monday, November 1st at 4:30 pm cst! We will be giving away the Stitch Pink 2021 kit with pattern!! So download our app and make your purchase to get registered for this $150 valued giveaway!
October Classes and Events

View the October calendar HERE
Raw Edge Machine Applique Class using fusible interfacing will begin Thursday, October 28th at 10:30am.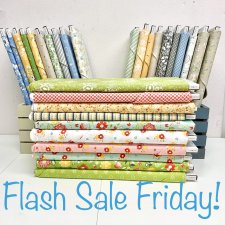 You won't want to miss our Flash Sale Fridays on October 29th at 9:30am!
Using the app on Friday's, you will receive 35% off full yard cuts of fabric! Then on Saturdays, you can purchase the remaining fabric in the store at 25% off! Get the app, watch Julia live at 9:30, and get the best deal in the Midwest for the day!
Wednesday, October 27th at 1pm is Patchwork Sister's Book Club
and we are reading for the month of The Second Sister by Marie Bostwick! Pre-order your book
HERE
and come join us for a lively discussion!




CRAZY Challenge Group

is Wednesday, October 27th at 2:30 pm!
We have some great quilt ideas started! This NEW challenge will go through the end of January 2022, so plenty of time to complete a quilt, or applique, or knitting, or embroidery project that goes along with our theme "Crazy"! We will meet in September for show and tell, to sew on our projects, to discuss what we are doing or coming up with and sharing of opinions and ideas! Join us anytime, now through November!
Stitch Pink, Moda's Breast Cancer Awareness Sew Along Friday, October 29th
, is going to be here before wthe know it and this year for Stitch Pink, Moda is putting their hearts on their sleeve. Or rather, hearts in a quilt. Featuring Sincerely Yours by Sherri and Chelsi, the sewalong pattern for Octore 2021 is TOGETHER by Sherri McConnell. But that's not the most exciting part...Sherri will be hosting a series of How To videos each week during the month of October to guide us through her heartfelt quilt design.
Let's do this TOGETHER quilt together by reserving a space here at Creekside Quilting and we will meet each week in October for the video and a day of sewing! Week 1 Starts October 1st and so will we! Regsiter for your seat
HERE
and we will gather together Friday, October 29th at 10:30 am...watch the video together, do some show and tells, sharing of our tips and tricks and then begin the task of sewing our blocks!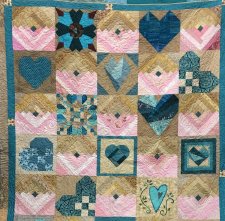 Friday, October 29th at 1pm is UFO Club
and this year we are doing it a little differently! Come any last Friday of the month and pay $2 to particpate for that day. The first $1 will go towards meeting your goals and the second $1 will go into the kitty for our year end party of prizes for our achievements! You can come any month you want, set any goals you want, and collect your $1 back the next month with your met goals. First month is always $2 and you wont receive your $1 back until you met a goal. Come any month...no need to register!
What's New for Classes and Events in November?
View the November Calendar
HERE
Monday, November 1st is TreeMendous Joy Sew Along at 10:30 am.
This group is full.
Join Julia on Monday, November 1st, 8th, 15th, 22nd. and 29th for her Live Event at 4:30pm
to see what's new in the store and get a first chance to order before the newsletter comes out on Tuesday morning. Download the app today!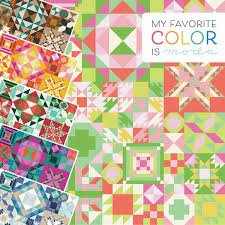 My Favorite Color is Moda BOM
Saturday, November 6th
at 10:30 am
.
This group is full.
Beginning Quilting Exploring Shorcuts class on Thursday, November 11th at 1 pm
. Come build your quilting skills and knowledge while you learn some fun shortcuts to five (yes, 5!) basic quilt blocks. Get them down, and you can build quilt tops galore! Register for this fun class with Betty Ann
HERE
Beginning Wool Applique Class on Saturday, November 13th at 10:30 am
. Enjoy learning the art of wool applique with Val and a small pin keep make and take project! Register
HERE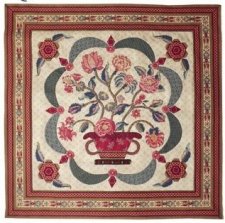 Applique University with Sharon Meisenheimer will begin on Tuesday, November 16th at 10:30 am.
This class is full.
We are excited to be participating in the #scottsentme2021 Challenge. This challenge is all about YOU! If you want to participate, or just want more information on this challenge,
HERE
is the link:
https://scottfortunoff.com/scottsentme21-a-consumer-challenge-for-those-that-love-fabric-travel/
If you do participate, please stop in our store and get a picture in front of our sign! All participants who come in the store and get their picture in front of our #scottsentme2021 sign will receive 20% off all instock Jaftex fabrics! Jaftex fabrics are Free Spirit, Henry Glass, Studio E, and AE Nathan. Kit's using these fabric lines are excluded from the 20% off sale.
Exciting news! We now have an app! The Creekside Quilting Iowa App is HERE for BOTH Apple and Android uesers!!



Facebook:
Creekside Quilting Iowa
https://www.facebook.com/creeksidequiltingiowa
Instagram:
CreeksideQuiltingIowa
https://www.instagram.com/creeksidequiltingiowa/

Product Video page:
https://www.creeksidequiltingiowa.com/videos-showcasing-fabric-and-notions.htm
With Covid ramping up again, please take advantage of our curbside pickup service. You can order most items through our store website www.creeksidequiltingiowa.com, through our Creekside Quilting app, or give us a call. We will love to help you anyway we can in getting your order processed to meet your comfort level.


Remember these days? It's been a long time since I carved a pumpkin, but I sure can remember as a kid loving cleaning all the goop out of the pumpkin!

Keep on stitchin' and have a fantastic week! Happy Halloween! karen steggerda