Creekside Quilting Newsletter 11/16/2021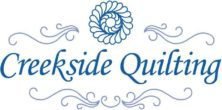 Had an amazingly, wonderful weekend celebrating with my children earlier this month! The last time we were all together was July 2020, and it was just wonderful to have all my children home and together for a weekend! L-R is Julia, Justin, me and Anna.
We are looking for an energetic Sales Associate to work Mondays, Wednesdays, and Thursdays from
9:45 am -5:15 pm. We have one employee retiring at the end of the year, and another who travels south....so, if you are interested, please let me know!

What's New @ Creekside Quilting?
Are you someone who likes to do puzzles? Or maybe you know someone who likes to do puzzles? Well this Kaffe Fasset designs puzzle will keep you challenged for quite a while this winter! You can purchase this puzzle
HERE
Hope Blooms by Kansas Troubles comes in a fat quarter bundle or layer cakes. So if you just want a sampling of the full fabric line, these two items are great! You can order the fat quarter bundle
HERE
and the layer cake
HERE
Thimble Blossom's pattern Handmade with Love is darling for the upcoming holiday season! You can order it
HERE
The Quilts & More Scrap Lab Design Challenge is at Creekside Quilting! We have the fabric kits, as pictured in the Quilts & More Winter Magazine! You can order the Quilts & More Magazine
HERE
and the fabric kits
HERE
Combining the B's Carpice pattern Sliced Cake
and Tula's True Colors, creates this bright and cheery quilt! You can order the
Sliced Cake Tula's True Colors fabric/pattern kit
HERE
Jen Kingwell's new book, Quilt Recipes is a great book of patterns and her favorite food recipes! Order the book
HERE
and the templates
HERE
What's New in Wool?
Buttermilk Basins has come out with Ornament Extravaganza II book of patterns, and each ornament is so cute! Can you make all 45 designs? Order your book
HERE
What New with Pfaff?

SALE!! Small Business Saturday will bring all Ambition and Expression line sewing machines to 25% off MSRP!!
Then from November 28th through December 23rd, the machines will be 20% off MSRP!
Pat, our sewing machine technician will be at the store on Monday, November 22nd for cleaning and light repairs
. So bring your machines in this week and get in the que for cleaning on Monday!
Up and Coming at Creekside Quilting!
Wednesday, November 24th
we will be closing at 3pm so we can go home early and start preparing for our family Thanksgiving get togethers.
Thrusday, November 25th
we will be closed at the store, but you can order anything on our app or on our website Creekside Quilting Iowa
Saturday, November 27th
is our Small Business Saturday Sale.
Monday, November 29th
will be Cyber Monday Sale
Watch Julia live on Monday's at 4:30 pm, Friday's at 9:30 am and our newsletter for more updates on what will be on sale!
Friday, December 24th
we will be closed
Saturday, December 25th
we will be closed
Friday, December 31st
is our Customer Appreciation Holiday Open House...more details to come as the date gets closer
Saturday, January 1st
we will be closed
Don't forget to pull a bulb off our Giving Tree and bring in the product and receive on account a $5 coupon to use later. You can receive a $5 coupon for each product you bring in! Each bulb has an item the local shelters are in need of for the upcoming winter season. You can also donate by buying the product on Amazon, send the product to the shelter and email me a picture of the invoice, and I will get you the $5 coupon on your account. There is a nice selection starting of items under the tree.


Speaking of cooler weather...join us on a 12 Days of Quilt-mas Virtual Shop Hop Starting December 1st. Julia has organized this shop hop with 11 other shops accross the United States for 12 full days of fun!! More information is coming...but mark your calendars NOW!
It's HERE! Our
2022 8-month BOM
is up and kits are being cut! Join Julia and Karen T for 8 months of fun sewing! Together, they will have videos online, a private Facebook group, and a session or two in person and on Zoom! It should be an exciting 8 months putting together this striking quilt by designer Charisma Horton! Kits include the pictured fabric from Maywood Studio's Shadow Play. Join us in one of three ways:
1. Join us on a fun 8-month journey for $29.99 per month + shipping. Each month, you will get your fabric, pattern, and a small free gift! Subscribe
HERE.
2. You can pre-order your pattern and kit
HERE
for $235.99 before Thanksgiving at our pre-sale price! Kits w/ patterns will ship at the first of the year.
3. You can READ MORE
HERE
order just the pattern
HERE
We are excited to be participating in the #scottsentme2021 Challenge. This challenge is all about YOU! If you want to participate, or just want more information on this challenge,
HERE
is the link:
https://scottfortunoff.com/scottsentme21-a-consumer-challenge-for-those-that-love-fabric-travel/
If you do participate, please stop in our store and get a picture in front of our sign! All participants who come in the store and get their picture in front of our #scottsentme2021 sign will receive 20% off all instock Jaftex fabrics! Jaftex fabrics are Free Spirit, Henry Glass, Studio E, and AE Nathan. Kit's using these fabric lines are excluded from the 20% off sale.
We are raffeling off our 2020 Stitch Pink store quilt and ALL proceeds from this raffel will go to the National Breast Cancer Foudation. You can purchase tickets for this raffel online
HERE
$1 per each ticket OR $5 for 6 tickets! Help us support a good cause and have a chance to win our store 2020 Stitch Pink Quilt!
What's Happening Around the Store in November?
View the November calendar HERE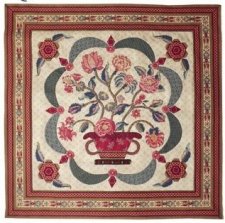 Applique University with Sharon Meisenheimer will begin on Tuesday,November 16th at 10:30 am.
This class is full.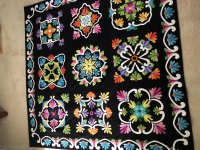 Wednesday, November 17th
is the
Applique Sew-in Group
starting at 10:00 am and lasting all day! This group is open to everyone, just come on in and join the fun!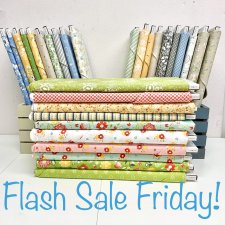 You won't want to miss our Flash Sale Fridays on November 19th and 26th at 9:30 am! Using the app on Friday's, you will receive 35% off full yard cuts of fabric! Then on Saturdays, you can purchase the remaining fabric in the store at 25% off! Get the app, watch Julia live at 9:30, and get the best deal in the Midwest for the day!


Singer Featherweight Club will be Saturday, November 20th
. This group is full.
Monday, November 22nd is TreeMendous Joy Sew Along at 10:30 am.
This group is full.
Join Julia on Monday, November 22nd, and 29th for her Live Event at 4:30pm
to see what's new in the store and get a first chance to order before the newsletter comes out on Tuesday morning. Download the app today!

Facebook:
Creekside Quilting Iowa
https://www.facebook.com/creeksidequiltingiowa
Instagram:
CreeksideQuiltingIowa
https://www.instagram.com/creeksidequiltingiowa/

Product Video page:
https://www.creeksidequiltingiowa.com/videos-showcasing-fabric-and-notions.htm
With Covid ramping up again, please take advantage of our curbside pickup service. You can order most items through our store website www.creeksidequiltingiowa.com, through our Creekside Quilting app, or give us a call. We will love to help you anyway we can in getting your order processed to meet your comfort level.

Keep on stitchin' and have a wonderful week! karen steggerda