Creekside Quilting Newsletter 11/23/2021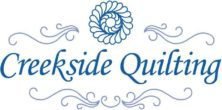 We are looking for an energetic Sales Associate to work Mondays, Wednesdays, and Thursdays from
9:45 am -5:15 pm. We have one employee retiring at the end of the year, and another who travels south....so, if you are interested, please let me know!
Up and Coming at Creekside Quilting!


Wednesday, November 24th
we will be closing at 3pm so we can go home early and start preparing for our family Thanksgiving get togethers.
Thursday, November 25th
we will be closed at the store, but you can order anything on our app or on our website Creekside Quilting Iowa
Saturday, November 27th
is our Small Business Saturday Sale and ALL Pfaff Ambition and Expression Sewing Machines will be on sale for the day at 25% off, along with ALL Pfaff instore accessories.
Monday, November 29th
will be Cyber Monday Sale and there will be FREE SHIPPING ON ALL app and website orders
Watch Julia live on Monday's at 4:30 pm, Friday's at 9:30 am and our newsletter for more updates on what will be on sale!

Friday, December 24th
we will be closed
Saturday, December 25th
we will be closed
Friday, December 31st
is our Customer Appreciation Holiday Open House.

Join us on the last day of 2021, for a fun and festive Customer Appreciation Event! We will have games, prizes, refreshments and sale items! Our hours on New Year's Eve are 10-3.
Saturday, January 1st
we will be closed
NOW THROUGH DECEMBER 15TH pull a bulb off our Giving Tree and bring in the product and receive on account a $5 coupon to use later. You can receive a $5 coupon for each product you bring in! Each bulb has an item the local shelters are in need of for the upcoming winter season. You can also donate by buying the product on Amazon, send the product to the shelter and email me a picture of the invoice, and I will get you the $5 coupon on your account. There is a nice selection starting of items under the tree.


Join us on a 12 Days of Quilt-mas Virtual Shop Hop Starting December 1st. Julia has organized this shop hop with 11 other shops accross the United States for 12 full days of fun!! Each night from December 1 - December 12, 1 quilt shop will host a live sale on their Facebook page at 7pm CST. Head here for more information and links to each shop! Mark your calendars for this fun event that you can enjoy right from your living room!
It's HERE! Our
2022 8-month BOM
is up and kits are being cut! Join Julia and Karen T for 8 months of fun sewing! Together, they will have videos online, a private Facebook group, and a session or two in person and on Zoom! It should be an exciting 8 months putting together this striking quilt by designer Charisma Horton! Kits include the pictured fabric from Maywood Studio's Shadow Play. Join us in one of three ways:
1. Join us on a fun 8-month journey for $29.99 per month + shipping. Each month, you will get your fabric, pattern, and a small free gift! Subscribe
HERE.
2. You can pre-order your pattern and kit
HERE
for $235.99 before Thanksgiving at our pre-sale price! Kits w/ patterns will ship at the first of the year.
3. You can READ MORE
HERE
order just the pattern
HERE
We are raffeling off our 2020 Stitch Pink store quilt and ALL proceeds from this raffel will go to the National Breast Cancer Foudation. You can purchase tickets for this raffel online
HERE
$1 per each ticket OR $5 for 6 tickets! Help us support a good cause and have a chance to win our store 2020 Stitch Pink Quilt!


Frosty Goes to Town is a 7 month block of the month starting February 2022. This block of the month is machine applique, or could be needle turn applique or could be done with wool applique! The Block of the Month comes each month with the pattern for the month and the fabric kit. We are using cottons and not wools for the kit. You can register to join us each month HERE or register for a one time purchase all fabric and patterns HERE. The quilt is hanging in the classroom, so come see how cute it is and join us for this seven month BOM!

What's New @ Creekside Quilting?


Holly Taylor's Change of Season's fabric line is so pretty with the blues and the browns. You can view and purchase the full line HERE or buy a fat quarter bundle of all the fabrics in the line HERE


Patrick Lose's Enchanted Seas fabric line is whimsical and fun for all ages! You can view and purchase the fabric line HERE or a fat quarter bundle of the line HERE



What New with Pfaff?





SALE!! Small Business Saturday will bring all Ambition and Expression line sewing machines to 25% off MSRP!!

Then from November 28th through December 23rd, the machines will be 20% off MSRP!

Pat, our sewing machine technician will be at the store on Monday, December 6th and December 20th for cleaning and light repairs. So bring your machines in this week and get in the que for cleaning on Monday!
What's Happening Around the Store in December?
View the December calendar HERE
***Heads up that many groups have decided not to meet in December or changed their date, so please check our calendar for updates***
Join Julia on Monday, November 29th, December 6th, 13th, 20th and 27th for her Live Event at 4:30pm
to see what's new in the store and get a first chance to order before the newsletter comes out on Tuesday morning. Download the app today!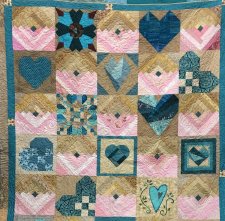 Friday, December 3rd at 1pm is UFO Club
and this year we are doing it a little differently! Come any last Friday of the month and pay $2 to particpate for that day. The first $1 will go towards meeting your goals and the second $1 will go into the kitty for our year end party of prizes for our achievements! You can come any month you want, set any goals you want, and collect your $1 back the next month with your met goals. First month is always $2 and you wont receive your $1 back until you met a goal. Come any month...no need to register!
Monday, December 6th is our last meeting for the TreeMendous Joy Sew Along at 10:30 am.
Wednesday, December 8th at 1pm is Patchwork Sister's Book Club
We are reading for the month of Gone but Knot Forgotten by Mary Marks. C
ome join us for a lively discussion!
CRAZY Challenge Group

is Wednesday, December 8th at 2:30 pm
!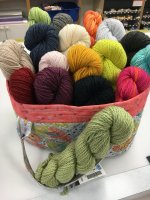 NEW DAY AND ALL ARE WELCOME TO JOIN Sit and Knit with Elaine on Thursday, December 9th
starting at 10:30 am. This club is open to anyone who likes to knit, and would like to knit with other knitters! This group is open to everyone so just come on in and join the fun!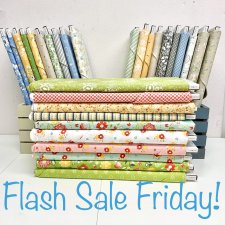 You won't want to miss our Flash Sale Fridays on December 3rd, 10th, 17th, and 31st at 9:30 am!
Using the app on Friday's, you will receive 35% off full yard cuts of fabric! Then on Saturdays, you can purchase the remaining fabric in the store at 25% off! Get the app, watch Julia live at 9:30, and get the best deal in the Midwest for the day!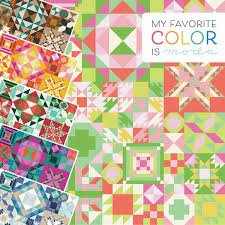 My Favorite Color is Moda BOM Saturday, December 11th

at 10:30 am

. Last one for the year, so come bring your finished tops/quilts for show and tell!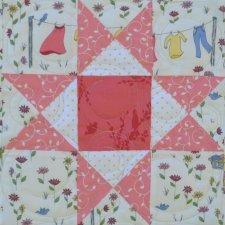 Clothesline Club
Monday, December13th at 1 pm. This group is full.
Wednesday, December 15th is Mid Month Madness
!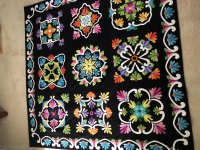 Wednesday, December 15th
is the
Applique Sew-in Group
starting at 10:00 am and lasting all day! This group is open to everyone, just come on in and join the fun!


Singer Featherweight Club will be Saturday, December18th
. This group is full.

Facebook:
Creekside Quilting Iowa
https://www.facebook.com/creeksidequiltingiowa
Instagram:
CreeksideQuiltingIowa
https://www.instagram.com/creeksidequiltingiowa/

Product Video page:
https://www.creeksidequiltingiowa.com/videos-showcasing-fabric-and-notions.htm
With Covid ramping up again, please take advantage of our curbside pickup service. You can order most items through our store website www.creeksidequiltingiowa.com, through our Creekside Quilting app, or give us a call. We will love to help you anyway we can in getting your order processed to meet your comfort level.


During the holidays, our family has a tradition to make 7 Layer Jello! This year, Anna made it for a Friendsgiving Celebration and she did FANTASTIC!! As you can see....they ate almost all of it! This tradition started 30+ years ago with my grandmother, and it's wonderful to see the third generation, carrying on this fun food tradition! If you want the recipe, I uploaded it HERE. If you try it, send me a picture of you with your 7 Layer Jello to sienagraceproductions@gmail.com

Keep on stitchin' and have a wonderful holiday weekend! karen steggerda