Creekside Quilting Weather Update 12/15/2021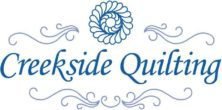 Good Afternoon!
Due to the possiblity of high damagine winds and severe weather today, Wednesday, December 15, 2021, we will be closing the store at 2:00 pm.
If you need anything, give us a call, order online or hurry on in for that last minute item.
We will re-open Thursday, December 16, 2021 at 10:00am.
Stay safe everyone! kare steggerda