Creekside Quilting Newsletter 01/05/2022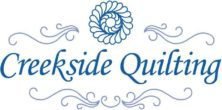 We had a wonderful turn out for our Customer Appreciation Event last Friday! Wow!! Everyone had a good time, whether they were talking with people they had not seen in a while or playing our trivia game, or just shopping and using their 40% off discount! There were lots of laughter and smiles throughout the store and it warmed my heart greatly to see so many people enjoying themselves! We will do this again next year, so if you missed out this year...mark your calendars!
What's New @ Creekside Quilting?

Patrick Lose's Flirty Celebrations
Line from Northcott Fabrics has arrived just in time to start those Valentine projects! You can view and order from the full line
HERE
or purchase a fat quarter bundle
HERE
NEW
Zen Chic Spotted
Blenders in pinks and purples. View all our Zen Chic Spotted Blenders
HERE
We recieved in some new Yazzii organizational bags. This one is the
Yazzii Mini Organizer-Large
and the colors can be viewed and purchased
HERE
this is the
Yazzii Block Carry Case
and the colors we received in can be viewed and purchased
HERE
The Yazzii Three Piece Pouch
set can be viewed and purchased
HERE
The Yazzii Oval Sewing Box
can be viewed and purchased
HERE
. To view the variety of ALL the Yazzii bags we have in stock, please click
HERE
Wine is Cheaper than Therapy
embroidered towel, would make a great Valentine gift for a friend! Maybe even add a bottle of their favorite wine! You can order the embroidered towel
HERE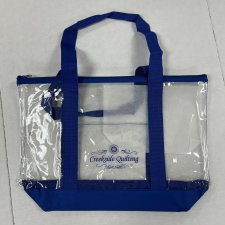 The
2022 Creekside Quilting Mid Month Madness
bag is
HERE
!! You can either renew your old bag and still participate by clicking
HERE
or you can buy the new bag to participate in 2022. So, in order to participate in 15% off on the 15th of each month, it's a renewal fee to use last year's bag
HERE
or buy the new bag for 2022
HERE
What's New in the Wool Department?
New
Valdani size 12 Thread
colors....we are now up to 60 colors of solids and verigated Valedani threads! You can view and order your thread
HERE
Stunning Stitches for Crazy Quilts
is a new book to the store! You can purchase the book
HERE
What's Going On Around the Store?
Downton Abbey Fans we are having a Downton Abbey kickoff retreat for the new movie being released on March 22nd! We are hosting a Downton Abbey Two Day Retreat on Friday, March 4th from 9am to 10 pm and Saturday, March 5th from 8 am to 9pm at the Walker Johnston Giovannetti Community Shelter in Urbandaale, Iowa. There will be plenty of space for sewing, quilting, knitting, embroidery or most any craft project you want to work on! We will have the season's of Downton Abbey running consistantly throughout our retreat time! I have games planned and awesome Downton Abbey prizes and giveaways!! Come one and come all!! I don't know about you, but I'm so excited, I want to jump for joy right now and have the retreat start today! Register
HERE
for the two day event!


It's HERE! Our
2022 8-month BOM
is up and kits are being cut! Join Julia and Karen T for 8 months of fun sewing! Together, they will have videos online, a private Facebook group, and a session or two in person and on Zoom! It should be an exciting 8 months putting together this striking quilt by designer Charisma Horton! Kits include the pictured fabric from Maywood Studio's Shadow Play. Join us in one of three ways:

1. Join us on a fun 8-month journey for $29.99 per month + shipping. Each month, you will get your fabric, pattern, and a small free gift! Subscribe
HERE.
2. You can pre-order your pattern and kit
HERE
for $235.99 before Thanksgiving at our pre-sale price! Kits w/ patterns will ship at the first of the year.
3. You can READ MORE
HERE
order just the pattern
HERE
Frosty Goes to Town is a 7 month block of the month starting February 2022. This block of the month is machine applique, or could be needle turn applique or could be done with wool applique! The Block of the Month is a kit where the fabric is laser cut out with fusible....eliminating a very big step in the process! Order your laser cut kit HERE.


What's Up and Coming at Creekside Quilting January 2022?
View the January calendar
HERE
***PLEASE NOTE before you come to class, make sure your sewing machine is in good working condition and has all the necessary supplies you will need to run the sewing machine. A good understanding of how to use your sewing machine is a must. Sewing classes require a basic sewing kit and quilting tools.
***PLEASE NOTE that cancelation of classes will be refunded up to 1week prior to the class date and time. After that, the instructor is expecting you and there will be no refunds for cancelations.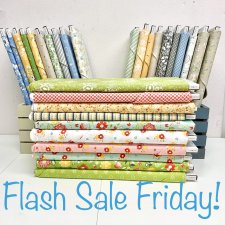 You won't want to miss our Flash Sale Fridays on January 7th, 14th, 21st and 28th at 9:30am! Using the app on Friday's, you will receive 35% off full yard cuts of fabric! Then on Saturdays, you can purchase the fabric in the store at 25% off!


Monday, January 10th is TreeMendous Joy Group. This group is full.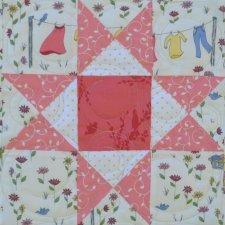 Clothesline Club Monday, January 10th at 1 pm. This group is full.


Join Julia on Mondays January 10th, 17th, 24th and 31st for her Live Event at 4:30pm to see what's new in the store and get a first chance to order before the newsletter comes out on Tuesday morning. Facebook: Creekside Quilting Iowa https://www.facebook.com/creeksidequiltingiowa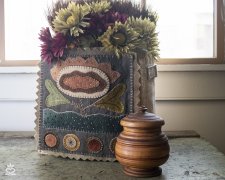 Tuesday, January 11th is Wool Club starting at 1PM! This group is open to everyone just come on in and join the fun!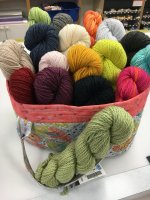 Sit and Knit with Elaine on Thursday, January 13th starting at 10:30 am. This club is open to anyone who likes to knit, and would like to knit with other knitters! This group is open to everyone so just come on in and join the fun!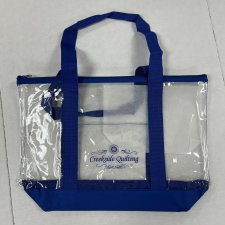 Saturday, January 15th is Mid Month Madness all day long. The 2022 Creekside Quilting Mid Month Madness bag is HERE!! You can either renew your old bag and still participate by clicking HERE or you can buy the new bag to participate in 2022. So, in order to participate in 15% off on the 15th of each month, it's a renewal fee to use last year's bag HERE or buy the new bag for 2022 HERE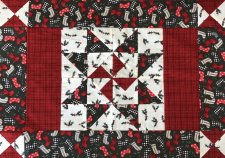 Quilting for Beginners-A Hobby for Life starts evenings on Monday, January 17th, 24th and 31st starting at 6pm with Jan!
THIS beginning quilt class is at night and you will learn so much from Jan!! Best class around if you are wanting to learn to quilt! For more information and to register for the class click
HERE
Singer Featherweight Club will be Saturday, January 15th and we are sewing together as a group! This month Creekside Quilting will be providing every person in the group, who shows up, 3 fat quarters. You bring directions for your favorite quilt block and stay and sew on your block this Saturday. Then in February, bring your block back and all who bring in their block, will be eligible to win prizes!
This group is full.
Wednesday, January 26th at 1pm is Patchwork Sister's Book Club
is reading for the month of Something's Knot Kosher by Mary Marks. C
ome join us for an always lively book discussion!
C

R

A

Z

Y

Challenge Group will meet Wednesday, January 26th at 2:30pm
to finish up this quilt challenge. Please bring your show and tell at whatever level you have it completed. LOL! That last part is for me, Susan and Pat! We can do this ladies!
2022 Challenge Group is Wednesday, January 26th at 2:30 pm
! This year's Challenge is ALL about FRIENDSHIP! Julie was at the store yesterday picking out fabric for her group's Friendship Challenge, and as she was telling me about this....I just knew we had to borrow her idea and do this in the store! (I have tweaked a few things.) Thank you Julie so much for sharing and for saying we could piggy back off your group's challenge idea for 2022! Ok, so here you go:

This group is a committment for 11 months, January through November and you have to committ to showing up and being ready every 4th Wednesday of the month. If you cannot be at the meetings but want to participate, you can drop off, pick up, mail and have mailed the requirements every month. Please communicate this with me at time of registration.

This group is limited to 12 people...once it is full, it is full.

At the first meeting, bring 5 different fabrics of 1 yard cuts each in the color wave you would like to make your quilt in. These 5 different fabrics will be used in the blocks that are made throughout the year. There can be no additions once you submit your 5-1 yard each fabrics. Example, Julie chose blues, yellows, and greens for her color wave and we picked out five bolts of fabric. From those five bolts, we cut one yard each...so she has 5 yards of fabric that will be used in the blocks all year.

At the first meeting, we will pass out our fabric color wave to someone in the group. They will go home, and over the course of the next month, will make their favorite block from the 5 fabrics they were given. Block size is 12 1/2" unfinished.

Then the next month, they will return, give their block to their friend, and be given a new color wave. And so it goes.

Confused? That's ok, I was too at first, but it really will work....

In November, you will have 12 blocks that are 12 1/2" unfinished, and then you can finish your quilt and bring back next January 2023 for show and tell.

This will be your Friendship Quilt to remember 2022!

Because there is a committment to show up and get your blocks done monthly, and others are depending on your timeliness, the cost to participate in the group is $60 at time of registration. Each month that you come back to the store (even if you drop off early or mail your items and they arrive int the store by the 4th Wednesday) you will get $5 back. Key wording to get your $5 back, is it has to be in the store by the 4th Wednesday of each month, because that is our meeting date. I hope we have no money left over come January 2023, but if we do, we will use it for snacks and beverages.

This group is NOT recommended for beginning quilters.

Register HERE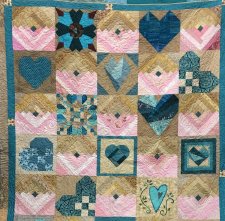 Friday, Jnuary 28th at 1pm is UFO Club
and this year we are doing it a little differently! Come any last Friday of the month and pay $2 to particpate for that day. The first $1 will go towards meeting your goals and the second $1 will go into the kitty for our year end party of prizes for our achievements! You can come any month you want, set any goals you want, and collect your $1 back the next month with your met goals. First month is always $2 and you wont receive your $1 back until you met a goal. Come any month...no need to register!

Facebook:
Creekside Quilting Iowa
https://www.facebook.com/creeksidequiltingiowa
Instagram:
CreeksideQuiltingIowa
https://www.instagram.com/creeksidequiltingiowa/

Product Video page:
https://www.creeksidequiltingiowa.com/videos-showcasing-fabric-and-notions.htm
With Covid ramping up again, please take advantage of our curbside pickup service. You can order most items through our store website www.creeksidequiltingiowa.com, through our Creekside Quilting app, or give us a call. We will love to help you anyway we can in getting your order processed to meet your comfort level.

Keep on stitchin' and have a fantastic week! karen steggerda