Creekside Quilting Newsletter 01/18/2022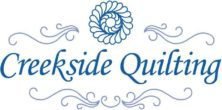 2022 has started off with a bang for us! First the furnace going out for a week during some very cold below zero days. I needed to make the executive decision to close early some days, due to staff working in a store at 55 degrees...and I really appreciated my staff for still coming to work and customers still coming in the store! Space heaters helped keep the temps above 50, and I was thankful for that! Thank you for bearing with us and supporting us in store and online through that challenge!
Then, we had dangerous weather, and although I closed the store probably too early on Friday, it was a decision that was made for the safety of my staff. Once again, thank you to everyone and your patience and understanding.
Now, we are facing a severe increase in Covid cases and the beginning of the flu season. LOL! I don't know what this is going to bring or look like for us, but I do know I have a wonderful staff that will do whatever they can for our fantastic customers!
With all of this being said, IF we are needing to close early due to weather or unforeseen events, we will notify customers through our website, an email, our Facebook page, and through our phone message. Please, if you are unsure or traveling a distance, check our website, check your emails, check the Facebook page, or give us a call to verify our status. I can't believe I'm needing to write this, but it's best to be proactive with a plan, than regretful without a plan.
With Covid ramping up again, please take advantage of our curbside pickup service. You can order most items through our store website www.creeksidequiltingiowa.com, through our Creekside Quilting app, or give us a call. We will love to help you anyway we can in getting your order processed to meet your comfort level.
We too, are beginning to face the challenges of the season, whether it be illness, an unforeseen event, or weather. I thank you for your understanding and support during this season of uncertainty!
Website: www.creeksidequiltingiowa.com
Facebook Page: @creeksidequiltingiowa
Phone: (515)276-1977
What's New @ Creekside Quilting?
Primitive Gatherings Starlight Gatherings fabric line is all blues and ivory's and is just lovely! Plenty of options to add into a patriotic quilt or for a two color quilt! Enjoy looking at all the fabrics in the line
HERE
or the fat quarter bundle of all 37 fabrics
HERE
This darling Little Ducklings pattern has been kitted just for you with the Little Ducklings fabric line from Moda. That baby quilt you are needing to make? Well, here is the answer! Order your kit
HERE
We love fat quarter bundles at Creekside Quilting, because you get a full sample of each fabric in the line in a 18"x22" piece of fabric! It's easy to make a quilt using a fat quarter bundle! Order this charming 33 fabric line of Little Ducklings fabric
HERE
Little Ducklings layer cake has the full line of charming baby fabrics in 10"x10" squares! Order your layer cake
HERE
This Grow with Me Panel from Little Ducklings can easily be made into a quilt using the Little Duckling Layer Cake or Fat Quarter bundle and a four patch boarder around the outside of the panel! Order your panel
HERE
Valentine's Day is sneaking up on us...so decorate your home with this lovelyFebruary Make it Mini quilt! It's a fast put together, so plenty of time to get it done in the next couple of weeks. Order your pattern
HERE
This pattern from Shabby Fabric is part of the Vintage series and is another fast sew together project! Order your pattern
HERE
Make several of these Valentine blocks and put them together in a table runner. Use the pin wheels only for the ends of the table runner!
Patrick Lose Celebrations Flirty collection is now in a Fat Quarter Bundle...you can order your's
HERE
A Fresh Fat-Quarter Quilts book is packed with ideas usingin Fat Quarters! Since we stock a variety of fat quarter bundles in our store, grab a fat quarter bundle and this book for a fun project over the next chilly days! Order your book
HERE
What's New in Our Wool Department?
Looking for a new wool project? Ginny has taken the Flower Heart Pattern and added a Pop of Color! This kit is made with the wool colors pictured! Definitely a fun project to work on the next few days when it is cold outside....the colors will brighten your spirits for spring! Order your kit
HERE
This gorgeous Lancot Wool 10" precuts bundle from Marcus Brothers and Rebekah L. Smith, are a wonderful stash starter or a stash builder for all woolies! The bundle is made with earth tone and jewel color pallete. Order your colorful bundle
HERE
What's Going On Around the Store?
Downton Abbey Fans we are having a Downton Abbey kickoff retreat for the new movie being released on March 22nd! We are hosting a Downton Abbey Two Day Retreat on Friday, March 4th from 9am to 10 pm and Saturday, March 5th from 8 am to 9pm at the Walker Johnston Giovannetti Community Shelter in Urbandaale, Iowa. There will be plenty of space for sewing, quilting, knitting, embroidery or most any craft project you want to work on! We will have the season's of Downton Abbey running consistantly throughout our retreat time! I have games planned and awesome Downton Abbey prizes and giveaways!! Come one and come all!! I don't know about you, but I'm so excited, I want to jump for joy right now and have the retreat start today! Register
HERE
for the two day event!


It's HERE! Our
2022 8-month BOM
is up and kits are being cut! Join Julia and Karen T for 8 months of fun sewing! Together, they will have videos online, a private Facebook group, and a session or two in person and on Zoom! It should be an exciting 8 months putting together this striking quilt by designer Charisma Horton! Kits include the pictured fabric from Maywood Studio's Shadow Play. Join us in one of three ways:

1. Join us on a fun 8-month journey for $29.99 per month + shipping. Each month, you will get your fabric, pattern, and a small free gift! Subscribe
HERE.
2. You can pre-order your pattern and kit
HERE
for $235.99 before Thanksgiving at our pre-sale price! Kits w/ patterns will ship at the first of the year.
3. You can READ MORE
HERE
order just the pattern
HERE
Frosty Goes to Town is a 7 month block of the month starting February 2022. This block of the month is machine applique, or could be needle turn applique or could be done with wool applique! The Block of the Month is a kit where the fabric is laser cut out with fusible....eliminating a very big step in the process! Order your laser cut kit HERE.

What's Up and Coming at Creekside Quilting January 2022?
View the January calendar
HERE
***PLEASE NOTE before you come to class, make sure your sewing machine is in good working condition and has all the necessary supplies you will need to run the sewing machine. A good understanding of how to use your sewing machine is a must. Sewing classes require a basic sewing kit and quilting tools.
***PLEASE NOTE that cancelation of classes will be refunded up to 1week prior to the class date and time. After that, the instructor is expecting you and there will be no refunds for cancelations.

Join Julia on Mondays Januar 24th and 31st for her Live Event at 4:30pm to see what's new in the store and get a first chance to order before the newsletter comes out on Tuesday morning. Facebook: Creekside Quilting Iowa https://www.facebook.com/creeksidequiltingiowa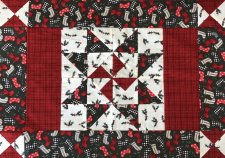 Quilting for Beginners-A Hobby for Life starts evenings on Monday, January 24th and 31st starting at 6pm with Jan!
THIS beginning quilt class is at night and you will learn so much from Jan!! Best class around if you are wanting to learn to quilt! For more information and to register for the class click
HERE
Wednesday, January 26th at 1pm is Patchwork Sister's Book Club
is reading for the month of Something's Knot Kosher by Mary Marks. C
ome join us for an always lively book discussion!
C

R

A

Z

Y

Challenge Group will meet Wednesday, January 26th at 2:30pm
to finish up this quilt challenge. Please bring your show and tell at whatever level you have it completed. LOL! That last part is for me, Susan and Pat! We can do this ladies!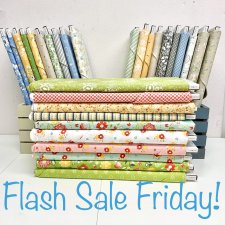 You won't want to miss our
Flash Sale Fridays on January 14th, 21st and 28th at 9:30am
! Using the app on Friday's, you will receive 35% off full yard cuts of fabric! Then on Saturdays, you can purchase the fabric in the store at 25% off!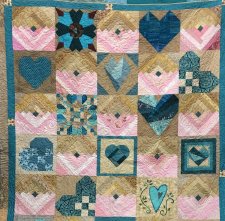 Friday, Jnuary 28th at 1pm is UFO Club
and this year we are doing it a little differently! Come any last Friday of the month and pay $2 to particpate for that day. The first $1 will go towards meeting your goals and the second $1 will go into the kitty for our year end party of prizes for our achievements! You can come any month you want, set any goals you want, and collect your $1 back the next month with your met goals. First month is always $2 and you wont receive your $1 back until you met a goal. Come any month...no need to register!



Show and Tell




Facebook:
Creekside Quilting Iowa
https://www.facebook.com/creeksidequiltingiowa
Instagram:
CreeksideQuiltingIowa
https://www.instagram.com/creeksidequiltingiowa/

Product Video page:
https://www.creeksidequiltingiowa.com/videos-showcasing-fabric-and-notions.htm
With Covid ramping up again, please take advantage of our curbside pickup service. You can order most items through our store website www.creeksidequiltingiowa.com, through our Creekside Quilting app, or give us a call. We will love to help you anyway we can in getting your order processed to meet your comfort level.


Enjoy those comfort foods and keep on stitchin'! Have a fantastic week! karen steggerda