Creekside Quilting Newsletter 01/25/2022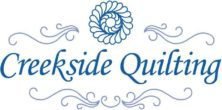 NEW STORE HOURS!!
Due to weather, Covid, and staff challenges, we are adjusting our hours to 10am to 4pm Monday through Saturday, closed on Sundays. Please place any orders outside or our store hours, on our website www.creeksidequiltingiowa.com or through our app Creekside Quilting Iowa. We will get your orders ready for pick up or shipping the next business day. Thank you for your patience during this unpredictable and challenging time.
Website: www.creeksidequiltingiowa.com
Facebook Page: @creeksidequiltingiowa
Phone: (515)276-1977
What's New @ Creekside Quilting?
One Fine Day is a spunky floral line of fabric by Bonnie & Camile from Moda. Shop the bolts
HERE
or the fat quarter bundle
HERE
Grace fabric line from Acorn Designs is just charming and sweet! We made a kit which includes the pattern and the the fabric to make the quilt pictured in the pattern. View the fabrics
HERE
and the kit
HERE
We also recieived in the 30 fat eight bundles from the Grace fabric line. Order your complete line of Grace
HERE
in the fat eights bundle
Another new Yazzii bag arrived and this one holds a 18x24" cutting mat! Protect you mat and carry your rulers and rotary cutter all in the same bag! Great for traveling or retreats! Order your bag
HERE
Get organized this year and check out our current selection of Yazzii bags
HERE
don't see what you want...let me know, I'll be happy to order it for you!
One of my new favorite notions! This seam roller is great for opening up your 1/4" seams and if you use a wool pressing bar to open the seams up...it's as good as using an iron! Easy and portable....you can order your seam roller
HERE
and the wool pressing bar
HERE
the wool pressing bar comes in 12" and 20" lengths. We have more 12" bars coming in February!
What's Going On Around the Store?
Downton Abbey Fans we are having a Downton Abbey kickoff retreat for the new movie being released on March 22nd! We are hosting a Downton Abbey Two Day Retreat on Friday, March 4th from 9am to 10 pm and Saturday, March 5th from 8 am to 9pm at the Walker Johnston Giovannetti Community Shelter in Urbandaale, Iowa. There will be plenty of space for sewing, quilting, knitting, embroidery or most any craft project you want to work on! We will have the season's of Downton Abbey running consistantly throughout our retreat time! I have games planned and awesome Downton Abbey prizes and giveaways!! Come one and come all!! I don't know about you, but I'm so excited, I want to jump for joy right now and have the retreat start today! Register
HERE
for the two day event!



Frosty Goes to Town is a 7 month block of the month starting February 2022. This block of the month is machine applique, or could be needle turn applique or could be done with wool applique! The Block of the Month is a kit where the fabric is laser cut out with fusible....eliminating a very big step in the process! Order your laser cut kit HERE.
Pfaff Sewing Machines
Here are the Pfaff sewing machines we currently have in stock! Perfect gift for yourself or someone you love for Valentine"s Day!
Passport 2.0
Ambition 610
Ambition 620
Ambition 630
Expression 720
In the Pfaff warehouse, in stock, are Creative 3.0's and Sergers
Let me know if you'd like to try out a machine or order one!
What's Up and Coming at Creekside Quilting January 2022?
View the January calendar
HERE
***PLEASE NOTE before you come to class, make sure your sewing machine is in good working condition and has all the necessary supplies you will need to run the sewing machine. A good understanding of how to use your sewing machine is a must. Sewing classes require a basic sewing kit and quilting tools.
***PLEASE NOTE that cancelation of classes will be refunded up to 1week prior to the class date and time. After that, the instructor is expecting you and there will be no refunds for cancelations.
Wednesday, January 26th at 1pm is Patchwork Sister's Book Club
is reading for the month of Something's Knot Kosher by Mary Marks. C
ome join us for an always lively book discussion!
C

R

A

Z

Y

Challenge Group will meet Wednesday, January 26th at 2:30pm
to finish up this quilt challenge. Please bring your show and tell at whatever level you have it completed. LOL! That last part is for me, Susan and Pat! We can do this ladies!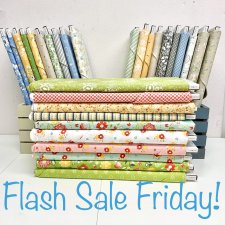 You won't want to miss our
Flash Sale Fridays on January 28th at 9:30am
! Using the app on Friday's, you will receive 35% off full yard cuts of fabric! Then on Saturdays, you can purchase the fabric in the store at 25% off!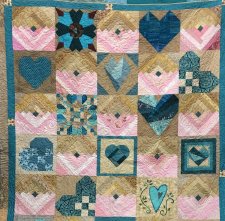 Friday, Jnuary 28th at 1pm is UFO Club
and this year we are doing it a little differently! Come any last Friday of the month and pay $2 to particpate for that day. The first $1 will go towards meeting your goals and the second $1 will go into the kitty for our year end party of prizes for our achievements! You can come any month you want, set any goals you want, and collect your $1 back the next month with your met goals. First month is always $2 and you wont receive your $1 back until you met a goal. Come any month...no need to register!
Join Julia on Mondays Januar 24th and 31st for her Live Event at 4:30pm to see what's new in the store and get a first chance to order before the newsletter comes out on Tuesday morning. Facebook: Creekside Quilting Iowa https://www.facebook.com/creeksidequiltingiowa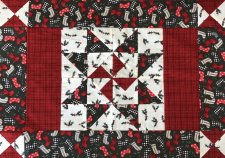 Quilting for Beginners-A Hobby for Life starts evenings on Monday, January 24th and 31st starting at 6pm with Jan!
THIS beginning quilt class is at night and you will learn so much from Jan!! Best class around if you are wanting to learn to quilt! For more information and to register for the class click
HERE
What's Coming Up in February?
View the February Calendar
HERE
Wool Applique Class, Materials, Methods, Create! Join Val in learning about the details of wool applique and how to make wonderful wool projects. This class includes handouts, background information, samples, Q&A and time to start a make and take needle keep! Everyone who has taken the class with Val walks away with a desire to make more wool projects! A must class for anyone who is interested in beginning wool applique!
Saturday, February 5th at 10:30am and you can register for the class HERE


Free Motion Quilting Made Easy with Betty Ann!
Tuesday, February 22nd at 1pm. Register HERE Master the "Scare" and Ease into Free Motion Machine Quilting!
"I have taught for many years and taught a wide variety of classes. What I love most about sharing what I have learned is taking a beginner at whatever we are doing to a more confident crafter!
You CAN learn to quilt your own projects ~ let me walk you through the simple steps and show you how to chase away the "SCARE" of domestic machine free motion quilting! Pick up the simple basics of machine quilting along with tricks and techniques I have learned along the way to help you become a confident quilter! Go home with a sense of confidence and plenty of resources to begin your quilting journey! You MUST know your machine! ~ how to set your tension, lower your feed dogs, and make adjustments. Social distancing will not allow close one-on one work, but I will be there to coach you along the way!
Show and Tell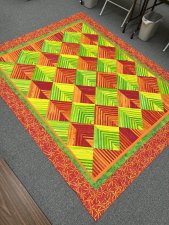 This fun show and tell is a donation quilt for a child in need! I think they are going to love it! What a very special gift Pam!

Facebook:
Creekside Quilting Iowa
https://www.facebook.com/creeksidequiltingiowa
Instagram:
CreeksideQuiltingIowa
https://www.instagram.com/creeksidequiltingiowa/

Product Video page:
https://www.creeksidequiltingiowa.com/videos-showcasing-fabric-and-notions.htm
With Covid ramping up again, please take advantage of our curbside pickup service. You can order most items through our store website www.creeksidequiltingiowa.com, through our Creekside Quilting app, or give us a call. We will love to help you anyway we can in getting your order processed to meet your comfort level.


Enjoy those comfort foods and keep on stitchin'! Have a fantastic week! karen steggerda
Website: www.creeksidequiltingiowa.com
Facebook Page: @creeksidequiltingiowa
Phone: (515)276-1977