Creekside Quilting Newsletter 02/15/2022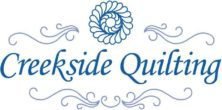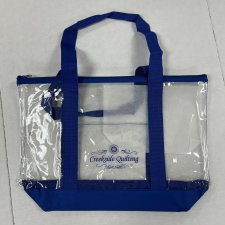 Mid-Month Madness is
TODAY
!!! So bring those bags in the store OR place your order online for your 15% off anything you can stuff in the bag!! You can buy this year's bag
HERE
or renew last year's bag
HERE
What's New @ Creekside Quilting?
Poppie Cotton's Hopscotch and Freckles takes us back to wonderful carefree memories of being a child...enjoy this fun line of fabric! View the full line
HERE
or the fat quater bundle
HERE
These three bolts are also part of the Hopscotch and Freckles line and would be great as a backing or an I-spy quilt! You can order the fabric
HERE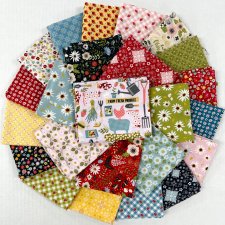 Poppie Cotton Farmgirls Unite! This is such a charming 1930's replication line of fabric! You can view the full line
HERE
and the fat quarter bundle
HERE
and the pattern Amazing Grace that goes with the line of fabric
HERE
Bunny Hill Designs has done it again with this charming patriotic line of fabric called Prairie Days! View the full line
HERE
and the fat quarter bundle
HERE
Tula fans! We have the fabric kit for her Butterfly Quilt!! The kit includes all the fabric necessary to make the butterfly part of the pattern and the pattern...you choose your own background fabric...check out Pinterest, as there are so many options for backgrounds. Anne says she is doing her background in black! That will be striking! As a special bonus, when you buy the pattern or the kit, we are registered for a Sit and Sew starting in March just for this Butterfly Quilt...so watch for more information! Order the Butterfly Kit
HERE
or just the pattern
HERE
Norm the Gnome would like you to come visit our $7 a yard fabric tables located at the front of the store!! All these bolts are marked $7 a yard. You must have at least a full yard cut to get the $7 pricing. Come check out these fabrics and get them while the stock is still good!
Our Downton Abbey Retreat is getting closer!! If you haven't registered yet...do so soon!! We are developing a nice group of people and we are going to have a lot of fun with this event! My staff is coming up with all kinds of ideas to make this retreat extra special for you...so register
HERE
today!
Keeping everyone excited for the retreat, we have ordered in some fun items to kick off the event! The Official Downton Abbey Cookbook can be ordered
HERE
Each book has lots of pictures and quotes and information from the show to make the book extra special!
The Official Downton Abbey Christmas Cookbook can be ordered
HERE.
The Official Downton Abbey Afternoon Tea Cookbook can be ordered
HERE
The Official Downton Abbey Cocktail Book is filled with all kinds of cocktail receipes and stories from the show! Order your book
HERE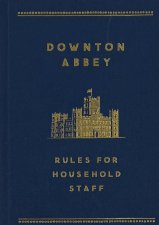 The Downton Abbey Rules for Household Staff is a hoot and Julia and I got a good laugh out of this good with some of the "rules". You can order your book
HERE
Another book Julia and I enjoyed is The Wit and Wisdom of Downton Abbey....order your copy
HERE
February Fabric Lines Ready for Pre-Order
These fabric lines are on order and expected to come in this month...you can pre-order your fat quarter bundles today! Watch Julia Live Monday's at 4:30 for new fabric lines!
Holly Taylor's Wild Iris can be pre-ordered
HERE
this is a purple, ivory and green floral line
Sally Kelly's Eden fabric line from Windham can be pre-ordered
HERE
this is a bright and contemporary line
Riley Blake Color Wall is an assortment of bright blenders. You can pre-order your fat quarter bundle
HERE
Riley Blake Red Hot is another red, pink, and white grouping....perfect for "love" quilts or a two color red and white quilt. Order your fat quarter bundle
HERE
Pfaff Sewing Machines
We are looking for a sewing machine repair person....if you know someone or are interested, please contact the store and let me know!
(515)276-1977
What's Coming Up in February?
View the February Calendar
HERE
***PLEASE NOTE
before you come to class, make sure your sewing machine is in good working condition and has all the necessary supplies you will need to run the sewing machine. A good understanding of how to use your sewing machine is a must. Sewing classes require a basic sewing kit and quilting tools.
***PLEASE NOTE
that cancelation of classes will be refunded up to 1week prior to the class date and time. After that, the instructor is expecting you and there will be no refunds for cancelations.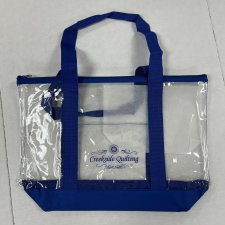 Tuesday, February 15th is Mid Month Madness all day long. The 2022 Creekside Quilting Mid Month Madness bag is HERE!! You can either renew your old bag and still participate by clicking HERE or you can buy the new bag to participate in 2022. So, in order to participate in 15% off on the 15th of each month, it's a renewal fee to use last year's bag HERE or buy the new bag for 2022 HERE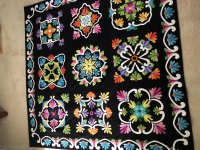 Wednesday, February 16th
is the
Applique Sew-in Group
starting at 10:00 am and lasting all day! This group is open to everyone, just come on in and join the fun!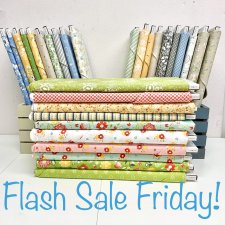 You won't want to miss our Flash Sale Fridays on February 18th, and 25th at 9:30am! Using the app on Friday's, you will receive 35% off full yard cuts of fabric! Then on Saturdays, you can purchase the fabric in the store at 25% off!
Singer Featherweight Club will be Saturday, January 19th
Sharon Meisenheimer will be teaching the group how to foundation paper piece on your featherweight sewing machine.
This group is full.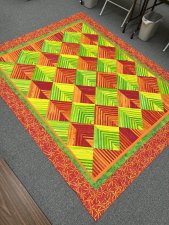 Monday, February 21st is The Monday Stitch group. This group is full.


Join Julia on Mondays February 21st, and 28th for her Live Event at 4:30pm to see what's new in the store and get a first chance to order before the newsletter comes out on Tuesday morning. Facebook: Creekside Quilting Iowa https://www.facebook.com/creeksidequiltingiowa
Free Motion Quilting Made Easy
with Betty Ann!
Tuesday, February 22nd at 1pm. Register HERE Master the "Scare" and Ease into Free Motion Machine Quilting!
"I have taught for many years and taught a wide variety of classes. What I love most about sharing what I have learned is taking a beginner at whatever we are doing to a more confident crafter!
You CAN learn to quilt your own projects ~ let me walk you through the simple steps and show you how to chase away the "SCARE" of domestic machine free motion quilting! Pick up the simple basics of machine quilting along with tricks and techniques I have learned along the way to help you become a confident quilter! Go home with a sense of confidence and plenty of resources to begin your quilting journey! You MUST know your machine! ~ how to set your tension, lower your feed dogs, and make adjustments. Social distancing will not allow close one-on one work, but I will be there to coach you along the way!
Wednesday, February 23rd at 1pm is Patchwork Sister's Book Club
is reading for the month of Knot What You Think by Mary Marks. C
ome join us for an always lively book discussion!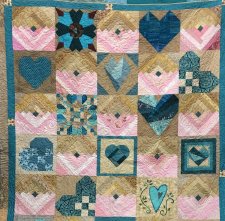 Friday, February 25th at 1pm is UFO Club
and this year we are doing it a little differently! Come any last Friday of the month and pay $2 to particpate for that day. The first $1 will go towards meeting your goals and the second $1 will go into the kitty for our year end party of prizes for our achievements! You can come any month you want, set any goals you want, and collect your $1 back the next month with your met goals. First month is always $2 and you wont receive your $1 back until you met a goal. Come any month...no need to register!



Show and Tell
Jan, we all loved your baby quilt!!! It was so bright, charming and just perfect for a baby!

Facebook:
Creekside Quilting Iowa
https://www.facebook.com/creeksidequiltingiowa
Instagram:
CreeksideQuiltingIowa
https://www.instagram.com/creeksidequiltingiowa/

Product Video page:
https://www.creeksidequiltingiowa.com/videos-showcasing-fabric-and-notions.htm
Please take advantage of our curbside pickup service. You can order most items through our store website www.creeksidequiltingiowa.com, through our Creekside Quilting app, or give us a call. We will love to help you anyway we can in getting your order processed to meet your comfort level.

Keep on stitchin'! Have a fantastic week! karen steggerda