Creekside Quilting Newsletter 02/22/2022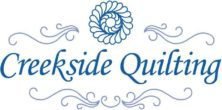 Did you know that this week is Palindrome Week? Yep! Every date through the rest of February can be read the same forward and backward! Pretty cool! Once in a lifetime for sure! Thanks Julia for sharing this with us!
What's New @ Creekside Quilting?
Laundry Basket Quilts by Edyta Sitar has two new lines of fabric. The first one is Cloud 9 of soft whites, ivory's and tans. This line of fabric can be viewed clearer
HERE
or purchase a fat quarter bundle
HERE
The fat quarter bundle has 30 pieces
Next by Laundry Basket Quilts by Edyta Sitar is Lady Tulip and is a very goregous line of florals in a William Morris style! View the full line
HERE
or purchase a fat quarter bundle
HERE
The fat quarter bundle as 32 pieces
This Diamond Delight fabric kit will warm your soul with the pretty spring coors of mint and lilac! The fabrics are Kona solids and the pattern is a free download from Robert Kaufman. You can order the fabric and pattern kit
HERE
Of would you like something a little simpler, yet still using the pinks and purples of spring? This Kona fabric kit is called Radiant Stars and can be purchased with pattern
HERE
This fat quarter bundle of florals by Robert Kaufman is called Penelope and has 22 pieces! These florals are in the greens, whites, and pinks with a splash of black! You can purchase your fat quarter bundle
HERE
RNK Quillter's Select has a new marking pen called the Self-Erase Marker. Try it out and let us know your opinion on the pen. So far, we have heard good reviews...but a few more opinions never hurt! Order your pen
HERE
I love this new Ergonomic Seam Ripper that is new to the store! The handle just melts in your hand as you are ripping out those seams! Yes, we all have seams to rip out....as frustrating as that is...order your seam ripper
HERE
This new embroidery pattern from Primitive Gatherings is called Friendship Stitchery and is absolutely darling! Stitch this up and give it to a friend this year! You can order your pattern
HERE
What's New in the Wool Department?
This Rebekah L Smith's pattern is called The Sewing Book is new to Creekside! It's classic Rebekah and will be very popular I'm sure! Purchase your pattern
HERE
Just seams like Christmas ended, right? But here we go with a new Buttermilk Basin wool applique pattern, Santa Baby. Christmas throughout the year! Place your order for this pattern
HERE
What's Going on Around Creekside Quilting?
The Downton Abbey 26 hour-two-day retreat is almost full and if you are wanting a spot....register soon! It's going to be a fun full two days of sewing, quiltng, knitting, embroiderying, applique, crafting, talking, laughing, games, prizes, give aways, tea, snacks, bottled water and of course, the Downton Abbey series playing on the screen! Need suggestions on where to get a hotel? Give me a call. Register
HERE
I love this tea towel with the Lady Crawley quote! Just so perfect Lady Crawley! You can order your tea towel
HERE
If you buy the Tula Butterfly Quilt 2 kit or pattern, you are automatically registered for a sew-along with Anne on March 2nd from 10:30-2. Anne has the quilt top put together and will be happy to help everyone with the quilt blocks and getting people started and motivated to complete! It's a stunning quilt, and Anne has done an amazing job with this quilt....your gonna love it! So order the kit
HERE
or the pattern
HERE
and join Anne on March 2nd by registering
HERE
!
Get prepared for our upcoming Quilting Around the Metro Shop Hop April 1st and April 2nd! More details next week!
February Fabric Lines Ready for Pre-Order
These fabric lines are on order and expected to come in this month...you can pre-order your fat quarter bundles today! Watch Julia Live Monday's at 4:30 for new fabric lines!
Holly Taylor's Wild Iris can be pre-ordered
HERE
this is a purple, ivory and green floral line
Sally Kelly's Eden fabric line from Windham can be pre-ordered
HERE
this is a bright and contemporary line
Riley Blake Color Wall is an assortment of bright blenders. You can pre-order your fat quarter bundle
HERE
Pfaff Sewing Machines
We are looking for a sewing machine repair person....if you know someone or are interested, please contact the store and let me know!
(515)276-1977
What's Coming Up in February?
View the February Calendar
HERE
***PLEASE NOTE
before you come to class, make sure your sewing machine is in good working condition and has all the necessary supplies you will need to run the sewing machine. A good understanding of how to use your sewing machine is a must. Sewing classes require a basic sewing kit and quilting tools.
***PLEASE NOTE
that cancelation of classes will be refunded up to 1week prior to the class date and time. After that, the instructor is expecting you and there will be no refunds for cancelations.
TODAY!!! NOT TO LATE TO SIGN UP!! STILL TWO SEATS AVAILABL!!

Free Motion Quilting Made Easy
with Betty Ann!
Tuesday, February 22nd at 1pm. Register HERE Master the "Scare" and Ease into Free Motion Machine Quilting!

Wednesday, February 23rd at 1pm is Patchwork Sister's Book Club
is reading for the month of Knot What You Think by Mary Marks. C
ome join us for an always lively book discussion!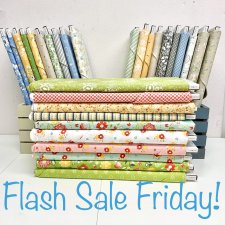 You won't want to miss our Flash Sale Fridays on February 18th, and 25th at 9:30am! Using the app on Friday's, you will receive 35% off full yard cuts of fabric! Then on Saturdays, you can purchase the fabric in the store at 25% off!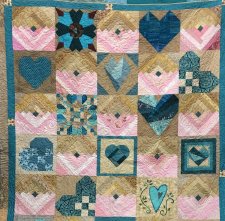 Friday, February 25th at 1pm is UFO Club
and this year we are doing it a little differently! Come any last Friday of the month and pay $2 to particpate for that day. The first $1 will go towards meeting your goals and the second $1 will go into the kitty for our year end party of prizes for our achievements! You can come any month you want, set any goals you want, and collect your $1 back the next month with your met goals. First month is always $2 and you wont receive your $1 back until you met a goal. Come any month...no need to register!


Join Julia on Mondays February 28th for her Live Event at 4:30pm to see what's new in the store and get a first chance to order before the newsletter comes out on Tuesday morning. Facebook: Creekside Quilting Iowa https://www.facebook.com/creeksidequiltingiowa

Whtat's Coming Up in March?

View the March calendar HERE

Exploring Quilt Block Short Cuts on Thursday, March 10th starting at 1 pm with Betty Ann

Show and Tell
Suzanne, great job getting your Sampler Spree quilt top done last week at our sew-in! Looks fantastic!
Fantastic first quilt block for the Hamilton pattern using the Rein fabric line! Thanks so much for sharing!
Great finish to this UFO Pam!

Facebook:
Creekside Quilting Iowa
https://www.facebook.com/creeksidequiltingiowa
Instagram:
CreeksideQuiltingIowa
https://www.instagram.com/creeksidequiltingiowa/

Product Video page:
https://www.creeksidequiltingiowa.com/videos-showcasing-fabric-and-notions.htm
Please take advantage of our curbside pickup service. You can order most items through our store website www.creeksidequiltingiowa.com, through our Creekside Quilting app, or give us a call. We will love to help you anyway we can in getting your order processed to meet your comfort level.


I'm ready for spring weather! Sunday's stitchin outside was a teaser....but I'm ready for more warmer weather days! Keep on stitchin'! Have a fantastic week! karen steggerda