Creekside Quilting Newsletter 03/15/2022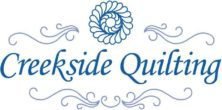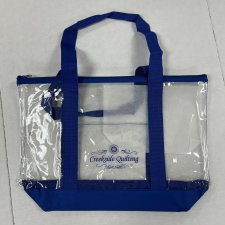 Mid-Month Madness is
TODAY
!!! So bring those bags in the store OR place your order online for your 15% off anything you can stuff in the bag!! You can buy this year's bag
HERE
or renew last year's bag
HERE


What's New @ Creekside Quiting?
We are putting together a group order for the
Sunflower T-shirt Fundraiser organized by fabric designer Kate Spain with World Central Kitchen!
If you would like to be a part of our group order, submit your order by
MONDAY, MARCH 21.
We will then order with Kate Spain and a portion of the profits will be donated by Kate Spain to World Central Kitchen, a non-profit organization stationed at the Ukrainian-Poland border to provide meals for displaced Ukrainian families and refugees.

FAQI see that you are charging $24.50 for t-shirts but Kate Spain is only charging $24 - why?


We are creating a group order for two reasons: to help spread awareness for this fundraiser and also to save our local customers shipping costs. The extra $0.50 cents per t-shirt is to cover shipping costs we will be charged for the group order. If there are any extra funds raised during this fundraiser not spent on shipping, we will donate those funds. We have no intention of profiting off of this group order.
To order your t-shirt through Creekside Quilting, click HERE
or for more information on the fundraiser or to order your t-shirt directly from Kate Spain, head here:
https://kdspain.com/tshirts/sunflowers-in-my-heart
My Country by designer Kathy Schmitz is a very patriotic fabric line! The pattern is
Rocket's Red Glare and is designed to use the My Country fabric line. You can view the full line and purchase fabric
HERE
and the pattern
HERE
and a fat quarter bundle
HERE
Here is a better picture of the My Country panels...one is parchment and the other is wheat. View and order the wheat panel
HERE
and the parchment panel
HERE
the pattern uses one of the 5/8 yards of the panel.
I love these calendar quilts and think they would look so festive hanging from your front door each month or even quarterly change them out. The patterns are by Kim Schaefer. You can order the April umbrella with yellow boots fabric kit
HERE
and the patten
HERE
These bright packages carry enough fabric to make one pillowcase and they come with the pattern. Each kit is different, so stop on in the store to see whick kit works best for you! Each kit is $14.49
If you are doing the Laundry Basket Quilts Mystery Challenge that started yesterday, we have the fabrics and we have the panel she is using...the bundle can be ordered
HERE
Laundry Basket Quilts Spring Bouquet applique pattern is available through Creekside Quilting. You can order this pattern
HERE
Ironic to be advertising this pattern, just as we are seeing the last of the winter snow melt, but here it is...the Snowflake pattern! You can order the pattern
HERE
and be ready for next winter!
One last week to check out our sale tables of fabric! Next week, whatever is left will go back to the sale area, so come on in and purchase this sale fabric at $6.00 a yard.
Fun new 8" ruler that is exactly 1/2" wide! Easy to mark both sides of your half square triangles at one time. You can order your Quick Quarter Ruler
HERE
Get prepared for our upcoming Quilting Around the Metro Shop Hop April 1st and April 2nd! Stop in at Creekside Quilting, Off the Rails, Quilter's Cupboard or Woodside Quilting to pick up a postcard or download the postcard HERE
What's New in Our Wool Department?
We have two new Buttermilk Basin Farmhouse Woolen seasonal patterns. The first pattern, with the bee hive and raven is March and the white rabbit is April. I love the background stitching...great way to practice your decorative hand stitching! Order the Farmhouse March pattern
HERE
and the Farmhouse April pattern
HERE
What's Coming Up in March?
View the March Calendar
HERE
***PLEASE NOTE
before you come to class, make sure your sewing machine is in good working condition and has all the necessary supplies you will need to run the sewing machine. A good understanding of how to use your sewing machine is a must. Sewing classes require a basic sewing kit and quilting tools.
***PLEASE NOTE
that cancelation of classes will be refunded up to 1week prior to the class date and time. After that, the instructor is expecting you and there will be no refunds for cancelations.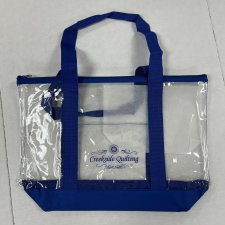 TODAY! Tuesday, March 15th is Mid Month Madness all day long. The 2022 Creekside Quilting Mid Month Madness bag is HERE!! You can either renew your old bag and still participate by clicking HERE or you can buy the new bag to participate in 2022. So, in order to participate in 15% off on the 15th of each month, it's a renewal fee to use last year's bag HERE or buy the new bag for 2022 HERE
Sunflower T-shirt fundraiser
with Kate Spain and The World Kitchen is this week. Order your t-shirt
HERE
Free Motion Quilting Made Easy
with Betty Ann!
Thursday, March 17th at 1pm. Register HERE Master the "Scare" and Ease into Free Motion Machine Quilting!
"I have taught for many years and taught a wide variety of classes. What I love most about sharing what I have learned is taking a beginner at whatever we are doing to a more confident crafter!
You CAN learn to quilt your own projects ~ let me walk you through the simple steps and show you how to chase away the "SCARE" of domestic machine free motion quilting! Pick up the simple basics of machine quilting along with tricks and techniques I have learned along the way to help you become a confident quilter! Go home with a sense of confidence and plenty of resources to begin your quilting journey! You MUST know your machine! ~ how to set your tension, lower your feed dogs, and make adjustments. Social distancing will not allow close one-on one work, but I will be there to coach you along the way!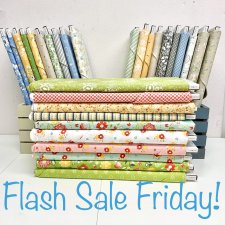 You won't want to miss our Flash Sale Fridays on February 18th, and 25th at 9:30am! Using the app on Friday's, you will receive 35% off full yard cuts of fabric! Then on Saturdays, you can purchase the fabric in the store at 25% off!

Singer Featherweight Club will be Saturday, March 19th
Sharon Meisenheimer will be teaching the group how to foundation paper piece on your featherweight sewing machine.
This group is full.


Monday, March 21st is The Monday Stitch group. This group is full.


Join Julia on Mondays March 21st, and 28th for her Live Event at 4:30pm to see what's new in the store and get a first chance to order before the newsletter comes out on Tuesday morning. Facebook: Creekside Quilting Iowa https://www.facebook.com/creeksidequiltingiowa
Wednesday, March 23rd at 1pm is Patchwork Sister's Book Club
is reading for the month of Knot My Sister's Keeper by Mary Marks. C
ome join us for an always lively book discussion!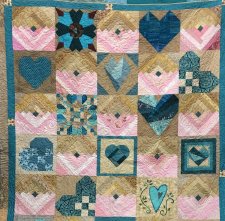 Friday, March 25th at 1pm is UFO Club
and this year we are doing it a little differently! Come any last Friday of the month and pay $2 to particpate for that day. The first $1 will go towards meeting your goals and the second $1 will go into the kitty for our year end party of prizes for our achievements! You can come any month you want, set any goals you want, and collect your $1 back the next month with your met goals. First month is always $2 and you wont receive your $1 back until you met a goal. Come any month...no need to register!

What's ComingUp in April?


Quilting Around the Metro Shop Hop! Get prepared for our upcoming Quilting Around the Metro Shop Hop April 1st and April 2nd.

Stop in at Creekside Quilting, Off the Rails, Quilter's Cupboard or Woodside Quilting to pick up a postcard or download the postcard

HERE to possibly win 1 of 12 prizes!


The Butterfly Quilt 2 Sew Along with Ann will be Wednesday, April 5th starting at 10:30 am.

So order the kit

HERE

or the pattern

HERE

and join Anne on March 2nd by registering

HERE!


Wednesday, April 13th at 10:30am is the Frosty Goes to Town Sew Together! Bring your kits and join Meryem for a few hours of sewing on this fun kit! Meryem has a head start and can give you some suggestions on building your machine applique blocks! Don't have a kit yet, you can order the kit HERE. All the pieces are laser cut and fused...ready to go and could be started tomorrow!


Facebook:
Creekside Quilting Iowa
https://www.facebook.com/creeksidequiltingiowa
Instagram:
CreeksideQuiltingIowa
https://www.instagram.com/creeksidequiltingiowa/

Product Video page:
https://www.creeksidequiltingiowa.com/videos-showcasing-fabric-and-notions.htm