Skip Navigation
Website Accessibility
Creekside Quilting Newsletter 04/26/2022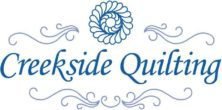 Look who stopped in to see us last week! Jen from the headquarters of the All Iowa Shop Hop. She stopped in to deliver the All Iowa Shop Hop magazines, which you can purchase
HERE
and to make sure we were ready with everything for the shop hop when it starts on June 1st! Mark those calendars, have your magazine, passport and fabric ordered, so when you go to all 90 of the participating stores, you can just enjoy shopping! The magazine has some really cool projects in it this year, so make sure you get your magazine soon!
What's New @ Creekside Quilting?
Our first Christmas line of fabric for 2022 has arrived! Noel, by Edyta Sitar of Laundry Basket Quilts is here and ready for purchase! You can view and purchase the full line
HERE
and order the fat quarter bundle
HERE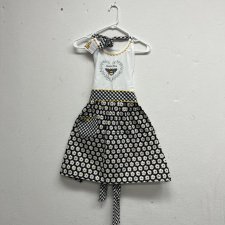 This apron is absolutely darling! It's called, Save the Gnomes Hostess Apron and can be viewed better and purchased
HERE
The apron is in black, white, and yellow with bees and sunflowers!
V & Co., Ombre Jelly Rolls distributed by Moda have arrived! These will go fast so don't wait too long to order yours if you are an ombre fan! View and purchase
HERE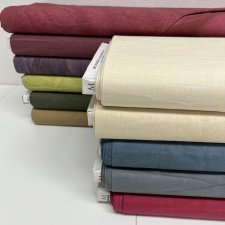 We recieved an assortment of Marcus Fabrics Aged Muslins and the colors are awesome! I took home a sample of each, washed all colors together and they did not fade, nor did the colors bleed. Another great solid to add to our collections! You can view and purchase your muslin colors
HERE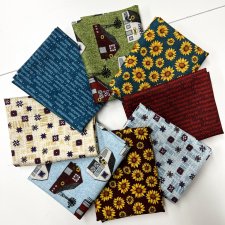 This is the 2022 All Iowa Shop Hop fabric and we have it ready for Pre-Orders! You can view and pre-order the fabrics
HERE
You can then pick up your fabric beginning June 1st....the kick off to the All Iowa Shop Hop which runs through June and July. We will be open on Sunday's 1-4 pm in June and July just for this awesome event! Please note, this Benartex line of fabric is prone to shrinkage, so buy extra to make the projects out of the All Iowa Shop Hop Magazine....which can also be pre-ordered
HERE
This is a 2/3 yd panel that goes with the All Iowa Shop Hop fabric line. You can pre-order the panel
HERE
Please note, this Benartex line of fabric is prone to shrinkage, so buy extra to make the projects out of the All Iowa Shop Hop Magazine....which can also be ordered
HERE
Order your All Iowa Shop Hop magazine
HERE
Join us for our next virtual shop on
April 30 at 7pm CST
with The Great Quilting Adventure virtual shop hop! Make sure to download our app - Creekside Quilting Iowa - on the
Google Play Store
or the
Apple App Store here
and follow us on
Facebook
beforehand to be notified when we go live and shop with us! We will be joining several other independent quilt shops from around the nation to bring you fun fabrics and finds each night that week starting April 25! Bring your popcorn for some fun Saturday night shopping!
We are starting a new book club called The Elm Creek Quilter's Book Club and it is based on The Elm Creek series by Jennifer Chiaverini! We have had several people ask about a club for Jennifer Chiaverini and we have two wonderful leaders who will lead you through the series and some of Sylvia's quilt blocks to go along with the books. You can choose to do the quilt blocks and books, or just the books. This should be a lively and fun group! Register
HERE
for this book club and purchase this months book, The Quilter's Apprentice
HERE
What's Coming Up in April?

View the April Calendar
HERE***PLEASE NOTE
before you come to class, make sure your sewing machine is in good working condition and has all the necessary supplies you will need to run the sewing machine. A good understanding of how to use your sewing machine is a must. Sewing classes require a basic sewing kit and quilting tools.
***PLEASE NOTE
that cancelation of classes will be refunded up to 1week prior to the class date and time. After that, the instructor is expecting you and there will be no refunds for cancelations.
Wednesday, April 27th at 1pm is Patchwork Sister's Book Club
is reading for the month of Knot On Her Life by Mary Marks. C
ome join us for an always lively book discussion!
The Elm Creek Quilter's Book Club will hold it's first meeting on Wednesday, April 27th at 2:30pm. Order your copy of the book HERE This book club will be reading through the Jennifer Chiaverini Elm Creek Quilter's book series each month. Fall in love with all the characters and charm of the stories!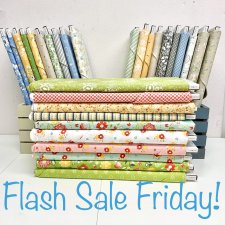 You won't want to miss our Flash Sale Fridays on April 29th at 9:30am! Using the app on Friday's, you will receive 35% off full yard cuts of fabric! Then on Saturdays, you can purchase the fabric in the store at 25% off!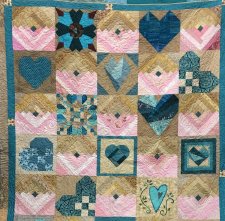 Friday, April 29th at 1pm is UFO Club and this year we are doing it a little differently! Come any last Friday of the month and pay $2 to particpate for that day. The first $1 will go towards meeting your goals and the second $1 will go into the kitty for our year end party of prizes for our achievements! You can come any month you want, set any goals you want, and collect your $1 back the next month with your met goals. First month is always $2 and you wont receive your $1 back until you met a goal. Come any month...no need to register!

What's Coming Up in May and June?
View the May calendar HERE
View the June calendar HERE


The Butterfly Quilt 2 Sew Along with Anne will be Wednesday, May 4th and or May 11th starting at 10:30 am. So order the kit HERE or the pattern HERE and join Anne on May 4th by registering HERE!


Wool Applique Class, Materials, Methods, Create! Join Val in learning about the details of wool applique and how to make wonderful wool projects. This class includes handouts, background information, samples, Q&A and time to start a make and take needle keep! Everyone who has taken the class with Val walks away with a desire to make more wool projects! A must class for anyone who is interested in beginning wool applique! Saturday, May 14th at 10:30am and you can register for the class HERE

We will be closed Monday, May 30th in obseervance of Memorial Day!


Everything Lori Holt Summer Boot Camp starts Thursday, June 2nd at 1:30pm and runs every Thursday for 8 sessions. We end on Thursday, July 21st. This boot camp is for people who want to do a Lori Holt project and need the encouragement and suggestion of others to keep motivated for completion of their project! We will have weekly show and tell of what we accomplished in our week, Q&A sessions, and time for show and tell of other Lori Holt projects we have completed! ALSO, since Lori Holt is all about the vintage, we will have time to share with others, our 1930's era stuff and any other things that are Lori Holt! So register today for our Everything Lori Holt Summer Boot Camp HERE


Tuesday, June 21st, is our 4th Annual Sunirse to Sunset Summer Solstice Quilt Retreat! Register HERE This will be a fun day of sewing, knitting, embroidery, or crafting from sunrise to sunset! Bring your projects, grab a friend and come have fun!



Show and Tell




This was shared with us this past week....I know it's not a quilt or sewing project, but I liked it just the same for our show and tell section!



Facebook:
Creekside Quilting Iowa
https://www.facebook.com/creeksidequiltingiowa
Instagram:
CreeksideQuiltingIowa
https://www.instagram.com/creeksidequiltingiowa/

Product Video page:
https://www.creeksidequiltingiowa.com/videos-showcasing-fabric-and-notions.htm
Featured Lines
keep updated with our new lines of fabric:
https://www.creeksidequiltingiowa.com/featured-and-new-fabric-lines-by-top-designers.htm
Have a fantastic week and keep on stitchin'! karen steggerda