Creekside Quilting Newsletter 05/24/2022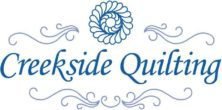 Soccer practice of a 4 year old!
What's New @ Creekside Quilting?
Designer's V and Co have a new Ombre fabric line available! This Galaxy Metallic line of fabric has specs of fold metalic in the weave. You can view and order the full line
HERE
or order a half yard bundle of all 30 fabrics
HERE
The Ombre Reversible Drawstring Bag would make a quick and easy project using the Galaxy Metalic Ombre fabrics! You could use the drawstring bag as a gift bag, cosmetic bag, little girl's bag, or just a great way to use up scraps! So darn cute! The bag pattern can be ordered
HERE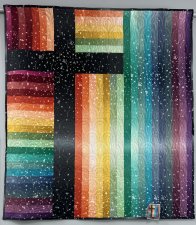 Mama Bear Quilting's pattern Amazing Love works great with the V and Co Ombre fabrics. Looking for a pattern to use with the new Galaxy Metallic line of Ombres? This pattern can be ordered
HERE
or by electronic download
HERE
This Michael Miller patriotic line of fabric is oozing with summer fun! View the full line of Hometown
HERE
or order a fat quarter bundle of all 18 fabrics
HERE
.
There is also a panel which can be ordered
HERE
We are so in love with this Whimsy Halloween fabric line from Riley Blake! This quilt is a kit, which includes the center panel and the boarder fabric! Anne did an excellent job putting it all together for display. We have two kits available today, and more coming by the time the All Iowa Shop Hop starts on June 1st! Order your kit today right
HERE
Please call the store at (515)276-1977 if you want to have us hold a kit for you next week!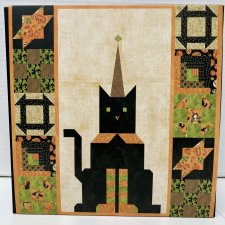 This Halloween Whimsy black cat kit has Halloween festive written all over it! You can order your kit
HERE
And don't forget this darling pillow kit
HERE
Chris has made pillow samples for our store of the pattern Swan Island! The pattern has directions to make a quilt or the pillows. You can order the pattern
HERE
You might also like to try the pattern Tis the Season Swan and Ornaments pattern, which are done in wool! Order your pattern
HERE
What's New with Pfaff?
Sad, but true, Pfaff sewing machines are going up in price on June 1st...so if you have been thinking about a new sewing or embroidery machine, now is the time to buy!
Here are the machines we have in stock and will honor these prices through Saturday, June 4th. BUT once they are out of stock in our store, we will not be able to honor that price any more. So take a look and think about if you are interested in a new sewing machine!
The Pfaff Passport 3.0 is a great little machine for small sewing spaces, travel and retreats! It has a built in IDT system (walking foot), and thread cutter.
Imagine a sewing machine compact enough to whisk away to a sewing class, or fit in your bookshelf. Now, imagine this same machine is chock-full of features designed to meet the high demands of the PFAFF® sewer. The PFAFF®
passport
™ 3.0 is specially designed for small spaces, as well as going places such as classes, retreats or any sewing journey. It is your license to venture out in the world and discover new ways and new places to sew! No limits. Just freedom. More information HERE


The Pfaff Ambition 610 is priced right for a great little machine with more throat space than the Passport 3.0. This machine comes with the built in IDT system and a computerized screen for easy sewing!

Command your creativity with the PFAFF

® ambition™ 610 sewing machine. Durable technology and artful operation make this machine stand out from the crowd. More information HERE


This Ambition 620 is very popular because it is a step up from the Ambition 610 and includes a thread cutter along with the built in IDT system. This machine seems to have the perfect number of decorative stitches, IDT, thread cutter, and is easy to manipulate the computer screen. The price is just right for this great, all around machine!

Discover the difference of enduring precision in the PFAFF

® ambition™ 620 sewing machine. With intuitive functionality and limitless potential, this exacting machine is the craftperson's most dependable tool. More information HERE


The top of the Ambition line is the the Quilt Ambition 630! This machine stands out from the other two Ambitons because it has a color computer screen and wide variety of decorative stitches. This machine is great for quilting, crafting or clothes construction.

Discover the difference of sophisticated elegance with the Q

uilt Ambition™ 630 sewing machine. Unrivalled precision and commanding innovation come standard. More information HERE

What's Coming Up in May?
View the May calendar HERE

***PLEASE NOTE
before you come to class, make sure your sewing machine is in good working condition and has all the necessary supplies you will need to run the sewing machine. A good understanding of how to use your sewing machine is a must. Sewing classes require a basic sewing kit and quilting tools.
***PLEASE NOTE
that cancelation of classes will be refunded up to 1week prior to the class date and time. After that, the instructor is expecting you and there will be no refunds for cancelations.
Wednesday, May 25th at 1pm is Patchwork Sister's Book Club
is reading for the month of Knot On Her Life by Mary Marks. C
ome join us for an always lively book discussion!
The Elm Creek Quilter's Book Club will hold it's first meeting on Wednesday, May 25th at 2:30pm. Order your copy of the book HERE This book club will be reading through the Jennifer Chiaverini Elm Creek Quilter's book series each month. Fall in love with all the characters and charm of the stories!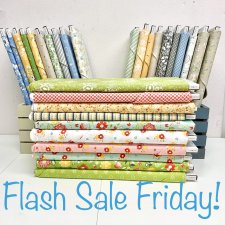 You won't want to miss our Flash Sale Fridays on May 27th at 9:30am! Using the app on Friday's, you will receive 35% off full yard cuts of fabric! Then on Saturdays, you can purchase the fabric in the store at 25% off!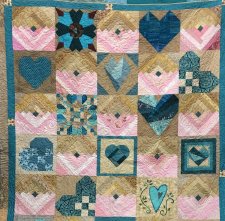 Friday, May 27th at 1pm is UFO Club and this year we are doing it a little differently! Come any last Friday of the month and pay $2 to particpate for that day. The first $1 will go towards meeting your goals and the second $1 will go into the kitty for our year end party of prizes for our achievements! You can come any month you want, set any goals you want, and collect your $1 back the next month with your met goals. First month is always $2 and you wont receive your $1 back until you met a goal. Come any month...no need to register!



We will be closed Monday, May 30th in obseervance of Memorial Day!



What's Coming Up in June?

View the June calendar HERE


June 1st is right around the corner and start your day with Creekside Quilting!! For the first two hours of the shop hop, we will be offering 15% off your total order (regular exclusions apply including All Iowa Shop Hop 2022 fabric and magazine, anything Pfaff and Quilter's Select Rulers), so make Creekside Quilting your first stop on Wednesday, June 1st!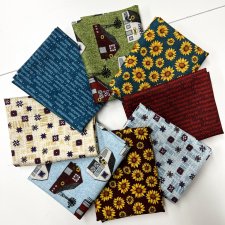 This is the 2022 All Iowa Shop Hop fabric and we have it ready for Pre-Orders!
You can view and pre-order the fabrics
HERE
You can then pick up your fabric beginning June 1st....the kick off to the All Iowa Shop Hop which runs through June and July. We will be open on Sunday's 1-4 pm in June and July just for this awesome event! Please note, this Benartex line of fabric is prone to shrinkage, so buy extra to make the projects out of the All Iowa Shop Hop Magazine....which can also be pre-ordered
HERE
This is a 2/3 yd panel that goes with the All Iowa Shop Hop fabric line. You can pre-order the panel
HERE
Please note, this Benartex line of fabric is prone to shrinkage, so buy extra to make the projects out of the All Iowa Shop Hop Magazine....which can also be ordered
HERE
Order your
All Iowa Shop Hop Magazine HERE
Anne's is teaching this 7 1/2 hour class on the One Block Wonder. The first session you will talk about fabric and color choices and what makes an interesting project. Then you will come back in two weeks with your first blocks and discuss color and placement. Then you will come back in two weeks for show and tell. Group discussion is BIG with this class. Anne says the technique is easy, once your grasp the concept. Anne's quilt, is hanging in the front of the store, and it is absolutely stunning and mesmorizing. Take the class and have a quilt on display in your house, that will be a topic of conversation for years to come!
Register for the One Block Wonder class HERE starting Monday, June 1t at 1pm
. You can order the One Block Wonder Book
HERE
The One Block Wonder or Stack and Whack method of piecing a quilt creates a fun and impressive Kaleidoscope effect. This class will teach the One Block Wonder technique. We will explore different options for setting your quilt. The sky's the limit. Each of the quilts created will look different and no one will guess how easy this method is. The first session will be used to discuss fabric choices. The last two will cover cutting and construction. Intermediate level and a good working knowledge of your sewing machine along with a ¼" foot required.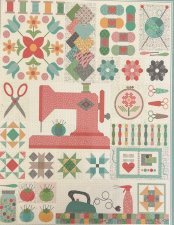 Everything Lori Holt Summer Boot Camp starts Thursday, June 9th at 1:30pm and runs every other Thursday through July 21st. We end on Thursday, July 21st. This boot camp is for people who want to do a Lori Holt project and need the encouragement and suggestion of others to keep motivated for completion of their project! We will have weekly show and tell of what we accomplished in our week, Q&A sessions, and time for show and tell of other Lori Holt projects we have completed! ALSO, since Lori Holt is all about the vintage, we will have time to share with others, our 1930's era stuff and any other things that are Lori Holt! So register today for our Everything Lori Holt Summer Boot Camp HERE

What's Coming Up in July

View the July calendar HERE


Friday, July 22nd from 9:30-4, we have an educator from Pennsylvania coming to Creekside Quilting to teach the Swoon quilt block. Frankie Crosby is a wonderful teacher, as I took a class from her in 2021, and asked her to come to Creekside Quilting to teach you! You will learn how to make this 24" Swoon block, which is hanging in the front of the store. You can regiister for this one day, 6 1/2 hour class HERE. You won't be disappointed!



Show and Tell



Our Monday Stitch group is finishing up their spring Round Robin Quilt Challenge and here is a few that were completed!


Lisa, we all loved your story behind each layer of the Round Robin!


Sandy pulled an all nighter just to have it completed and ready for today's show and tell...now that's dedication to completion!


Pam, everytime you create a quilt, we all are in awe of your creative-eye-for-detail talent!


Susan, for not knowing what you were even going to use as the medalion square, your Round Robin is awesome!


Suzanne, we all loved your quilt and your quilting design was just perfect for this quilt!



Facebook:
Creekside Quilting Iowa
https://www.facebook.com/creeksidequiltingiowa
Instagram:
CreeksideQuiltingIowa
https://www.instagram.com/creeksidequiltingiowa/

Product Video page:
https://www.creeksidequiltingiowa.com/videos-showcasing-fabric-and-notions.htm
Featured Lines
keep updated with our new lines of fabric:
https://www.creeksidequiltingiowa.com/featured-and-new-fabric-lines-by-top-designers.htm
Have a fantastic week and keep on stitchin'! karen steggerda