Creekside Quilting Newsletter 06/28/2022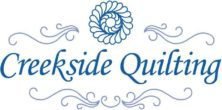 Don't Miss Our
Firecracker Sale On Monday, July 4th from 12-4pm CDT!
! 20% off select notions, rulers, and threads!! Online or on the app ONLY....use the
coupon code FIRECRACKER22
The store will be closed, but you can still join us for some fun shopping!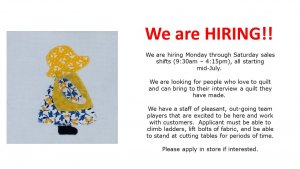 We are hiring Monday through Saturday sales poisitions starting in July. We are looking for people who love to quilt and can bring to their interview a quilt you have made. We have a staff of pleasant, out-going team players that are excited to be here and work with customers.
Applicant must be able to climb ladders,
lift
bolts
of
fabric, and be able to stand at cutting tables for periods of time. Please apply in store if interested.

What's New @ Creekside Quilting?
We love this Hello Melly Designs Popsicle Parade quilt sample Kaylee has made for our store!! The sample is made from the Riley Blake Colour Wall fabric line which you can view and purchase from
HERE
. You can buy the kit
HERE
and make one for some summer fun!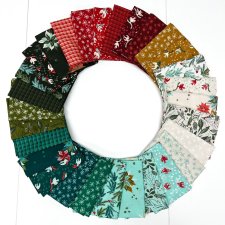 Moda's Cheer and Merriment Winter fabric line can be viewed
HERE
or a fat quarter bundle of all 30 pieces can be ordered
HERE
. The aqua adds such a calming touch to the winter fabrics!
This is a gorgeous, almost calico print, from Robert Kaufman Fabrics called 6th Street! You can view and purchase from the full line
HERE
or buy a fat quarter bundle of all 24 fabrics
HERE
All you Kansas Troubles fans! They have a new line of fabric out called Freedom Road! You can view this beautiful patriotic reproduction line
HERE
or order a fat quarter bundle of all fabrics
HERE
or 5" charm packs
HERE
The summer issue of Simply Vintage has arrived and ready for sale in our wool department! You will love the summer projects featured in the magazine! Order your copy of the magazine
HERE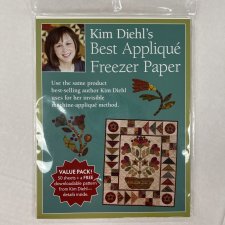 When doing applique, don't forget your freezer paper....we like the Kim Diehl's Freezer Paper because it is easy to use and pre-cut to fit into printers for copying fabrics and getting the exact measurements and details from the patterns. Order yours
HERE
Cluck Cluck Sew Mini Quilts pattern is new to the store....are you someone who likes mini quilts? You'll love trying a quilt or two out of this pattern! Order yours
HERE
What's Happening Around Creekside Quilting?
The store will be closed on
Monday, July 4th
, but that doesn't mean you can't shop with us! Shop online or on the app to receive 20% off select notions, rulers, and threads!! The sale runs on July 4th from 12-4pm CST and use the coupon code at checkout, FIRECRACKER22
July is the month for some BIG sales, because how could we miss a
Christmas in July sale on the 25th
? Select Christmas and holiday fabrics will go on sale
Monday, July 25th at 4:30 pm CST
....stock up now for all those holiday crafts and gifts!
Simply Swoon is the name of the class being taught by professional educator Frankie Crosby from Pennslyvania on Friday, July 22nd, which you can register for
HERE
. The class takes the Thimble Blossoms Simply Swoon pattern, which you can purchase HERE
, but we also have the Thimble Blossoms Mini Swoon Pattern
HERE
. You could use either pattern when taking the class with Frankie!
Our $7 a yard tables are back this summer!! Each Monday we will re-stock the tables so that there are 125 bolts of fabric on sale for $7 a yard for the week! So come on in weekly to check out the new fabrics we added to the table! Julia will also be spotlighting 10 bolts of $7 fabric on her Monday Live show at 4:30. These bolts of fabric can be ordered off our app in the sale tab.
This months give away when you order off the app $50 or more, your name will go into a drawing to receive a Creekside Quillting Travel Mug!! You can view the travel mug
HERE
If you are not a follower of our app...register today and have a chance to win one of our travel mugs!
I must be in a fun summer mood, because we are also giving away 5-$50 gift cards to people who take a picture of themselves in the store and tag us on Facebook. Our Facebook page is Creekside Quilting Iowa. Winners will be drawn on August 1st during Julia's live show at 4:30.
What Classes and Events are Coming Up in July?

View the July calendar HERE

***PLEASE NOTE before you come to class, make sure your sewing machine is in good working condition and has all the necessary supplies you will need to run the sewing machine. A good understanding of how to use your sewing machine is a must. Sewing classes require a basic sewing kit and quilting tools.
***PLEASE NOTE that cancelation of classes will be refunded up to 1week prior to the class date and time. After that, the instructor is expecting you and there will be no refunds for cancelations.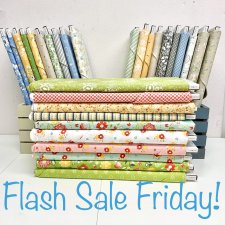 You won't want to miss our Flash Sale Fridays on July 1st at 9:30am! Using the app on Friday's, you will receive 35% off full yard cuts of fabric! Then on Saturdays, you can purchase the fabric in the store at 25% off!


Monday, July 4th, We will be closed, but you can still join us for some fun shopping!


Join Julia on Tuesday, July 5th for her Live Event at 4:30pm to see what's new in the store and get a first chance to order before the newsletter comes out on Tuesday morning. Facebook: Creekside Quilting Iowa https://www.facebook.com/creeksidequiltingiowa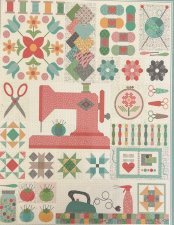 Everything Lori Holt Summer Boot Camp starts Thursday, July 7th and 21st at 1:30pm this group is full


Learn to Use Your Pfaff Expression Sewing Machine Class is Saturday, July 9th starting at 10:30am. One of the most important parts of quilting is having a sewing machine you know how to use! In this class, we will introduce you to your Expression sewing machine by going through everything you machine has to offer from turning it on, winding a bobbin, and the computer stitch selection guide. When you have a knowledge of all the things your sewing machine can do, the creativity process becomes limitless! You must own a Pfaff Expression 710 or 720 to partake in this class AND bring your own machine with you to class. Register HERE


Monday, July 11th and 25th is The Monday Stitch group. This group is full.


Friday, July 22nd from 9:30-4, we have an educator from Pennsylvania coming to Creekside Quilting to teach the Swoon quilt block. Frankie Crosby is a wonderful teacher, as I took a class from her in 2021, and asked her to come to Creekside Quilting to teach you! You will learn how to make this 24" Swoon block, which is hanging in the front of the store. You can regiister for this one day, 6 1/2 hour class HERE. You won't be disappointed!


Tuesday, July 26th is Exploring Quilt Block Short Cuts with Betty Ann starting at 10:30 Register HERE


Then stay and take Betty Ann's Free Motion Quilting Made EASY class starting at 1:30. Regsiter HERE



Facebook: Creekside Quilting Iowa https://www.facebook.com/creeksidequiltingiowa

Instagram:
CreeksideQuiltingIowa
https://www.instagram.com/creeksidequiltingiowa/

Product Video page:
https://www.creeksidequiltingiowa.com/videos-showcasing-fabric-and-notions.htm
Featured Lines
keep updated with our new lines of fabric:
https://www.creeksidequiltingiowa.com/featured-and-new-fabric-lines-by-top-designers.htm
We are enjoying meeting all the All Iowa Shop Hoppers!!! Thanks to everyone who is stopping in to say "hello"! This is Karen and Dianna from Iowa Falls....sporting the 2022 AISH t-shirts! Happy 4th of July everyone! karen steggerda