Skip Navigation
Website Accessibility
Creekside Quilting New Products 09/20/2022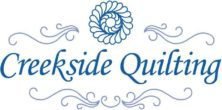 Congratulations Des Moines native, Stephanie Bracelin for your quilts' acceptance into the AQS National Show! Stephanie is an amazing pattern designer, quilter, and artist! We are lucky to have some of Stephanie's patterns and quilts in our store! You can find her patterns, S-Renee Designs, in our store HERE!
New Products at Creekside Quilting
Winter Flurries by Holly Taylor is a new fabric line from Moda! The

colors are deep with reds like garnets, greens like the forest, and the

blues to remind you of a tranquil winter sky! You can view the full line


HERE
The Winter Flurries fabrics are a perfect match with the Blizzard Stars pattern. You can order the full kit with pattern HERE which includes all the fabrics to make the quilt top and binding.
Home for the Holidays from Sherri McConnell and Chelsi
Stratton is a great new book with several holiday quilts
and favorite cookie recipes! You can order your book HERE

GE Designs NEW book Stripology Mixology 3 is available!

Gudrun has put together 14 new awesome quilts that use

her stripology rulers, and make cutting fabric strips easy!

Of course, she has included her favorite cordial cocktail

recipes! Order your book HERE
Another GREAT holiday fabric line from Basic Grey is Peppermint Bark.

The greens and the reds are very traditional, but then they threw in

aqua's and blacks to complete the color scheme for this charming

holiday fabric! View the full line HERE or order the 36 piece fat quarter bundle HERE or a layer cake HERE

Coach House Designs has designed this pattern, Christmas Treats, just for

the Peppermint Bark fabric line! You can purchase your kit with pattern, which includes the fabric for the quilt top and the binding, HERE
We had a great time at the AQS Show last week and are looking forward to seeing everyone again this week at the Des Moines Quilter's Guild Show! I have heard they will have 700 quilts on display and rows and rows of vendors! Creekside Quilting is honored to sponsor the kitchen and eating area for the show, along with vending in a booth! Please stop by and see us this weekend! Happy sewing, karen steggerda