Skip Navigation
Website Accessibility
Creekside Quilting Newsletter 09/28/2022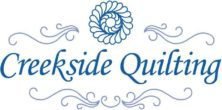 What's New @ Creekside Quilting?
Moda's Bosa Nova Batiks

Iris Ivy by Jan Patek

View and Purchase Individual Fabrics HERE


View and Purchase Individual Fabrics HERE
Purchase the 35 pc Fat Quarter Bundle HERE
| | |
| --- | --- |
| | |
| Woot Woot! We are having a Trunk or Treat Quilt Show on Wendesday, October 26th from 6-9pm at the Giovannetti Community Center in Urbandale, Iowa and you are cordially invited to attend!! There will be games, food, a costume contest, shopping, and quilts on display from all around the US. Missy Carpenter will be our guest artist and will be available for conversations, and have her quilts on display as well! It's going to be a spooktacular event that you just wont want to miss!!! Purchase your tickets for the event HERE | Do you have a quilt you are proud of and would like to display at our Trunk or Treat Quilt Show on Wednesday, October 26th? We are accepting quilts for display at our event that are at least 36x36" square or rectangle in good condition and free of orders, smoke or pet hairs. All entrants that have a quilt displayed will receive a $10 gift card. You can ship the quilt to us, and when we ship the quilt back to you, we will call you for shipping charges. Registration of your quilt is required. Find the form for submittal of quilt HERE |
The Great Qulting Adventure Virtual Shop Hop
Creekside Quilting is participating in The Great Quilting Adventure on Monday, October 17th at 7pm! Join Julia on a great adventure, with new kits and products just for this live event!
Last Few Days to Get Show Prices on the In-stock Pfaff Sewing Machines
Creative Icon 2 w/ embroidery unit save $5,000 off MSRP
Creative Ambtion 640 with embroidery unit save $200 off MSRP
Expression 710 save $1300 off MSRP
Quilt Ambition 635 save $300 off MSRP
Quilt Ambition 630 save $300 off MSRP
Quilt Ambtion 610 save $300 off MSRP
Passport 3.0 save $200 off MSRP
Passport 2.0 save $200 off MSRP
Admire Air 5000 Serger save $500 off MSRP
Gently Loved Performance Icon save $4,000 off MSRP
| | |
| --- | --- |
| | |
| Featherweight Cleaning and Polishing | Pfaff Machine Cleaning and Repair |
| Michael will be at Creekside Quilting on Tuesday, October 11th and Tuesday, October 25th. Register your Featherweight machine on line for a polishing and cleaning HERE. You must reserve your spot a head of the date you want to bring your machine to the store. | Jerry will be at the store on Monday, October 3rd and Monday, October 24th for Pfaff Sewing Machine and Cleaning Days in October! Register your machine for a cleaning HERE or for a repair HERE You must reserve your spot a head of the date you want to bring your machine to the store. |
Upcoming Classes and Events at Creekside Quilting
View the October calendar HERE
***PLEASE NOTE before you come to class, make sure your sewing machine is in good working condition and has all the necessary supplies you will need to run the sewing machine. A good understanding of how to use your sewing machine is a must. Sewing classes require a basic sewing kit and quilting tools.
***PLEASE NOTE that cancelation of classes will be refunded up to 1week prior to the class date and time. After that, the instructor is expecting you and there will be no refunds for cancelations.
TODAY!!! STILL A COUPLE OF SPOTS LEFT!! The Magic of Modern Triangles with Betty Ann on Wednesday, September 28th at 10:30 am. Come learn how to create and make the "Modern Triangle" using the "magic" of Freezer Paper Foundation Piecing! Let me share this fun new way to paper piece with you and explore some inspiring project layouts! There will be no stress of finishing a project - we will simply have two hours of fun learning the process and finding the MAGIC! Register HERE


UFO CLUB Friday, September 30th at 1 pm. This year we are doing it a little differently! Come any last Friday of the month and pay $2 to participate for that day. The first $1 will go towards meeting your goals and the second $1 will go into the kitty for our year end party of prizes for our achievements! You can start any month you want, set any goals you want, and collect your $1 back the next month with at least one met goal. IF you don't meet at least one of the goals you set, you owe a dollar. If you miss the next month, you owe a dollar for each month missed when you return. Come any month...no need to register...just show up and complete some of the UFO's that are driving you crazy!

October


Quilting for Beginners-A Hobby for Life Monday, October 3rd at 6pm


Wool Applique Class, Materials, Methods, Create on Saturday, October 8th at 10:30 am! Join Val in learning about the details of wool applique and how to make wonderful wool projects. This class includes handouts, background information, samples, Q&A and time to start a make and take needle keep! Everyone who has taken the class with Val walks away with a desire to make more wool projects! A must class for anyone who is interested in beginning wool applique! Saturday, October 8 at 10:30am and you can register for the class HERE
***Picture may not replicate the pinkeep project, but it will be a pinkeep you make for the class***

Free Motion Quilting Made Easy with Betty Ann! Tuesday, October 25th at 1:30pm. Register HERE Master the "Scare" and Ease into Free Motion Machine Quilting!
"I have taught for many years and taught a wide variety of classes. What I love most about sharing what I have learned is taking a beginner at whatever we are doing to a more confident crafter!
You CAN learn to quilt your own projects ~ let me walk you through the simple steps and show you how to chase away the "SCARE" of domestic machine free motion quilting! Pick up the simple basics of machine quilting along with tricks and techniques I have learned along the way to help you become a confident quilter! Go home with a sense of confidence and plenty of resources to begin your quilting journey! You MUST know your machine! ~ how to set your tension, lower your feed dogs, and make adjustments. Social distancing will not allow close one-on one work, but I will be there to coach you along the way!
UFO CLUB Friday, October 28th at 1 pm. This year we are doing it a little differently! Come any last Friday of the month and pay $2 to participate for that day. The first $1 will go towards meeting your goals and the second $1 will go into the kitty for our year end party of prizes for our achievements! You can start any month you want, set any goals you want, and collect your $1 back the next month with at least one met goal. IF you don't meet at least one of the goals you set, you owe a dollar. If you miss the next month, you owe a dollar for each month missed when you return. Come any month...no need to register...just show up and complete some of the UFO's that are driving you crazy!

That's all for today! Just keep on stitching! karen steggerda