Creekside Quilting Newsletter 10/20/2022
Do you have your tickets to attend our fun event yet on Wednesday, October 26th?


Order them HERE
What's Happening Around Creekside Quilting?
| | |
| --- | --- |
| | |
| Do you have a quilt you are proud of and would like to display at our Trunk or Treat Quilt Show on Wednesday, October 26th? It does NOT have to be Halloween themed AND it can also be wool! We are accepting quilts for display at our event that are at least 36x36" square or rectangle in good condition and free of orders, smoke or pet hairs. All entrants that have a quilt displayed will receive a $10 gift card. You can ship the quilt to us, and when we ship the quilt back to you, we will call you for shipping charges. Registration of your quilt is required. Find the form for submittal of quilt HERE | We are having a Trunk or Treat Quilt Show on Wendesday, October 26th from 6-9pm at the Giovannetti Community Center in Urbandale, Iowa and you are cordially invited to attend!! There will be games, food, a costume contest, shopping, and quilts on display from all around the US. Missy Carpenter will be our guest artist and will be available for conversations, and have her quilts on display as well! It's going to be a spooktacular event that you just wont want to miss!!! Purchase your tickets for the event HERE |
Sewing Machine Repair Dates
Michael will be in the store on Tuesday, October 25th


Register to have your Featherweight cleaned and


polished HERE. You must reserve a spot in advance of


as space is limited

Jerry will be back on Monday, October 24th for


cleaning and repairs.


Register your machine for a cleaning HERE
Register your machine for a repair NO cleaning HERE


Spaces are limited so pre-registration is needed
Upcoming Classes and Events at Creekside Quilting
View the October calendar HERE
***PLEASE NOTE before you come to class, make sure your sewing machine is in good working condition and has all the necessary supplies you will need to run the sewing machine. A good understanding of how to use your sewing machine is a must. Sewing classes require a basic sewing kit and quilting tools.
***PLEASE NOTE that cancelation of classes will be refunded up to 1week prior to the class date and time. After that, the instructor is expecting you and there will be no refunds for cancelations.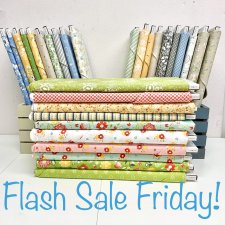 You won't want to miss our Flash Sale Fridays on October 21st, and 28th at 9:30am!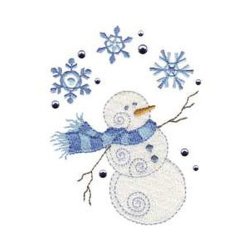 NEW!!!
Monday, October 24th at 1pm will be our first Machine Embroidery Club!
A club to share knowledge, questions and ideas on embroidery/sewing machines. Tips and discussions on stabilizers…what they are, types, why you need to use them, I would bring various examples. Discuss all thread types and bobbin threads, hooping your project versus non-hooping, editing, enlarging, rotating embroidery designs, again I would bring examples to show and share. How to download designs from websites to a USB stick and extract them from zipped files when necessary. How to use the embroidery designs that came preloaded in your particular machine.In the Hoop embroidery designs that are totally completed in the hoop, with samples to show/share. Register HERE to reserve your seat!
Join Julia on Mondays October 24th, and 31st for her Live Event at 4:30pm to see what's new in the store https://www.facebook.com/creeksidequiltingiowa
Free Motion Quilting Made Easy with Betty Ann! Tuesday, October 25th at 1:30pm. Register HERE Master the "Scare" and Ease into Free Motion Machine Quilting!
"I have taught for many years and taught a wide variety of classes. What I love most about sharing what I have learned is taking a beginner at whatever we are doing to a more confident crafter!
You CAN learn to quilt your own projects ~ let me walk you through the simple steps and show you how to chase away the "SCARE" of domestic machine free motion quilting! Pick up the simple basics of machine quilting along with tricks and techniques I have learned along the way to help you become a confident quilter! Go home with a sense of confidence and plenty of resources to begin your quilting journey! You MUST know your machine! ~ how to set your tension, lower your feed dogs, and make adjustments. Social distancing will not allow close one-on one work, but I will be there to coach you along the way!


Wednesday, October 26th at 1pm is Patchwork Sister's Book Club. We are reading Susan Wiggs, the Goodbye Quilt


Wednesday, October 26th at 2:30pm is our Elm Creek Quilter's Book Club. This month we are ready book 6 of in the series, Master Quilter by Jennifer Chiaverini
UFO CLUB Friday, October 28th at 1 pm
. This year we are doing it a little differently! Come any last Friday of the month and pay $2 to participate for that day. The first $1 will go towards meeting your goals and the second $1 will go into the kitty for our year end party of prizes for our achievements! You can start any month you want, set any goals you want, and collect your $1 back the next month with at least one met goal. IF you don't meet at least one of the goals you set, you owe a dollar. If you miss the next month, you owe a dollar for each month missed when you return. Come any month...no need to register...just show up and complete some of the UFO's that are driving you crazy!
NEW!!! Join Pat in a Foundation Paper Piecing Class on Saturday, October 29th from 10:30-3:30. This is a full day class. You will need to have the Holiday Snow Globe pattern to work from. Register HERE
Monday, October 31st is The Monday Stitch
group. This group is full.
Just keep on stitching! karen steggerda