***PLEASE NOTE before you come to class, make sure your sewing machine is in good working condition and has all the necessary supplies you will need to run the sewing machine. A good understanding of how to use your sewing machine is a must. Sewing classes require a basic sewing kit and quilting tools.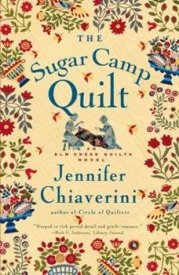 Wednesday, November 30th at 2:30pm is our Elm Creek Quilter's Book Club. This month we are ready book 7 of in the series, The Sugar Camp Quilt by Jennifer Chiaverini



Up and Coming in December


View the December calendar HERE


Chris will be leading a Make and Take on December 1st
for the Fold-it-Hold-it Bag. The class will be from
11:30am-1pm and your kit will include the pattern, fabrics,
ribbon and jingle bells to make one medium sized bag.
You will need to bring your sewing machine and sewing
supplies. We will have a cutting mat, rotary cutter, and iron station
set up. Registration fee of $15 includes the class and kit.
Register HERE