Creekside Quilting Newsletter 01/31/2023
9926 Swanson Blvd.,




Clive, Iowa 50325




(515)276-1977


www.creeksidequiltingiowa.com
Monday-Saturday 10am-4pm
What's New @ Creekside
Quilting?

Cathe Holden's Junk Journal Fabric Line
This line is so unique! There are a lot of project ideas on Pinterest!
View and purchase the fabric HERE

Stomp!
Stomp! Roar by designer Stacy Iest Hsu
This 20 piece line of dinosaur novelty fabric can be viewed and purchased HERE
Order the 20 pc. fat quarter bundles HERE

Enchanted Seas 11 pc. Fat Quarter Bundle

Order HERE

Creekside Quilting Lexington Pattern
This pattern is great for the beginner quilter or for someone wanting a quick project! It is pictured using the Stomp Stomp Roar fabric line! Order your pattern HERE


What's New in Our Wool Department?



Creekside Quilting Valentine Felted Wool Kit & Pattern
is back in stock and ready for purchase! Order HERE
Order the pattern HERE
Creekside Quilting Felted Wool Valentine Bundle


Red, Cream, Pink and Fushia make up this Valentine Bundle
Order HERE
What's Happening Around Creekside Quilting?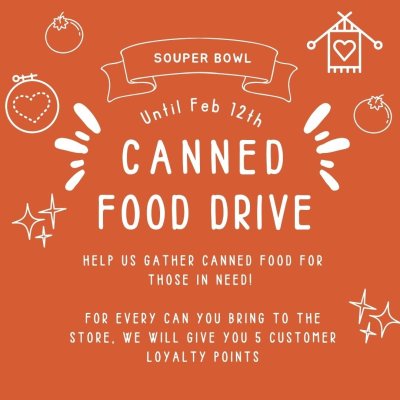 Saturday, February 11th from 9-9. Register HERE


First Friday Make and Take Valentine Fabric Cards
Register HERE

Sewing Machine Information
Singer Featherweight Cleaning and Polishing!
Michael will be in the store on Tuesday, February 7th and Tuesday, February 21st to clean and polish Singer Featherweights!
Register to have your Featherweight cleaned and
polished HERE. You must reserve a spot in advance
as space is limited. Your machine will be ready for pickup the day of service.

Pfaff Share the Love Sale
Best sale of the year! 30% off MSRP New Machines at Creekside Quilting
Have you been eyeing a new machine?
Now is your chance to get a new machine at a very good price!
We have never marked down the sewing machines this low before!
Stop in today to try out the machine of your dreams!




Pfaff Sewing Machine Cleaning and

Repairs


Sign up for a cleaning HERE and a repair HERE


Upcoming

Classes and Events
View the February Calendar HERE
All Pre-paid Classes and Events can be refunded if the cancellation is prior to one week of the event. If Creekside Quilting has to cancel the event, then we will refund your money.

Wednesday's, February 1st, 8th, 15th, 22nd, and 27th are Wacky Wednesday Sales

Friday's, February 3rd, 10th, 17th, and 24th are Flash Sale Fridays live with Julia at 9:30am

Monday's, February 6th, 13th, 20th and 27th are What's New Live with Julia at 4:30pm

Friday, February 3rd is the First Friday Make and Take Valentine Cards Regsiter HERE

Tuesday, February 7th starting at noon is Wool Club...come join us

Thursday, February 9th starting at 10:30am is Sit and Knit...come join us

Saturday, February 11th starting at 9am is the Superbowl Saturday Sew-in Register HERE

Wednesday, February 15th is Mid Month Madness Sale receiving 15% off everything you can fit in the Creekside Quilting Bag. Purchase your bag HERE

Wednesday, February 15th starting at 10am is the Applique Sew-in for Everyone

Saturday, February 18th starting at 10:30am is the Singer Featherweight Club...come join us

Wednesday, February 22nd is Patchwork Sister's Book Club starting at 1pm. This months book is The Healing Quilt by Lauraine Snelling...come join us for a lively discussion

Wednesday, February 22nd is the Elm Creek Quilter's Book Club starting at 2:30. This month's book is The Quilter's Homecoming by Jennifer Chiaverini...come join us for a lively discussion

Friday, February 24th starting at 1pm is the UFO Club

Monday, February 27th starting at 1pm is the Machine Embroidery Club...come join us


Yes, that was the sun we saw setting after 5:30pm on Monday!
Spring is coming...only 6 more weeks of winter!
Watch our website for possible store closures or early closures due to weather.

Thank you for your loyal support! We very much so appreciate each and everyone of you!
karen steggerda