Creekside Quilting is 20 Years Old!

Come Join in on the festivities Saturday, March 11th (open to close) as we celebrate our accomplishment...20 years of being in business! There will be hourly discounts, surprise discounts, plenty of give aways, and lots of snacks, desserts and beverages!
All month long, recieve a coupon for $5 off your orders to be used in April and May! You can use the coupons separately or all together...so the more purchases you make in March, the more you save in April and May! The celebration just continues!

What's New @ Creekside
Quilting?
Everything but the Kitchen Sink 20pc Fabric Line
View and purchase the fabric
HERE
Fat quarter bundle
HERE
Fandango Everything but the Kitchen Sink Kit
Kit includes pattern and fabric to make the quilt top and the binding
Order kit
HERE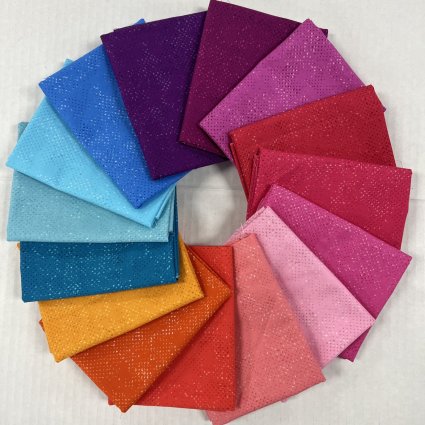 Zen Chic Spotted Rainbow 15pc Fat Quarter Bundle
Order your fat quarter bundle of Spotted fabrics
HERE

Purchase individual Zen Chic Spotted fabrics
HERE
STACK Kit in Achroma Blacks and Whites
Kit includes fabrics from the Ruby Star Society Achroma fabrics and Stack pattern to make the quilt top and binding
Order your kit HERE
Order your pattern
HERE
Bunny Hill Designs Embroidery Kit Good Morning Sunshine
Kit includes pattern, floss and fabric. Order yours HERE
Sewing Machine Information
Pfaff Sewing Machine Cleaning and Repairs
Sign up for a cleaning HERE and a repairs HERE
Singer Featherweight Cleaning and Polishing!
Michael will be in the store on
Tuesday, March 7th and Tuesday, March 21st to clean and polish Singer Featherweights!
Register to have your Featherweight cleaned and
polished HERE. You must reserve a spot in advance
as space is limited. Your machine will be ready for pickup the day of service.
Pfaff Share the Love Sale

LAST DAY



Best sale of the year! 30% off MSRP

New

Machines at Creekside Quilting
You won't believe the prices on the machines at a 30% discount!

Now is your chance to get a new machine at a very good price!
We have never marked down the sewing machines this low before!
Stop in today to try out the machine of your dreams!

Sale ends February 28,2023
Pfaff Demo Sale Start Wednesday, March 1st
It's time to change out our demonstration machines!
All the store demonstration machines will be on sale for 40% off MSRP

We only have one of each machine, so once it is gone, it is gone.
Low sewing time
Pfaff one year warranty included
Store demonstrations machine include:
Passport 2.0 and 3.0
Ambition 610, 620, 630, and 635
Expression 710 and 720
Performance Icon

Creative Icon with Embroidery Unit



Upcoming

Classes and Events
View the March Calendar HERE
All Pre-paid Classes and Events can be refunded if the cancellation is prior to one week of the event. If Creekside Quilting has to cancel the event, then we will refund your money.
Every class offers a 15% discount on supplies needed for class.
Fabric and some items excluded by default.

Wednesday's, March 1st, 8th, 15th, 22nd and 29th are Wacky Wednesday Sales



Friday's, March 3rd, 10th, 17th, 24th and 31st are

Flash Sale Fridays

live with Julia at 9:30am



Monday's, March 6th and Tuesday, March 28th are Pfaff Cleaning and Repair Days.

Tuesday's, March 7th and 21st Singer Featherweight Cleaning and Polishing



Monday's, March 6th, 13th, 20th and 27th are

What's New Live

with Julia at 4:30pm



Thursday, March 9th at 10:30am is Sit and Knit...come join in for the morning

Saturday, March 11th is Creekside Quilting's Birthday Party all day long!

Tuesday, Marh 14th starting at noon is Wool Club

...come join us



Wednesday, March 15th is Mid Month Madness Sale receiving 15% off everything you can fit in the Creekside Quilting Bag. Purchase your bag HERE

Wednesday, March 15th starting at 10:30am is the Applique Sew-in for Everyone

Friday, March 17th is our Lunch and Learn from noon to 1pm. This months technique is machine applique. Registration is necessary

Saturday, March 18th starting at 10:30am is the Singer Featherweight Club...come join us

Monday, March 20th and Thursday, March 30th starting at 12:30pm Sew You Want to Quilt? Beginning Quilting Classes Register HERE

Wednesday, March 22nd is Patchwork Sister's Book Club starting at 1pm. This months book is Sewing Suspicion by Kathryn Mykel...come join us for a lively discussion

Wednesday, March 22nd is the Elm Creek Quilter's Book Club starting at 2:30. This month's book is The New Year's Quilt by Jennifer Chiaverini...come join us for a lively discussion

Thursday, March 23rd is Love Birds Pillow Class starting at 10:30am. Register HERE

Friday, March 24th starting at 1pm is the UFO Club

Monday, March 27th starting at 1pm is the Machine Embroidery Club...come join us




Creekside Quilting is 20 Years Old!


Come Join in on the festivities Saturday, March 11th (open to close) as we celebrate our accomplishment...20 years of being in business! There will be hourly discounts, surprise discounts, plenty of give aways, and lots of snacks, desserts and beverages!
All month long, recieve a coupon for $5 off your orders to be used in April and May! You can use the coupons separately or all together...so the more purchases you make in March, the more you save in April and May! The celebration just continues!

Thank you for your loyal support! We very much so appreciate each and everyone of you!
karen steggerda