Creekside Quilting Newsletter 09/12/2023
What's New @ Creekside Quilting?


Seaside from designer Paula Barnes is such a pretty linne of fabric!
Great for all those Quilt's of Valor!
View and order fabrics HERE
Purchase 20 piece fat quarter bundle HERE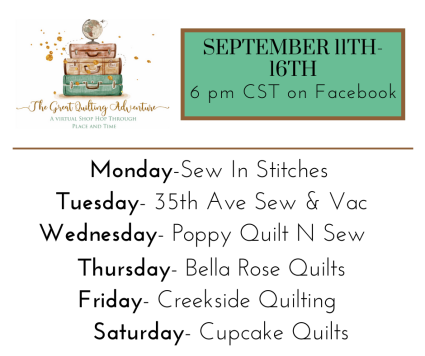 Join Julia live this Friday night at 6pm for The Great Quilting Adventure! She will have some new and fun products to share with you!
What's Happening Around Creekside Quilting?


Lucky Seven's in September are on Thursday's! Join these amazing quilt shops at noon and 7pm.
You will love this month's pattern! I have been sewing the pattern, and it is really so cute!
Join each store for their show to receive a piece of instructions to complete the pattern and get some amazing quilting ideas from each store!


LAST WEEK!!! In preparation for National Sew A Jelly Roll Day,
we will be cutting jelly roll's for you starting
August 1st through September 15, 2023.
Purchase your fabric from Creekside Quilting (up to 14 quarter yard cuts or 3 1/2 yards and we will cut the fabric for you into 2 1/2" jelly roll strips for FREE!
Bring in your own 14 quarter yard fabric cuts (which must be free of pet dandor, ironed, and ready to cut) and we will cut your fabrics for $5
Mark your calendarr our store event on Saturday, September 9th! Further information coming soon, so watch our newsletter!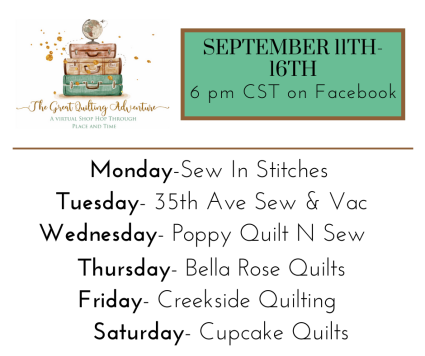 Join Julia live this Friday night at 6pm for The Great Quilting Adventure! She will have some new and fun products to share with you!


Mark your calendars for the Des Moines Area Quilters Guild Quilt Show, September 21st through the 23rd at the 4-H Building! We will be locatd in booths 113 and 206! Creekside will be participating in class demonstrations of the Stripology Ruler and our booth is facing the quilts...you can't miss us! See what's new and enjoy all the beautiful quilts!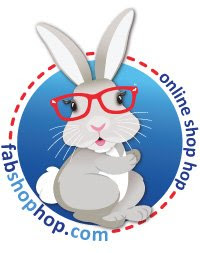 Find the bunny on our website (clue is given on the home page) and enter to win prizes!
June Winners of a $10 gift certificate are:
Margaret Honeysette
Christine Medina
Sue Pratt
Jessica Mangels
Janet Bolenbaugh
Nancy Kaster
Ginger Monaghan
Shirley Brinkmann
Sewing Machine Information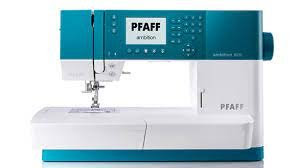 Pfaff Sewing Machine Cleaning and Repairs
Monday, September 25th will be the next Pfaff Cleaning and Repair day! Register HERE for a cleaning reservation. Register HERE for a repair reservation. Cancelations are refunded if done 5 days prior of your reservation.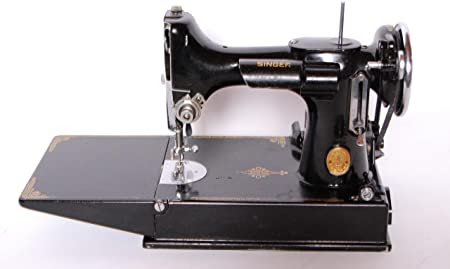 Singer Featherweight Cleaning and Polishing!
Michael will be in the store on Tuesday, Tuesday, September 19th to clean and polish Singer Featherweights!
Register to have your Featherweight cleaned and polished HERE. You must reserve a spot in advance as space is limited. Your machine will be ready for pickup the day of service.
Cancelations are refunded if done 5 days prior of your reservation.
Upcoming Events September
View the September Calendar HERE
All Pre-paid Classes and Events can be refunded if the cancellation is prior to one week of the event, unless otherwise stated. If Creekside Quilting has to cancel the event, then we will refund your money.
Every class offers a 15% discount on supplies needed for class.
Fabric and some items excluded by default.
Creekside Quilting's Classroom will be closed to the public and for ALL classes September 8th through the 15th as we will be hosting the Judged Quilts drop off location for the Des Moines Areas Quilter's Guild
Friday, September 15th is Mid Month Madness Sale receiving 15% off everything you can fit in the Creekside Quilting Bag. Purchase your bag HERE
Friday's, September 15th, 22nd, and 29th are Flash Sale Fridays live with Julia at 9:30am where a select line of fabric is featured at 35% off for the day!
Saturday, September 16th is the Singer Featherweight Club starting at 10:30am and going all day! Bring your Featherweight and project and then come enjoy a day of sewing with other Featherweight lovers!
Monday, September 18th is The Monday Stitch Group at 10:30
Monday, September 18th is Clothesline Club at 1pm
Monday's, September 18th, and 25th are What's New Live with Julia at 4:30pm
Tuesday, September 19th are Singer Featherweight Cleaning with Micheal Register HERE
Tuesday, September 19th is Wool Club starting at noon. Looking forward to seeing everyone who loves to wool applique!
Wednesday, September 20th is the Applique Group Sew-in starting at 10:30 am and going all day! Looking forward to seeing everyone!
Monday, September 25th are Pfaff Cleaning and Repair Days register HERE
Wednesday, September 27th is Patchwork Sister's Book Club starting at 1pm
Wednesday, September 27th is The Elm Creek Book Club starting at 2:30pm
Friday, September 29th is UFO Club at 1pm!
Show and Tell


Julia and I had a great time at The Great Wisconsin Quilt Show! Julia's live show on Friday morning was a hoot and she had people standing in the aisle watching her! Thanks to everyone at home who turned in...it was a fun show that day!


We met a lot of new people and visited with some old friends! Julia and I had a blast at the show and plan to return again next year! Thanks to everyone who stopped by and visited our booth!

Just keep on stitching!
karen steggerda